Do you need extra space to park your car or truck? Whether it's to free up some room in your garage or need extra parking space, a dedicated vehicle storage space may be just the thing for you. 
If you've considered storing your vehicle elsewhere, you're probably wondering what size storage unit do I need for a car? Below, we'll answer that question and provide more information on how to determine the perfect car storage space for your specific needs. 
Car Storage Sizes
To determine the right-sized storage unit for a vehicle, it's important to first consider the average length of a car. This can help you determine which storage unit size you will need. According to Garage Chief, the standard for your average midsize sedan is 15 to 16 feet. By vehicle class, average lengths break down as follows: 
Mini cars – (Suzuki Alto) 10.5 ft
Small cars – (Kia Rio) 13.8 ft 
Mid-sized cars – (Audi A4) 14.8 ft 
Full-sized cars – (Audi A6) 15.7 ft
Small SUV – (Ford Escape) 14.4 ft
Large SUV – (Cadillac Escalade) 16.7 ft
Small pickup – (Nissan Navara) 16.3 ft
Large pickup – (Chevrolet Silverado) 18.4 ft 
Judging by the size of the average vehicle type, you'll likely need a self-storage unit that's at the very least 20 feet. So, the types of storage units that would fit a car could include the following sizes: 
Large 10'x20' unit – This is usually the minimum size necessary for a vehicle like a car or boat. It also leaves some extra room to store some of your personal items. 
Large 10'x25' unit – This size unit could fit a larger vehicle like an SUV or pickup, or a small boat with a trailer. In addition to the vehicle, you'd likely have space to store a small apartment's worth of stuff.  
Large 10'x30' unit –  Typically, the largest size storage unit available is enough space for a large vehicle or a smaller boat with plenty of room to spare for appliances or small furniture items. 
With that said, if you're only trying to store your vehicle (and not a bunch of other things), a dedicated vehicle storage space is the better option. 
Dedicated Vehicle Storage Spaces for Convenience
At Price Self Storage, our goal is to be an extension of your home storage. We provide various car storage options, including outdoor parking spots and specialty indoor parking facilities (at select locations). 
For instance, our Solana Beach location has a wide variety of dedicated indoor parking spaces, ranging from those small enough to fit a motorcycle (see our motorcycle storage guide) to those large enough to keep a long boat or RV. 
Parking space sizes include: 
11 ft x 11 ft 
11 ft x 15 ft
11 ft x 18 ft
11 ft x 25 ft
11 ft x 30 ft
11 ft x 35 ft  
11 ft x 40 ft 
11 ft x 52 ft 
11 ft x 60 ft
11 ft x 65 ft 
Get your vehicle off your street or out of your garage. Let us help you free up some space at one of our indoor or outdoor storage facilities!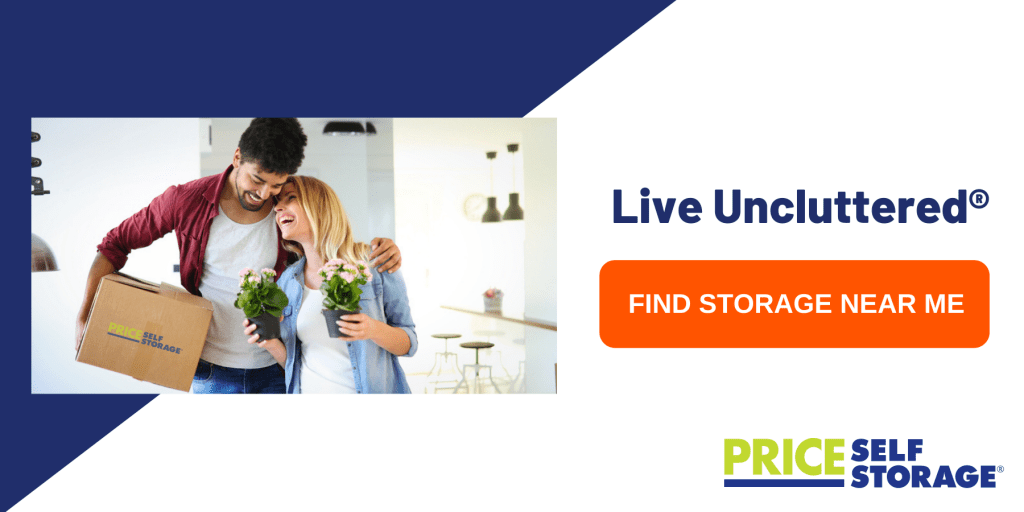 Benefits of Car Storage Spaces
We're confident that we have the vehicle storage space that suits your particular needs. 
Whatever you're storing, or goal is to make your life simpler. That's why we provide a range of locations, storage unit sizes, and amenities that you need to live life uncluttered. Each one of our modern facilities was purposefully designed with you in mind.
Helpful features include:
Easy access to your vehicles – Want to take the weekend car out for a spin or put your boat on the water? At Price Self Storage, you can grab your vehicle whenever you need it hassle-free. Whether you have an outdoor or indoor storage space, we make it simple for you to access our facility (no matter what time it is). 
Rental spaces at great prices – You might be wondering what the cost for a short or long term car storage unit is. With Price Self Storage, there is no deposit or unexpected fees—just transparent month-to-month leases at competitive prices. That way, the only thing you need to prepare for is your next trip. If you're curious about car storage rates, check out our blog that answers how much it costs to store a car.
On-site support – If you need help determining what parking spot size for your vehicle, simply reach out to our Free Concierge Service. Our friendly team of experts will help you find the perfect spot. After, they'll be on standby, ready to assist the moment you require a hand.   
Our top-tier amenities and affordable pricing makes us the obvious solution for your car storage needs! 
Store Your Car, Truck, Boat, or RV With Us! 
Few things take up more space in your home than a vehicle, especially if you have multiple of them. So, if you're wondering where to store a car, look no further. At Price Self Storage, we can help make your life simpler by providing you with dedicated vehicle storage spaces. 
Whether you need a small outdoor storage space for a sedan or a larger indoor space for your RV, our mission is to help you live life uncluttered. 
Getting the space you need is fast and easy at a Price Self Storage facility near you. Just book online and we'll reserve your space immediately!
Check out all of our available storage units in San Diego today!