Do you have an old car taking up space and accumulating dust in the garage? Is there an extra vehicle that's been sitting in front of your home and not being used? 
Then maybe it's time to consider freeing up some room by storing your vehicle in a dedicated space for vehicle storage. At Price Self Storage, car storage is a fast and affordable process. 
But how much is a car storage unit? Let's crunch the numbers. 
Car Storage Cost Factors 
The cost of storing a car can range in a wide range of prices. Prices can vary significantly from one vehicle storage facility to another and are dependent on several factors. These include but are not limited to:
Size of the dedicated space – The size of a parking space or vehicle type matters when it comes to vehicle storage pricing. The larger the dedicated parking space (typically), the more it will cost. So, it will be pricier to store an RV over a compact Kia. The RV would likely require an 11 ft x 40 ft storage space, whereas the Kia could likely fit in an 11 ft x 15 ft space. Whether you own a classic car, RV, motor vehicle, pickup truck, boat etc. The storage price depends on the size required for your stored vehicle.
Indoor vs. outdoor – Few storage centers have dedicated indoor vehicle storage available. However, here at Price Self Storage, we offer this Vehicle storage option in select locations. Naturally, indoor storage provides more protection from the elements than an outdoor space. As a result, indoor storage tends to be more expensive than outdoor storage.
Security – In some cases, security with advanced security features may be more pricey. However, at Price Self Storage you can guarantee great security features and even better prices. Some of the features you can expect at Price Self Storage are:

Individual storage unit door alarms
On site storage facility manager
Gates with keypad controlled access

Features – Although they may not be directly priced in, useful features and amenities can make a significant difference when comparing one location's price point to another. Ideally, you should look for a location that has:

A convenient location
Extra-wide spaces
Pull through parking spaces  
At Price Self Storage, you can find outdoor parking spots with affordable rates! Rates will also depend on a few different factors.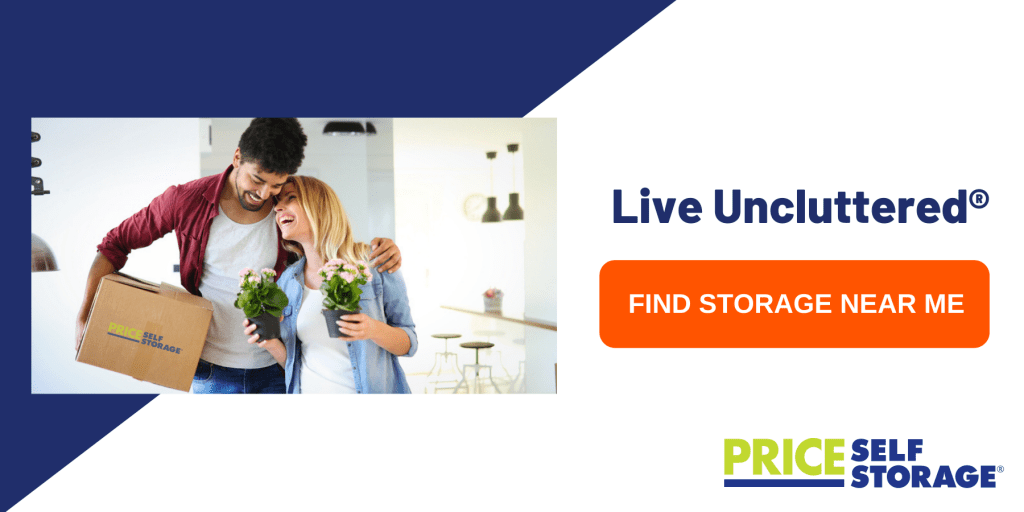 Why Store Your Car at Price Self Storage? 
From affordable prices to incredible locations, each Price Self Storage was purposefully designed to help you live life uncluttered. Whether you need a normal storage locker for your stuff or a dedicated place to leave your classic or luxury car, we've got the perfect space for you. 
We're confident we can help you find the prime spot you've been searching for—and at an unbeatable price.  
Incredible Features Included in the Price
In addition to our pricing, our customers love keeping their cars with us because of our fantastic features. 
Such as? 
7 days a week – Our location is always open to you. You can pick up or drop off your stored vehicle whenever you want between 7 am and 7 pm. Did a last-minute trip surface out of nowhere? No problem. Just swing on by to grab your car or truck.
Convenient location – Determining where to store a car nearby isn't always accessible. Luckily, our storage locations are situated next to major highways, ensuring there's always a quick way to get to us. 
Affordable leasing and payment options – We offer flexible leases and payment options. There's zero deposit and no long-term commitment—just affordable month-to-month leases. We allow online AutoPay as well as payment via check, cash, or credit card. 
Whether you're a resident or a business, Price Self Storage has a wide range of locations, storage option, and features that make us the go-to spot for any type of vehicle storage. 
Get Affordable Car Storage Today
At Price Self Storage, we want to help you move all your stuff that's just taking up space. Putting your car away can be a huge step towards living a life uncluttered. Not sure what size storage unit for a car you will need? Our team can help you determine what's best for you.
So, let us store your car at an unbeatable price! Now that you know how much is car storage, then what are you waiting for? Reserve your vehicle storage unit today.