Do you have an old car taking up space in the garage? Is an extra vehicle gathering rust in front of your home? Have you recently received an extra vehicle from a family member but don't have anywhere to store it? Then maybe it's time to free up some room by investing in car storage. 
How much does storage for cars cost, and is there a way to find cheap car storage near you? Let's look at the factors that affect the cost of storing your vehicle and some of the big benefits. 
Car Storage
Cost Factors
The cost to store a vehicle can vary significantly from one vehicle storage facility to another and depends on several factors. Here are some variables you need to consider when searching for local car storage.
The Size of the Dedicated Space 
The size of a parking space or vehicle type matters when it comes to vehicle storage costs per day. The larger the dedicated parking space (typically), the higher the cost. So, it will be pricier to store an RV over a compact Kia. The RV would likely require an 11×40-foot storage space, whereas the Kia could probably fit in an 11×15-foot space. Whether you own a classic car, RV, motor vehicle, pickup truck, boat, etc., the storage price depends on the size required for your stored vehicle.
Indoor vs. Outdoor Storage Spaces
As you can imagine, you'll almost certainly pay more to store a vehicle in an enclosed space than in an outdoor lot. Few storage centers have dedicated indoor vehicle storage available. However, here at Price Self Storage, we offer indoor storage for cars in select locations. 
The cost difference between indoor and outdoor storage spaces will vary by location and the size of the space needed.
Security Features
In some cases, your car storage space may include security features, or you may be able to pay for extra security features. If they come with the space, you could see a higher monthly rental cost compared to a storage facility that doesn't offer additional security. Your price will also be higher if you add optional features.
At Price Self Storage, we provide great security features and even better prices. Some of the features you can expect at our facilities are:
Security cameras

Individual storage unit door alarms

On-site storage facility manager

Gates with keypad-controlled access
Extra Storage Features 
Although they may not be directly priced in, useful features and amenities at your chosen storage location can make a significant difference when comparing one location's price point to another. You may find that it's worth paying a little more for a facility offering features that can improve your storage experience.
Ideally, you should look for a facility that has:
A convenient location

Extra-wide spaces

Pull-through parking spaces  
At Price Self Storage, you can find indoor and outdoor parking spots at affordable rates! Our vehicle storage prices will vary by location, so don't hesitate to contact your nearest Price Self Storage location for personalized pricing.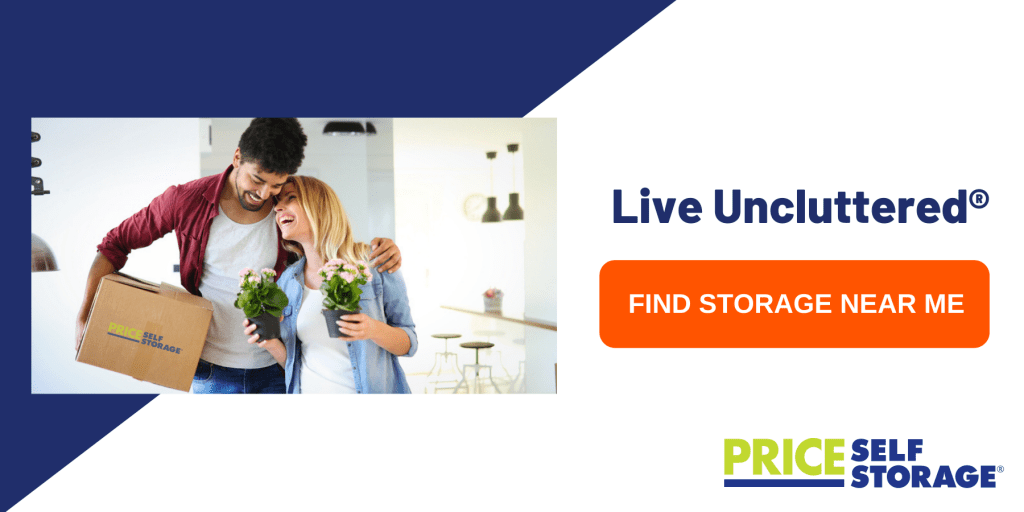 Why Store Your Car at Price Self Storage?
When pricing out car storage, you'll need to determine whether storage is worth the price. It helps to understand the biggest benefits of storage for cars when making your decision. Here are a few important positives to consider. 
Car Storage
Frees Up Space
The biggest benefit of car storage for most customers is that it can free up some serious space in your garage or on your land. Most homes in California don't have basements, which means many residents of the Golden State use their garages for most of their storage. If you need to put your car in the garage, that's less space for your holiday decorations, tools, exercise equipment, family heirlooms, and more. 
With a cleared garage, you can turn that space into a work area, a small gym, a hobby space, or even an extra bedroom. 
Additionally, having a vehicle you don't use regularly can be a big inconvenience. It may take up space in the driveway, forcing you to park on the curb. Or, you may need to play car Tetris whenever someone wants to leave the house. 
Car Storage
Keeps Your Car Safer
You may feel unsafe leaving your car in the driveway overnight or parked on a busy street. Thieves might see your vehicle as a prime target. Even without bad intentions, distracted drivers could side-swipe or even plow into cars parked on a curb.
If you don't use one or more of your vehicles regularly, you can rest easier by taking it off the street or out of your driveway and putting it into a secure storage location. As mentioned earlier in this article, Price Self Storage offers a variety of security features that will help to protect your car. 
Protects Your Car from Damage 
Do you have an extra vehicle that you love but don't use as a daily driver? If it's just sitting in your driveway, out on the curb, or even on your lawn, it could be at the mercy of the elements and critters. Even if you cover an outdoor car, wind and rain can still find a way in, causing rust. If your car is uncovered, the sun's UV rays can slowly break down your car's paint job.
Cars sitting on lawns are at a high risk of critters who might decide to chew through hoses and wires or nest inside engines. Even one small mouse can cause a lot of damage.
When you invest in self-storage, you may be able to choose a covered spot, which can help limit UV damage. You'll also lower the risk of critters munching on your car. As mentioned, Price Self Storage offers indoor storage for cars in select locations, which can be a great option for protecting a classic car or an expensive vehicle you don't use daily.
Stores All Your Extra Vehicles
One of the hidden benefits of car storage is that you don't just have to store your car, truck, SUV, or minivan. You can store any of your vehicles to free up space at your home. For example, you can store:
Motorcycles

Boats

Jet skis

Four-wheelers

Dune buggies

RVs

Campers

And more
Many smaller vehicles can fit inside medium storage units for extra protection, while select Price Self Storage locations offer boat and RV storage. 
Incredible Features Included in the Price
In addition to our pricing, our customers love keeping their cars with us because of our fantastic features. 
We're Open 7 Days a Week  
Our locations are always open to you. You can pick up or drop off your stored vehicle whenever you want between 7 a.m. and 7 p.m. Did a last-minute trip surface out of nowhere? No problem — just swing by to grab your car or truck.
We Offer Convenient Locations Throughout California
We have locations throughout California, including many in San Diego and Los Angeles. Our storage locations are situated next to major highways, ensuring there's always a quick way to get to us. 
We Offer Affordable Leasing and Payment Options  
We offer flexible leases and payment options. There's zero deposit and no long-term commitment — just affordable month-to-month leases. We allow online AutoPay and payment via check, cash, or credit card.
Get Affordable
Car Storage
Today
Storing your car can be a huge step towards living a life uncluttered. At Price Self Storage, we offer cheap car storage at a price that can fit most budgets. While we can't give you a specific vehicle storage cost per day, don't hesitate to contact individual locations for a quote. 
Not sure what size storage unit you'll need? Our team can help you determine what's best for you.
What are you waiting for? Store a vehicle with Price Self Storage today at an unbeatable price!