When you're not riding your motorcycle, properly storing the bike can greatly extend its life. While some people have ample garage space at home, others might turn to a storage facility for their motorcycle storage needs. At Price Self Storage, our customers with motorcycles typically will pick one of two options: 
Storage unit 
A designated motorcycle parking space 
If you go with the first choice, you may be left wondering, what size storage unit do I need for a motorcycle? Here's everything you need to know. 
Storage Unit Size for Motorcycle
The first factor to consider when finding the right storage unit for your bike is the cost and size of the unit necessary to adequately hold your motorcycle. Fortunately, with Price Self Storage, you have a variety of unit size options available—all at affordable prices. 
Now, many people assume that a 5' x 5' storage unit is more than enough space for their motorcycle. While it is large enough to fit a bicycle vertically, it is not sufficient for a motorcycle. 
For instance, the Indian Scout Cruiser is 91 inches long, which would be an improper fit for a 5' x 5' storage unit. This is why we suggest something bigger.
So, what is the proper storage unit size? 
The Right Storage Unit Size for a Motorcycle
If you want to store a single motorcycle, a 5' x 10' storage unit is typically ideal. This extra 25 ft2 provides you with plenty of wiggle room within the unit. It makes it much easier to get the bike in and out of the unit, which is especially important if you plan on consistently using the bike. The large unit also allows you to tinker with the bike or make repairs right then and there. In other words, it can double as a garage. 
Additionally, a larger unit leaves you with extra storage space you could use to fill with motorcycle-related accessories, including:
Riding gear, including jackets, goves, boots, bants, and knee guards 
Helmet and goggles
Multi -tool kits
Bike parts 
Even if you plan on storing just the motorcycle, you'll likely be happy to have the extra space. For tips on how to store your motorcycle, check out our blog!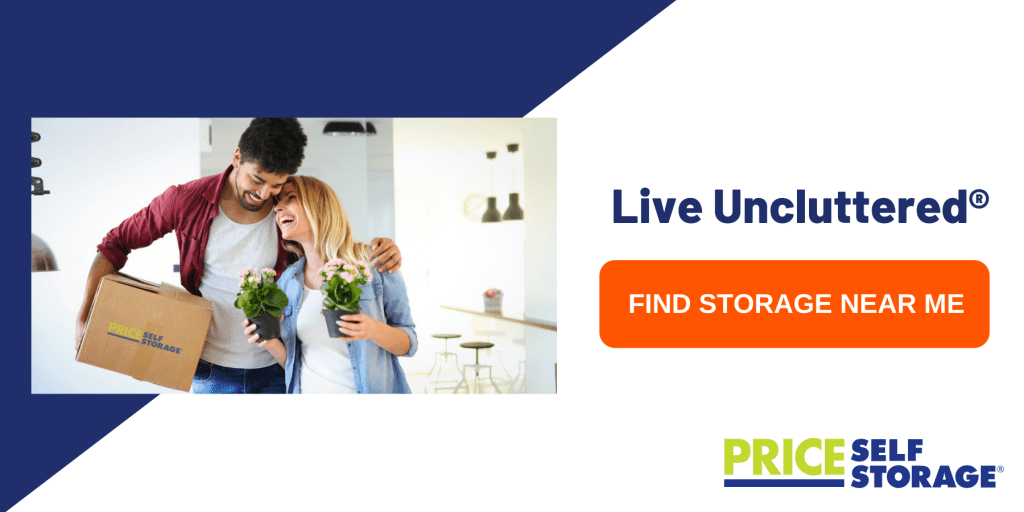 The Right Motorcycle Storage Unit Size for Multiple Bikes 
So, what size storage unit is best for multiple bikes? 
If you have two bikes, we suggest you get a 10' x 10' storage unit. With the larger-sized unit, you can ensure that each bike has plenty of space. 
A 10' x 10' storage unit is approximately half the size of a standard one-car garage. Opting for the more spacious unit will also give you flexibility for all your storage needs, both motorcycle-related or personal. It's often enough for all of the contents in a one or two-bedroom apartment.  
A Designated Motorcycle Space 
There's another motorcycle storage option for those who prefer an alternative to a self storage unit—a designated motorcycle space. With dedicated parking spots and specialty indoor parking facilities designed for motorcycles and ATVs, our customers regularly store their vehicles in our vehicle storage units. 
This may be the most convenient option if you plan on regularly using your motorcycle throughout the week. 
Useful Features 
At Price Self Storage, we have the storage capacity to fit your needs and bike. Our mission is to make your life convenient, which is why we offer several locations, storage unit sizes, and features that can help you live a life uncluttered. Useful features include: 
Gate Code Access – Plan on frequently taking your bike out for a cruise? Simply swing by and grab it whenever you feel like taking it for a spin. We offer gate code access and individual unit door alarms on select units to allow for an extra layer of peace of mind.
State of the Art Security – Each Price Self Storage lot is gated and comes equipped with keypad controlled access to the storage facility and cameras. 
Affordable storage – The prices of our units are competitive. We want to make storage affordable for everyone. That includes zero deposit, zero unexpected fees, and transparent month-to-month leases.  
Store Your Motorcycle at Price Self Storage  
At Price Self Storage, we have a variety of storage unit options and dedicated parking spaces. So, what size storage unit for a motorcycle is right for you? Depending on how many bikes you need to store, we suggest you opt for a 5' x 10' or a 10' x 10' unit. 
Need help finding the best storage unit available? We're confident that we have just the space for you. Every Price Self Storage facility is gated and has security features while allowing you 24 hour access to your belongings. Storing your motorcycle with Price Self Storage is fast, affordable, and convenient!  
Want to find out more? Reach out today to speak with a member of our helpful staff.
Sources:
Indian Motorcycles. Indian scout specifications. https://www.indianmotorcycle.com/en-us/scout/specs/