Halloween inspires the perfect balance of spooky and fun with more than a dash of sweet. The entire month of October seems to take on a festive flair, with orange decorations, candy galore, and loads of pumpkin spice treats and drinks everywhere you go. Decorating for Halloween has become an enjoyable tradition for many families, and some people even take it to the next level by creating a Halloween haunted house. A DIY haunted house can be as simple or involved as you'd like. Keep it under wraps for your immediate family or invite the whole neighborhood and all the trick-or-treaters over for a bit of a scare. Here are some tips on creating your very own Spooktacular haunted house!
As you plan your Halloween haunted house, remember that you can spend as little or as much as you like. Repurpose old decorations, craft new ones by hand, and only buy what you need for a haunted house on a budget. If you're going grand scale, look into all creaks and shrieks with animatronics, haunted furniture, and other bone-chilling props and décor.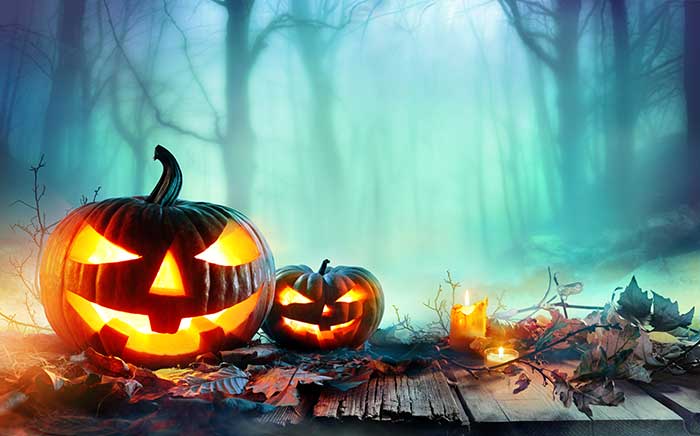 Spooky Halloween Music
Get everyone into the mood for your Halloween party bash with some spooky soundtracks. Here are a few ideas to add an audible impact.
Play eerie tunes as you put your haunted house together and later incorporate your favorites in making the perfect mix for use when guests brave their way into the creepy unknown.
Make use of wireless Bluetooth speakers to play your Halloween music or set up a series of speakers and connected devices to overlap different sounds and music for the ultimate effect.
For a really involved haunted house, look into hiring actors or accepting volunteers who would like to add to the experience.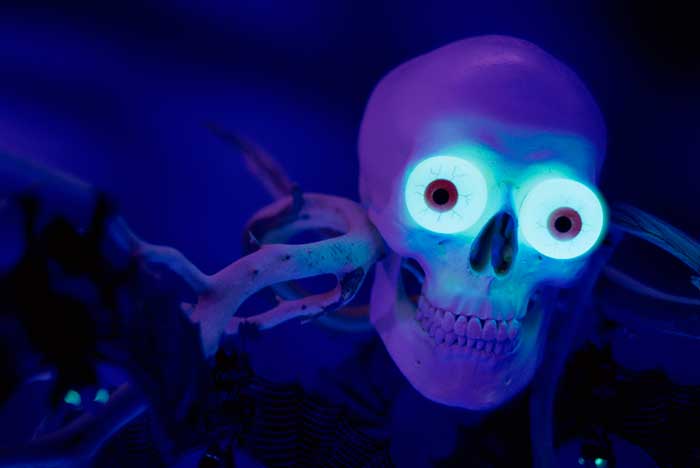 Eerie Haunted House Lighting Effects & More
While the music and sound effects set the tone for your thrilling Halloween house, erratic visual effects can further fuel the spooky mood. Try these spine-chilling lighting ideas to heighten the fear-factor of your haunted house.
Consider adding strobe lights for a trippy, edgy feel.
Install black lights to give your guests and your props a glowing appearance.
Run projectors to display video clips or other spooky shots.
Intensify the setting with faux flames and even smoke or fog machines.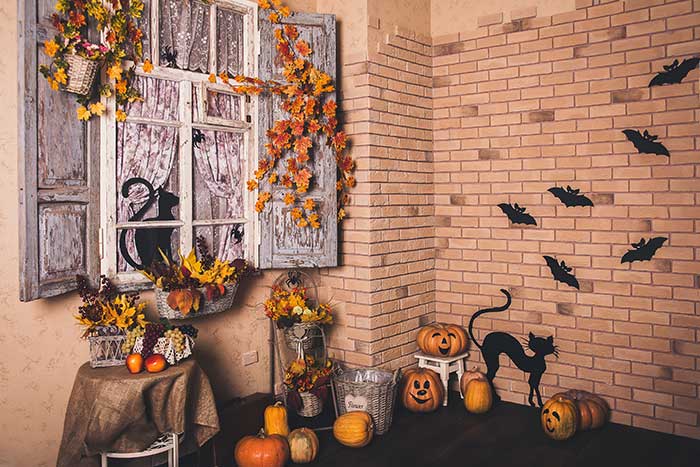 DIY Haunted House Props
A quick search online will lead you down dark paths you cannot erase from your mind. While exceptional for inspiration, the various haunted house supply shops are not for the squeamish or the faint of heart, so proceed with caution. You will find frightening creatures from every crack and corner of the horror genre, alongside countless accessories and furnishings to pull the whole thing together. Use these to conjure up your own creepy vibe or add a few pieces to your collection for a terrifying effect. With a little time and effort, you can also make your own haunted house decorations to add a personal touch while keeping within your cost constraints. Here are a few tips to get you started.
Head to any Halloween store, dollar store, or big-box store and you will be sure to find plenty of Halloween decorations and accessories. Stock up on spiderwebs and other key décor items.
To create thrilling DIY haunted house props with supplies you likely already have on hand. In the same style as making a homemade piñata, use a balloon, newspaper and a flour-water mixture to create unique and handmade decorations for your haunted house. Once dry, paint or decorate with crepe paper and other supplies. Creating inexpensive DIY haunted house decorations can be fun to make with your kids as well, and you can even make one into a real piñata for your Halloween party guests to enjoy.
Create a monster lab in your spooky house for the kids to enjoy. Peeled grapes become zombie eyes and Jello imitates brains. Have fun creating a haunted house for kids with other food ideas as well.
If you plan to make your haunted house outside, you can have even more fun creating interactive props, like floorboards that creak or shift, and makeshift walls that sway. A little lumber or some old throwaway wood scraps can become the hit of the party.
Consider creating your outdoor haunted house under a party tent in case of inclement weather.
Keep adding to your haunted house year after year! Don't feel like you need to buy or make all of the accessories and attractions at once. You can store your haunted house supplies in a personal storage unit, keeping everything neatly organized and safely out of sight until next year.
These haunted house ideas should get you started on hosting a scary and memorable party and experience for those you know this year. If you have other Halloween haunted house ideas to share, please post them in our comments below.