Whether a breakup blindsided you or you saw it coming a mile away, it still hurts. Breakups can seem twice as hard when you and your partner live together. Now you have to figure out how to split shared belongings and perhaps custody of a pet or child. Most challenging of all, someone needs to move out. If that person is you, take a look at these 10 tips for how to move on after a breakup.
Moving out of your home can be emotionally devastating (on top of the breakup itself!). However, keep in mind that moving out and moving on after a breakup could be the first step toward healing your heart.
1. Try
T
o Remain Cordial 
You may feel angry, resentful, betrayed, or simply exhausted with your partner when you decide to call it quits. Any way you feel is valid, but keeping things as cordial as possible with your ex can make the breakup process much easier. It can help moving out go more smoothly and help you with moving on from the breakup. 
If possible, avoid rehashing your fights or the reason for the breakup. Stay focused on separating your lives (easier said than done, we know!). If your feelings are still raw, communicate with your ex only when necessary and stick with logistics. That may mean texting instead of talking in person. Be polite but direct. If your ex wants to go down memory lane, redirect communication to focus on coordinating your separation. 
2. Find an Alternative Place To Stay
Whether you find yourself moving out unexpectedly or after many discussions with your ex, your first order of business is to find alternative lodgings. If you didn't see the breakup coming, you might need to reach out to friends or family members for a temporary couch or guest bedroom to crash on. If you have time to plan your exit, you may want to look into renting an apartment, house, or room in the area. If you need to figure out how to move out quickly, you can even rent a hotel room, motel room, or vacation rental (like Airbnb) in a pinch until you figure out your next steps. 
3. Pack Your Most Immediate Necessities
If the breakup comes as a surprise or you need/want to leave the home quickly, pack an overnight bag containing a few days worth of outfits and toiletries. You may not have the time or want to stay in the home long enough to pack more. 
You can always return to the home or apartment in the coming days to box up your things and get them out of there. Packing and moving can be gut-wrenching, so you may need some time before you can clear all your things out of your shared home. 
4. Secure Your Valuables
If you and your partner are able to achieve an amicable breakup or are at least able to maintain a respectful relationship, you may not need to follow this step. If the breakup is acrimonious or you feel like you can't trust your ex, then protect your valuable possessions.
Take expensive items — electronics, equipment, tools, jewelry, mementos, instruments, artwork, etc. — to a safer location. See if you can stash your things with a friend, or consider renting a locker or small space at a storage facility nearby. 
It doesn't matter who ended the relationship. If hard feelings abound, it's best to proactively protect your property just in case.
5. Work With Your Ex To Split Your Possessions
If you haven't been living with your partner for long, it may be simple to split your possessions. However, if you've been together for years, it can be tricky to remember who owned what when you moved in or which items you purchased as a couple belongs to whom. 
You might also find yourself dealing with financial issues like shared bank accounts and trying to find an amicable way to split up the furniture, your DVD collection, and your Netflix subscription. If you have pets together, things can get even messier. 
If you and your partner are able to communicate respectfully, you might be able to sit down together and negotiate ownership of your possessions. If things are a little more heated or your shared estate is complex, you might need to bring in a mediator or a lawyer for assistance. Consider making a list of your top wants and having your ex do the same to see if you can whittle down the big-ticket items and anything of sentimental value.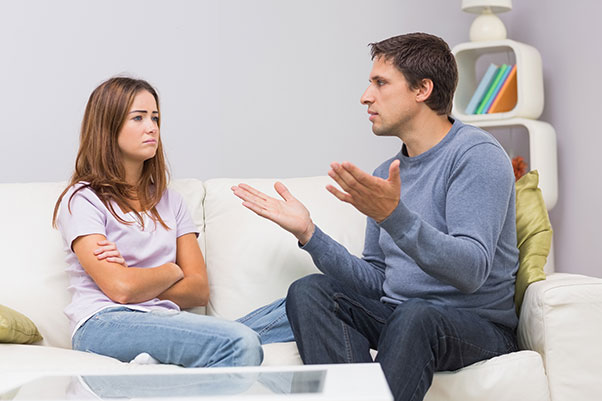 6. Discuss Your Move-Out Timeline
If you have a number of possessions at your ex's home, including larger items like appliances and furniture, you'll need to come up with a plan for moving them out. Every situation is different. Maybe you'll need a few days, a few weeks, or even longer until you can establish a new residence. Whatever the case, if you can, work with your ex on a move-out timeline. Let them know when you plan to pack up your belongings and when you plan to move them out. Hopefully, you've already completed Step 5 and are both clear on which items you're taking.
If you'd prefer your ex to be out of the house during this time, make your request clear. 
7. Make a Moving
–
Out List
Whether you use an app on your phone, a file on your computer, or good old paper and pen, you should come up with a plan containing steps to moving out and moving on from the relationship. List out action steps like things you need to pack or split up, utilities or services you need to cancel, and so forth. 
Once the dust settles, you can consider steps for putting the house up for sale and scheduling a moving-out cleaning if needed. In cases of divorce, your moving-out list may be a little more complicated than for a shorter-term breakup. Having a list to guide you can be useful at a time when you may feel like your world's been turned upside-down.
8. Coordinate the Move
When moving day comes, how will you get your possessions from Point A to Point B? If you don't have much stuff, you may be able to load it all into your vehicle or take several trips if your new digs aren't too far away. If you have more possessions, you may be able to borrow a truck, van, or large SUV from a family member or friend. For larger moves or moves out of state, you may need to rent a moving truck, rent a mobile storage unit, or hire a moving company.
Don't forget that you'll also need to schedule time to pack and buy packing materials, like boxes, bubble wrap, tape, and more. Packing can take a significant amount of time, so try to complete your packing before moving day arrives. 
9. Bring a Friend
Bring a friend or family member to help you pack and move out of your previous location. Having another person at the house or apartment can serve as a buffer if your ex gives you trouble while you're trying to collect your things. A helper also allows you to pack in double time, limiting the time you spend in an uncomfortable location. To move out even more quickly, see if you can round up several friends or family members to help make the process as speedy as possible. 
10. Rent a Storage Unit
When a breakup comes as a surprise, you may not be able to rent another house or apartment quickly, and it's nearly impossible to buy a new place on short notice. You also may not want to move into a long-term place right away. Instead, finding a short-term living situation can allow you to assess your options and plan for the next steps of your life.
In this situation, you'll need somewhere to put your possessions. Self-storage is an excellent solution. Storage facilities, such as Price Self Storage, offer storage units of various sizes, from small lockers to units that can store the contents of a four-bedroom house. They can also store extra vehicles or your favorite toys, like boats, jet skis, motorcycles, and even RVs. 
Price Self Storage also offers month-to-month leasing so you can store your things for as long as you need and not a month more. Self-storage can give you the time and space you need to recover emotionally from your breakup and find a new housing situation that fits your needs. Moving on after a breakup can be hard, but renting a self-storage unit can make it easier. 
Moving
O
n From a Breakup
Moving out on your own takes dedication, time, and effort. If you're wondering how to move on after a breakup, the truth is that each person's journey is different. Take each day at a time and focus on your list of steps to moving out, helping you to stay focused on the future. While the days may seem dark now, remember that you will come out on the sunny side soon. You've just turned to a fresh page in the next (and quite possibly, the best) chapter of your life — embrace it and make it a great one!