Looking for an RV garage? Storing your RV offsite is a great way to keep your camper or trailer out of the elements while freeing up space in your driveway. So, if you're searching for a local RV storage solution, you're likely wondering, how much does RV storage cost? 
The answer to that is—it depends. There are a few factors that go into the pricing equation including the location, duration, size, and type of storage solution that best suits your particular needs. That said, the conveniences and features of covered RV storage at an actual storage facility make it a cost-effective way to extend your vehicle's life. 
As an RV owner, here's what you need to know about RV storage costs!  
Average RV Storage Cost
The cost of RV storage space or storage fees in California vary according to several pricing factors, such as:
Indoor or outdoor storage – Some people prefer to keep their RV inside, out of the wind, sun, and rain. Few storage facilities in California have the space for a designated RV storage facility. Those that do offer this amenity will likely charge it at a higher price than their outdoor spaces. 
The size of the RV parking space – RVs come in a range of sizes—a Class A would need a 40+ foot long space, whereas a Class B could fit in a space smaller than 25 feet in length. Like a storage unit, the bigger the space, the more it'll likely cost depending on the storage option.
Location – In Los Angeles especially there's a lot of people and little space, which leads to greater demand and higher prices. So, a storage space's location can also impact the cost. 
Short term or long term – Self storage is an easy month-to-month option that allows you to park your vehicle for short or long periods of time.
At Price Self Storage, you can reserve an RV spot online. Reserving online is an easy and convenient option.  
Price Self Storage—Affordable RV Storage
Want a safe and clean place for your large vehicle or motorhome that will bring you peace of mind? At Price Self Storage, we provide both outdoor RV storage and indoor RV storage (at select locations). 
By storing your camper at a dedicated self-storage site, you can enjoy all of the modern conveniences of a state-of-the-art facility, including:  
Easy storage – Storing your RV at a Price Self Storage facility is a breeze. Each location was built for simplicity of moving in. There are a variety of dedicated spaces for RV storage, each with ample size and space necessary for easy entry and parking. It only takes a few minutes to pick up or drop off your RV.
Security – Every Price Self Storage location is built with security in mind. They come with top-notch security features, including keypad controlled access, security cameras, and gated locations.
Flexible access – Want to go on a last minute trip? Need to check up on the RV? Our locations have very flexible hours of operation. So, the instant you want to swing by, you can during open hours. 
Large vehicles welcome – Even if you have a large RV, we're confident that we have the space you need. Our Solana Beach facility also has the largest indoor RV storage site in all of Southern California! 
Expert assistance – We make storage simple. With the help of our free concierge service, all of your questions and needs will be met. Curious about spot availability or have a specific matter of concern?  Just give the team a ring and they'll be able to guide you through anything.  
Add to this a host of convenient features like free courtesy carts, month-to-month leases, and extra-wide driveways and it's easy to see why Price Self Storage is SoCal's go-to RV storage destination.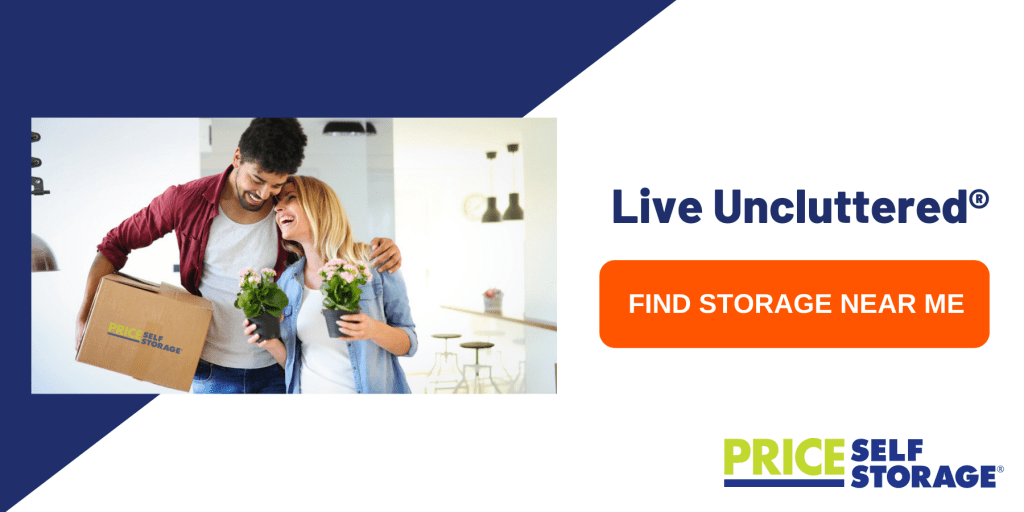 Price Self Storage RV Locations 
At Price Self Storage, we provide RV storage at several locations, including:
Azusa – West Foothill Blvd.
West Los Angeles – South La Brea Ave. 
Norco – Cota St. 
Murphy Canyon – Murphy Canyon Rd. 
Solana Beach – Stevens Ave West
Finding Affordable Storage
Our goal at Price Self Storage is to help you find an affordable RV storage option for you and your camper. Doing so can help declutter your driveway and your life, giving you peace of mind!
Pricing is contingent on the size of the space, availability, and several other factors, but you can rest assured that when you keep your RV at Price Self Storage, you're getting the best features and RV storage costs available. 
Want to live a life uncluttered? 
Visit our website to find out even more about our money saving promotions and online special rates!