When the birds are chirping and the bees are buzzing, we tend to get that irresistible spring cleaning urge to scrub and organize our homes from top to bottom. Now, half a year later, the fall has finally arrived, and aside from end-of-season yard work, cleaning couldn't be further from our minds. Don't fall into a clutter rut as the cooler weather starts moving in—instead, take a proactive approach to fall cleaning.
Fall Cleaning Checklist
Take some time now to refresh your home for the fall season as well as the winter holidays, which won't be far behind. Some fall cleaning tasks are easily done as a family or individually, while other chores may require the expertise of a professional cleaning service, or at the very least, rental of professional cleaning equipment like carpet steamers or shampooers.
Here's our fall cleaning checklist to give you a jump start on your tidying, decluttering, and organizing this autumn:
Open all the windows and air out the house. Once the fresh air starts flowing, you may find an improvement in your mood as well as your motivation.
Check ceiling corners for cobwebs, dusting them away as needed.
Launder or refresh curtains and window treatments if you haven't done so recently.
Wash the windows inside and out.
Wipe down the walls, cabinets, and the kitchen chairs.
Wipe the trim and molding to remove dust and other debris.
Clean the floors, whether waxing, shampooing, or even scrubbing the grout along your tile.
Move furniture to vacuum areas that usually remain untouched.
Take down light fixtures to clear out bugs and other debris, and then replace.
Inspect the weather stripping around the doors of your home, checking for drafts or material that needs replacing.
Replace old caulk around windows and other fixtures, if needed.
Clean out the garage, shed, and other outdoor areas.
Clear away weeds and debris from the gardens.
Take room cleaning to a new level. Have all the family members go through their closets, drawers, and other spaces to remove clutter, trash, and unused belongings. Put special keepsakes and other important items aside for safe storage. Set out boxes or bags so unwanted items may be donated, stored, or discarded appropriately.
About every five years, you should consider having your home's ducts and dryer vents cleaned out, preventing an overload of dust and debris from being passed through your home's ventilation system. Duct cleaning services can help to improve your home's air quality, eliminating many allergens and other germs. On the same note, consider swapping out your furnace filter if you haven't done so within the past few months.
It's also a very good idea to keep up with chimney cleanings if you have a fireplace—this keeps your home cleaner, but above all, a well-cleaned chimney poses less risk of a house fire. While you're at it, you should also check your home's smoke detectors and carbon monoxide detectors to ensure they are working and that the batteries have a solid charge.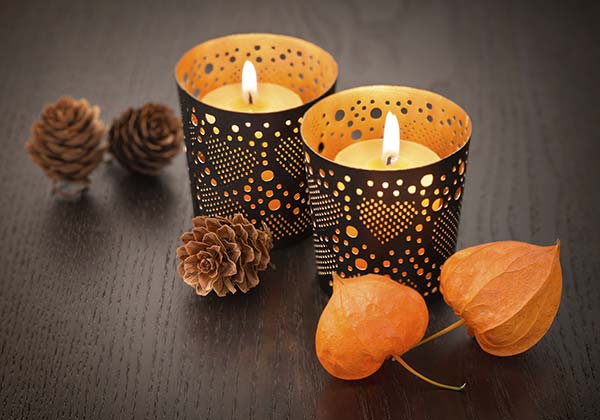 Fall Cleaning Tips
Just as you wash your car, start from the top and work your way down. Saving the floors for last helps to ensure you don't dirty them right after you've scrubbed them clean. You should be able to tackle most of your fall house cleaning in a single weekend with our helpful fall cleaning checklist. If you find the list becomes too long with your own add-ons, consider breaking your chores across multiple weekends, with one focusing on the inside of the house and the other dealing with all the outside chores, particularly the yard work and garage cleaning.
Beyond the chores, you may wish to bring a fresh breath of fall into the home. Consider sprucing up your favorite rooms with a little fall décor—something as simple as changing the bedding or throw pillows out for the new season can make a world of difference. Set a nice scented candle or fragrant reed diffuser in common rooms to complete the atmosphere. Adopt a spring cleaning mentality for the fall season and your home will be clutter-free and ready to entertain company anytime, especially as the holidays approach.