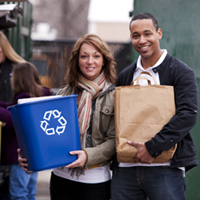 One of the daily questions we face in the struggle to keep order in our homes is "Need it? Keep it? Toss it"? Unless you are truly comfortable in a cluttered setting (and there are those among us!), the ongoing acquisition of "stuff" can crowd us out in a hurry.
Probably the toughest question narrows down to "keep or toss"? If we have adequate storage areas at home, this is less daunting. Since few homes today, however, offer either attics or basements, alternate storage is a great solution; many people choose to use clean, secure storage units for the items they designate as "keepers." These are likely to include seasonal sports equipment, crafting materials, family keepsakes, holiday decorations, and kids' outgrown toys or clothes that we know can be used downstream. And those of us living in apartments and condos can really feel the pinch of trying to trim down the clutter!
But, let's agree: while it may be tough in the decision-making stage, there is something really great about letting things go. Some people describe it as empowering! So, once you've decided to "toss it" the only remaining question is "dumpster or recycle"?
What a Concept!
Did you know that there is an America Recycles Day? It's an annual event on November 15th. Its purpose is to encourage us to buy products made from recycled materials, AND to encourage all of us to recycle, too. Most of us are familiar with bins for paper and bottles and plastic and cans; many of us live in communities that strongly encourage or require some degree of recycling at home. But there are some pretty interesting (and unusual) things that can be recycled that we may not have thought about. Here are just a few:
Locks of Love
With a focus on helping underprivileged children suffering from long-term medical hair loss, Locks of Love turns donations of human hair into free hairpieces. These are given to kids who otherwise would need to find a way to pay thousands of dollars in their quest to regain a sense of fitting in again. If your hair's been getting longer and longer while you ponder a shorter style, you could really help a youngster out when you cut it off! (www.locksoflove.org)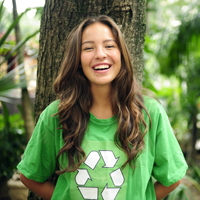 Matter of Trust
This nonprofit collects hair to create oil spill hair mats. Believe it or not! Hair naturally collects oil (that's why we shampoo it). The mats are EPA approved and have been used to clean up the oil spill in the Gulf of Mexico, and San Francisco beaches after a tanker spill in the Bay. Lots of hair salons send the hair they sweep up every day to support this program. Maybe your hairdresser's shop is one of them. (www.matteroftrust.org)
Surfboard Recycling
A number of companies will take your broken or damaged surfboard and turn it into a variety of products, including asphalt and concrete that is used for paving roads. Some of these companies also recycle material into green foam blanks that they will send to you to have a new surfboard created! (www.greenecoservices.com)
Bra Recycling
Yes, ladies, those bras sitting in the drawer because they just don't fit comfortably, can now be recycled and donated to women and transitioning girls around the world who need them. Rather than take up space you can use (and also be a reminder of one of those purchases you wish you hadn't made), you can ship them off and help someone out at the same time. (www.brarecycling.com, www.mnn.com)
Eyeglasses
Since 1925, when Helen Keller challenged them to do so, Lion's Clubs International have made sight programs a priority. Among their many efforts is an eyeglass recycling endeavor that operates worldwide. They welcome prescription and non-prescription glasses of all sorts, as well as sunglasses and children's glasses. Your old glasses can open a whole new world to someone! Drop off centers can be located online. (www.lionsclubs.org)
A Good Reminder
During World War 1, enough metal was salvaged from corset stays to build two warships! (If you aren't familiar with corset stays, think Spanx with underwires.) Now, that's a lot of recycling!
Here's one way to look at it: We all have things that we hold onto because they have meaning and value to us. But we also have lots of "stuff" – that we don't need, or use, or want – taking up space – that we do need, can use, and want. Maybe, on America Recycles Day, we can all take an extra moment to discard that "stuff" in a more imaginative way than heading straight to the dumpster.