Hosting Friendsgiving this year? This special tradition has become a wonderful complement to customary Thanksgiving festivities. Friendsgiving is a warm, heartfelt time of togetherness where you can be surrounded by all your favorite comforts—some of the best foods, drinks, and a coziness that's only possible when you're surrounded by your nearest and dearest friends.
What's Friendsgiving and How Did It Become So Popular?
Where families come together on Thanksgiving, friends gather for Friendsgiving. It's a brilliantly built-in time of year to get together with your dearest friends every year. It's also a moment of relaxation before the chaos of the winter holidays truly kicks into gear. The earliest beginnings of the term "Friendsgiving" were glimpsed in Usenet groups online and likely also uttered verbally in conversations. Nearly a decade ago the term really took off when Bailey's Irish Cream used it in an ad campaign and soon after it appeared in The Real Housewives of New Jersey.
Friendsgiving originally hinted at a special holiday intended for friends instead of family. Today, many close-knit groups celebrate both as separate holidays. Flexible Friendsgivings make it easy to choose between hosting a brunch for a large group, a buffet dinner, or something in between. Whichever way you prefer to embrace, here are some tips for hosting Friendsgiving this year.
1. Embrace Flexible Scheduling.
Planning a Friendsgiving day gives you the flexibility to choose a date that works for you and your friends. Coordinate with your closest pals and settle on a date. If schedules can't condense into one Friendsgiving, choose the date that works for the most people. You can always go out for drinks or host a totally different Friendsgiving on another date. Many people host a Friendsgiving day before family gatherings, but you can also host your Friendsgiving after Thanksgiving.
2. Nail Down Some Friendsgiving Favorites on Your Menu.
You never know what you'll get at a potluck party, so be sure to stake your claim on your own Friendsgiving favorites if you're hosting. The open menu invites the beauty of many cultures and creative imaginations to come to life. Consider other entrees that serve a large crowd, such as lasagna, pulled pork, or a DIY taco bar. For more order and organization, you can also create a sharable spreadsheet where Friendsgiving guests can sign up for specific dishes or categories to ensure you don't end up with a ton of desserts and very little sustenance.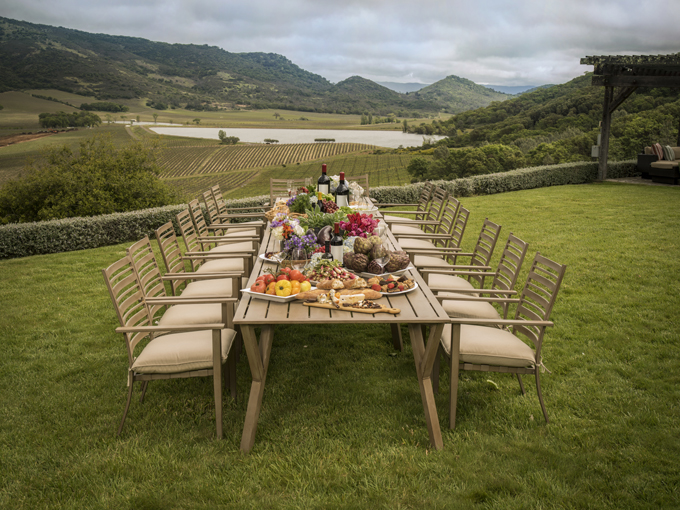 3. Buy Spare Seating and Tables to Better Accommodate.
Your guests will love spending time together at your home. Instead of renting chairs and tables every year, pick up a few sets you can keep on hand. Choose furniture that complements your home's interior design and it will look just like it belongs there. When your Friendsgiving event is over, move your new tables and chairs into storage for next time. You'll love having these items close at hand to expand your entertaining options inside and outside your home.
4. Set up a Friendsgiving Buffet Line.
Identify a space in your home where guests can flow comfortably as they fill up their plates. This area should accommodate crockpots, warming trays, Sterno pans, or whatever small kitchen appliances your guests bring along. As you plan this Friendsgiving buffet line, use caution not to overload your electrical outlets and keep plenty of plates, plasticware, and napkins handy.
5. Debut a Vintage Bar Cart!
Few things are as cozy as an antique bar cart topped with a tray of spirits happily dressing up the corner of a room. Set out glassware, wine and liquors for your guests to help themselves to a bit of holiday cheer.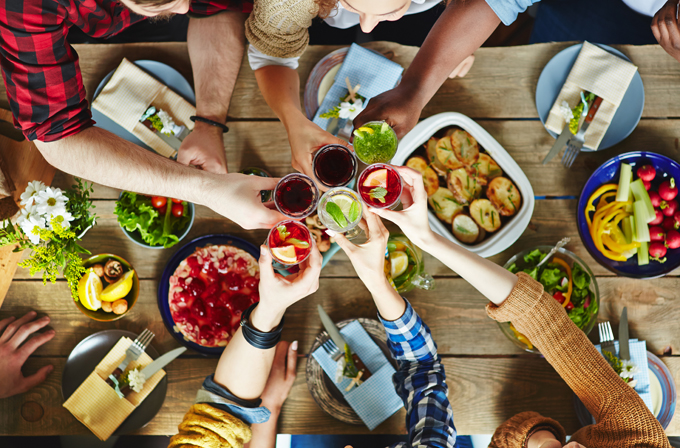 6. Update Some Home Accents for Fall.
A fresh-picked design scheme breathes new life into your humble abode. Make seasonal swaps with your interior home décor such as throws and sofa pillows, area rugs, curtains, vases, and other accent pieces. Warm hues of burgundy, chocolate, mustard, burnt orange, and sage will set the stage for a cozy-chic Friendsgiving. When not in use, you can store your items conveniently with Price Self Storage during the off-season.
7. Don't Forget Friendsgiving for Kids.
Put the kids' table to some good use! When hosting Friendsgiving, be sure to include your kids in the fun and excitement. Let them decorate the kids' table however they please and be sure to prepare some kid-friendly dishes like macaroni and cheese. Encourage the kids to share their thankfulness and let them dive into a fun craft or game night after the meal.
8. Go Big or Go Home on Dessert.
Take your Friendsgiving dessert to the next level. We're talking treat tables as far as the eye can see, brimming with brownies, cascading with cookies, and literally just spilling over with cakes, pies, and delicacies beyond belief. For an extra sweet twist, consider hooking up chocolate fondue for a dessert experience above the traditional Thanksgiving desserts.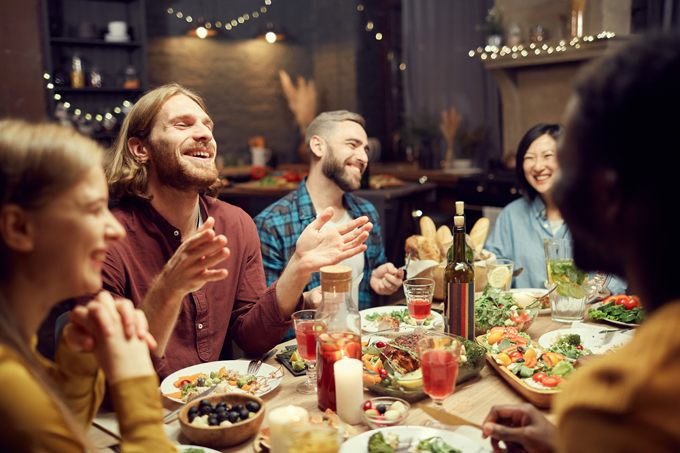 9. Go Spontaneous Instead of Going Without.
Planning a Friendsgiving far in advance definitely makes some things easier. That being said, it's still better to plan something rather than nothing. Even a very small gathering with one or two best friends could set the tone for a warm and bubbly holiday season to come.
10. Consider Friendsgiving at Work.
Thanksgiving potlucks are nothing new in the office. Put on a fun spin for Friendsgiving at work, where coworkers can each bring in their favorite entrée, appetizer, side dish, or dessert for a festive feast the whole company can enjoy. Set up a playlist and enjoy a little teambuilding with your work friends.
Planning a Friendsgiving doesn't have to be much different than any regular potluck party. The important thing is that you have your closest friends, a tasty selection of food, a comfortable atmosphere, and plenty of time to share good cheer and make memories. After all, what's Friendsgiving without great food and friends?!
At Price Self Storage, we offer all-season storage solutions to help you level up your entertaining. Check out our storage size guide for an easy overview of self-storage options for your home or business.