Every guy needs a place to get away. After a long day—or week—at work, the man cave is the ideal retreat from stress, responsibility, everything. Creating the perfect man cave can be a rewarding home improvement project for even novice handymen. Whether you design a garage man cave, basement man cave, or even a man shed, you will find the newly created space can truly improve your quality of life and your stress relief.
When you decide to construct your own personal man cave, keep in mind all of the aspects you would like it to satisfy. A flat-screen TV with a crystal-clear picture is the prerequisite accessory for just about every man cave. The obligatory beer fridge or kegerator falls high on many lists, along with a wet bar area with enough seating for your closest pals. For some, the right atmosphere is movie theater style seating with supreme viewing angles. For others, a sports man cave is the be all and end all. For many, the ultimate man cave is all of these things and more.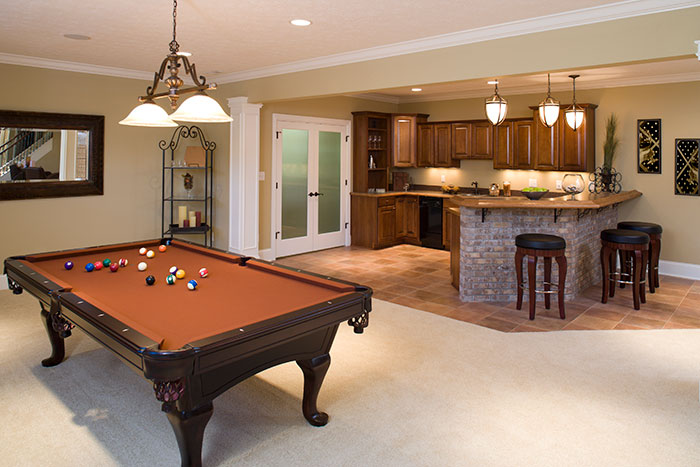 Before you begin building walls or knocking them down, remember to set a budget and stick to it. Do your best to avoid unnecessary impulse buys and focus on the big things. You can always upgrade your glassware or add a poker table in the future if a larger investment upfront isn't in the cards right now.
Consider these tips on man cave designs and the ultimate man cave essentials to ensure you've covered every base in creating your ideal hangout.
Envision the space you have available. Make a list of must-haves and nice-to-haves and see how much you can fit and afford.
Create blueprints of different layouts for consideration. Give yourself a chance to absorb and weigh all of your options. Look into flow, storage, and other factors that make the space as usable and as enjoyable as possible.
Choose versatile lighting options to create the right mood. You can easily install dimmer switches to allow you to adjust the lighting at will. Consider layering your lighting options with accent lighting for the full effect and complete control over the brightness of your space.
Think about your ceilings. You can go with a traditional look or for the unfinished basement that's about to become a man cave, consider spray painting all the pipes and surfaces and leaving everything exposed for an edgy look.
Create faux walls for separate spaces. Use furniture to create easy barriers to divvy up the adult space and the kid space. Rearranging in the future can create a fresh look and a different flow. You can also look into DIY partitions and unique floor-to-ceiling storage systems that can also help to break up the room.
Design the ultimate sports fan shrine to your favorite teams. Display your jerseys, pennants, balls, and any signed memorabilia all around the room. Furnish the space with team-themed furnishings and home décor accessories and look forward to catching the game in the comforts of your own personal man cave.
Go for a casino or game room style man cave. Set up a dartboard on the wall, poker table across from the bar, pinball game in the corner, and other fun activities as you see fit. Be sure to hook up your favorite gaming system to your widescreen television, complete with extra comfy seating.
Take a rustic approach to your hideaway. Lots of weathered wood and a palette of neutral earth tones can carry your rustic man cave to new heights. Look to barrels, wooden man cave furniture, and other ideas.
Don't forget your sound system. Hook up surround sound or another specialty system that will deliver the sounds smoothly no matter what's playing.
Change the theme of your man cave seasonally. Show off a beach theme in the summer, bring in darker tones for fall, decorate for Christmas, and give way to softer and brighter hues for spring. Refresh the look and feel of your space as often as you like and keep your alternate décor items out of sight out of mind with your own private personal storage unit.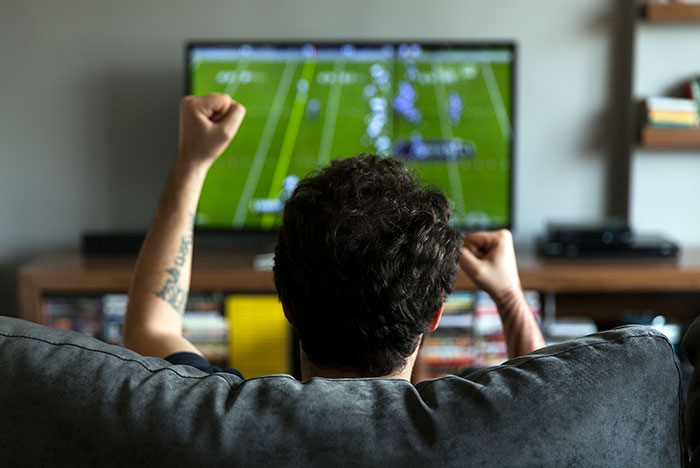 Once you've designed and built your perfect man cave, your job is still not done. Now you need to stock up on all the man cave essentials! Fill your fridge or taps with your favorite beverages. Fill your cabinets with glassware and bar tools. Stock your entertainment center with movies and video games. Once your man cave matches your long-awaited vision, invite your pals over to break it in and make some memories. Cheers!