Few things are as exhilarating as traveling the open road with the wind at your back. Cruising your way to new adventures creates precious memories for family and friends alike. When you rely on RV storage, it becomes easier than ever to bring a recreational vehicle like a camper, travel trailer, or a motorhome into your life without disrupting the outdoor setting surrounding your home.
From pop-up campers to luxurious motorhomes, recreational vehicles come in many styles and sizes for every budget. No matter which kind you take on your adventures, consider these RV storage ideas to keep and tips to improve storage for your RV on all accounts.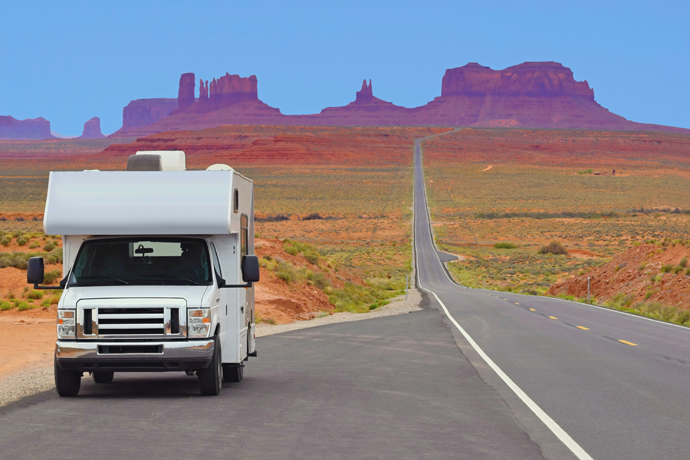 RV Storage Preparation Tips
Whether it's improved organization inside your vehicle or actually storing an RV and gear in between uses, these tips will help you keep you organized and make your RV storage experience easier. RV storage offers convenience so you can keep your RV geared up and ready to go.
Here are some RV storage tips to consider.
Remove all food and perishable items. Take any food items, ingredients, and bath and beauty supplies out of your RV. Removing your food items will keep your RV smelling fresh and ensure that your RV is ready to hit the road next time you decide to take it out of storage. Before storing your RV, Clear out the entire fridge and give it a quick wipe down, this will ensure your items aren't expired, and prevent any unwanted pests while you are away. Next, check the pantry. While some food claims to have a long shelf life, your RV's pantry is exposed to higher temperatures than your home's panty which may cause food to spoil or go stale sooner. For that reason, most RV storage facilities required any food to be removed prior to storing to avoid spoilage.
Secure loose items. Just the same as making your RV roadworthy, you'll want to ensure everything is properly tied down before storage. Use assorted bungees and Velcro strips to help secure loose items and other components that could be hazardous if not battened down. Place items from the counters inside cabinets or bins when your RV is in storage.
RV storage hack – Before prepping your RV for storage, take a photo of the interior of the cabinets, showing the variety of items and the way you had them organized. This will make setting up your RV after storage much easier when the time comes.
Remove valuables. Give yourself peace of mind knowing that your RV is free of any valuable or non replaceable items so that in a worst-case scenario, nothing valuable is lost. Make copies of any necessary paperwork and keep a copy at home. It's okay to hide a few dollars inside for emergencies, but avoid keeping sizable funds or any favorite items and keepsakes in your RV.
Enhance your storage options inside your RV. Being efficient with your space is important when storing your RV. Consider using unique storage systems, such as plastic plate cradles, mini drawer sets, and storage bins for use inside your cabinets. Some other space saving tips include:

Using a mountable organizing tool such as a paper plate dispenser or a collapsible spice rack.
Placing kitchen tools such as knives and utensils on metal wall strips or in a foldable knife rack.
Use an over-the-door or door-mounted RV trash can that conveniently hooks to the door under your sink.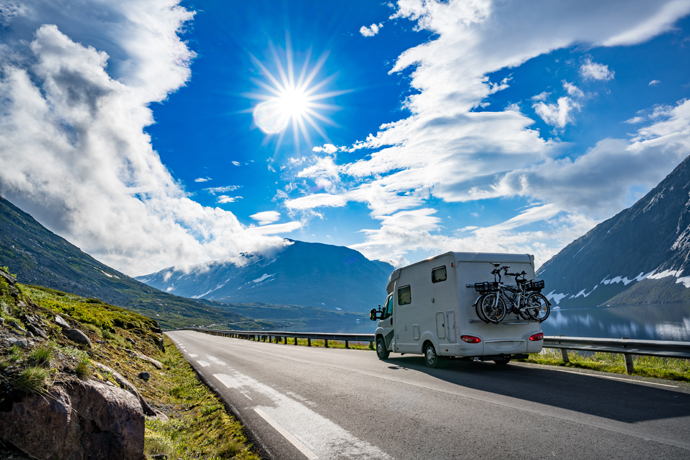 Winterize your RV if necessary. If you won't be taking your RV for a spin anytime soon, consider winterizing it for best storage potential. Winterize the RV plumbing system to protect your pipes and fixtures during the off-season. Don't forget to disconnect the battery. Then, de-winterize when it's time for your next excursion!
Also, when preparing your RV for the winter, you'll want to check and ensure that all seals and weather stripping are in good condition. Leaks from faulty weather stripping can cause mold and mildew to grow inside of your RV. Inspect your seals and weather stripping for any dry rot, as that is typically the first sign that they will need replacing.
Consider buying a top-quality RV cover. A cover can help you to keep dust and other debris off of your vehicle. Using an RV cover helps to protect your vehicle from the elements if you park in an outdoor RV storage facility. The cover also helps to keep your camper, trailer, or motorhome clean in covered RV storage indoors.
Do a deep clean. Go over the entire RV with a vacuum, surface-cleaning wipes, and other favorite cleaners to ensure the vehicle is as clean as possible prior to storage.
Some areas within your RV will naturally get dirtier than other spots. Below is a list of the must clean areas within your RV:

The kitchen
The bathroom
The entry way/door
Under the sink or in drawers (anywhere moisture can build)
Countertops (sanitized and decluttered)
The refrigerator (sanitized)
While it might feel like a hassle now, you'll thank yourself down the line when it's time to take your RV out of storage for a road trip. As they say "a clean home is a happy home" and this applies to your RV as well!
Park your RV as level as possible. When parking anywhere, even in a campground, always park your RV in a flat, level alignment. Parking on an uneven surface will put more pressure on your tires and potentially damage your undercarriage or chassis. The pressure can cause your tires to wear down more rapidly or require repairs that will be costly. Make use of plastic wheel chocks (leveling blocks) should you need an extra boost to get your vehicle level and stabilized. Visit your RV storage lots ahead of time to see exactly what your parking situation will be and sign the lease once you are ready to secure your spot.
Make an inventory of your RV supplies. As you close down your RV for storage, make sure to document any gear or supplies you need to replace prior to your next adventure. Keeping a running list for your RV shopping makes it easy to keep track of what you need to buy so you aren't left in the lurch.
Look for RV storage facilities conveniently near you. Finding RV storage facilities near your home, work, a professional sports stadium, or your favorite travel routes is a smart step in optimizing your future trips and excursions. Price Self Storage offers 13 car, boat and RV storage facilities to take the stress out of storing your most fun set of wheels. Find RV storage nearby your most frequented locations for added convenience.
We understand that your RV is much more than just a "mobile home". It's a vacation, a retirement trip, a family bonding session, and most importantly – it's the freedom to go wherever the road takes you. Such an investment deserves to be protected. Contact us at Price Self Storage today to discover how easy it is to find the perfect RV self-storage solution for you!