Banishment to the basement may be a thing of the past, as today's best man caves capitalize on creative spaces inside and out. The DIY man cave offers useful customizations and awesome amenities as far as the imagination can stretch. Consider the DIY man cave shed, where you take an existing space and upcycle it into an incredible extension of your personal living space. With Father's Day on the way—or truly, any time of year—you can give Dad a cool place to hang out with his favorite people.
While you can always purchase a brand-new shed, starting with your existing shed is environmentally smart and may help to save on costs. Simply move your stuff into storage first!
Creating a man cave begins with a little imagination. You can turn your shed into a man cave and still have plenty of time to enjoy it this summer. Begin with a budget and a wish list as you embark on this fun project. First, consider whether you'll have a man cave theme or motif. Then, dream up all the wonderful features you'd like to include. Begin sketching out a man shed floorplan or blueprint to envision how all your features will fit together in your space. Finally, get to work!
How to Turn a Shed into a Man Cave
What is a man cave shed if it isn't customized to your hobbies and favorite things? If you can dream it, you can probably create it. When deciding how to create a man cave in your shed, first look at large and small shed interior ideas from those who've gone before you. You'll find a variety of themed man cave sheds ranging from the popular shed bar conversion to the cigar lounge, or sports fan hangout, among many others.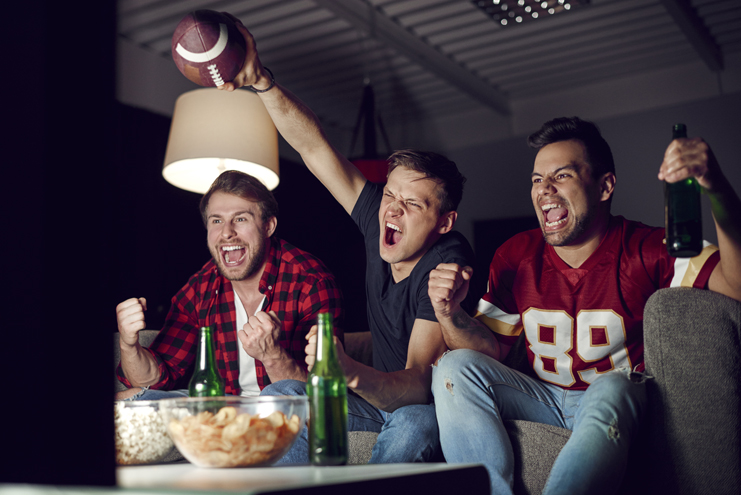 Consider these tips to turn your shed into a man cave:
First make sure that the shed is structurally sound. Check for damage that you'll need to repair. Also, look for signs of animals living inside or under the shed, insect nests, and other pest problems.
Give the shed a good clean-out. Sweep up the floors and remove cobwebs and other debris. Wash down the outside walls and do a 360-degree check on the shed inside and out.
Inventory your shed's contents. Assess what you regularly and move that stuff to your garage. Discard anything that's broken. Set aside items you want to keep but don't use regularly.
Move items to storage. Next, take any items you don't use regularly to a self-storage unit. This way, you can conveniently remove the clutter and access your gear when you finally need it.
Decide on interior design selections. You'll need to look at lighting options, paint colors, floor coverings, and decorative furnishings, at the very least.
Crowdsource some ideas before you make a final decision. Talk with your friends or family to make sure you think through each aspect of your man cave shed before you finalize the details.
Design a man cave floor plan. Envision the flow of your space with seating, table or counter surfaces, and special amenities like a bar, TV, or games.
Consult specialists for involved features. At the very least, you'll likely want to reach out to a friend or contractor to ensure your electrical follows code. The same thing goes if you'll have a wet bar in your shed to bar conversion. Be sure you can run electricity or plumbing to your shed before starting. Also, consider climate control options, especially insulation, so you can enjoy your man cave shed all year long.
Hire a contractor or step up to make your own DIY man shed. The complexity of your plans will dictate whether you create your own man shed or if you'll need to hire professionals. If you're handy enough, you can create the ultimate man shed with your own two hands. Alternatively, you can throw your money at it to magically discover how to turn a shed into a bar, casino cabin, personal music studio, photography darkroom, game room, or other themed personal space just for you.
Focus on creating a comfortable setting. Consider which portable heating or cooling appliances could help keep your clubhouse comfortable.You might find that you prefer fans and portable heaters over a permanent HVAC system. (And you can easily store them when not in use!)
Host a party to celebrate the completion. Invite all your pals over to break in the new hangout. Be sure you have food, drinks, and some sort of entertainment—music, sports on the television, or even a few outdoor yard games right next to your modern man cave. (Don't forget to pick up a few bottles of wine from your wine storage unit.)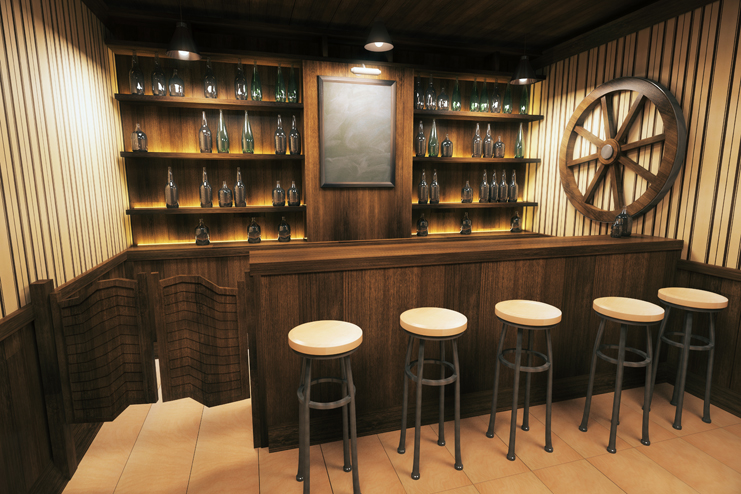 DIY Man Cave Ideas
When you turn a garden shed into a man cave, you'll love the blank canvas you have in front of you. Get creative with your design and make the ultimate man shed of your dreams.
Here are a few DIY man cave shed ideas
Add some tech. Tech features and gadgets can really amplify the cool factor in your modern man cave. Install a sound system, a TV, custom lighting, or even video game systems or old-time arcade games. Add a comfy couch for some comfortable seating (maybe even a pool table), and your personal space can also be a makeshift game center for you and your friends.
Consider different man cave names. Paint or create a custom sign to hang inside or outside your new hangout.
Hook up your man cave bar with all the essentials. No man cave would be complete without a bar area. Look into a kegerator, beverage fridge, or even a full lineup of beer taps ready to go. Stock your shelves with your favorite spirits, and don't forget a snack cabinet. Add in some bar stools for your friends, and your man cave shed might as well be a pseudo-pub.
Save the rafters above for a lofted storage area. Even if you just set aside a small corner of the shed, some upper tier shelving can do wonders for your space.
You can cleverly turn your shed into a man cave for memories and fun for a lifetime to come. After you've converted the shed to a man cave, you have to put back some of the equipment in your personal storage space. If there isn't enough space in your personal storage, you can also rent a self-storage unit. Try these tips to create the ultimate man cave, and be sure to contact us at Price Self Storage to help you tackle clutter with our stress-free storage solutions. Review our storage size chart to know how big of a storage space you need.