Knowing how to rent a storage unit makes move-in day so much easier. Storage units alleviate clutter and give you more breathing room in your own home or office space. If you're wondering what is needed to rent a storage unit, you'll find the entire process to be relatively quick, easy, and pain-free. Simply follow the steps in this guide to rent storage and change your life for a brighter future.
What Do You Need to Rent a Storage Unit
Renting a storage unit can bring so many positives to your life. Your rooms look neater, your mind is freer, and you have less to do each day to keep the place clean. Knowing how to rent a storage unit improves the transition from cluttered to clutter-free before move-in day even arrives.
Be sure you have these materials on-hand when you rent a storage unit:
Your driver's license or government issued photo ID
A signed lease for the storage unit
Some form of payment
When you rent a storage unit, you sign a lease to finalize the rental. A helpful tip is to sign your lease prior to move-in day. Signing your storage rental lease before your move-in date helps to ensure a smooth and seamless transition into your new space. Be sure to sign prior to your moving date so you can focus on transporting and arranging your things instead of paperwork.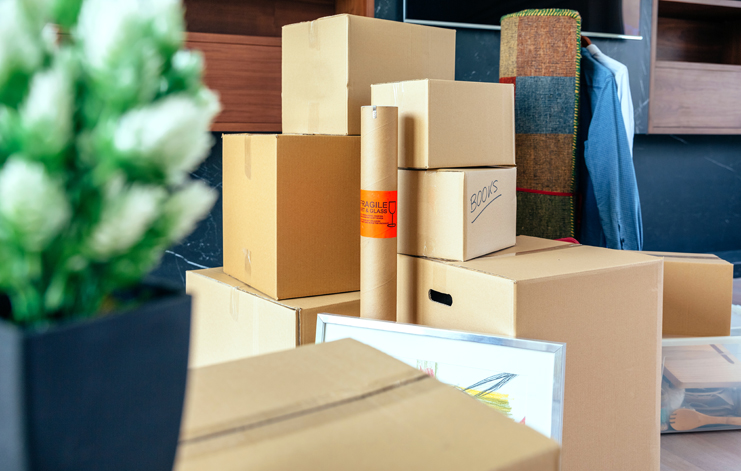 Types of Storage Options
When learning what type of storage you will need, you must consider these two types of storage options: 
Self Storage – Self storage is by far the most popular option available. Self-storage facilities offer a convenient and affordable way to store your belongings, regardless of what needs to be stored. From a special family heirloom to a massive RV, self storage gives you the freedom to choose which type of storage you need at an affordable price. You can add items to your storage unit at any time and it is more affordable than full-service storage. Full service may also take several days to give you your items whereas self storage revolves around the convenience of your schedule.
Full-service storage – A company that offers full self storage will offer "valet-style" services that'll cover everything from picking up the items at a set location, and then they take them to a storage warehouse. The company will typically drop off a container at a location and await the customer's confirmation that it is ready to be moved into storage. While this service is great, this type of service comes with a hefty price tag and removing a specific item out of storage can be challenging.
What Size Storage Unit Do You Need
Self-storage units come in a variety of sizes as understandably one size does not fit all when it comes to fulfilling your storage needs. From the closet sized 5×5 to the massive 10×30 that can fit nearly 6 rooms, you'll want to pick the right storage size for the job. For more information, read our Self Storage Sizing Guide to learn which sized unit you will need!
What Features to Look For In A Self Storage Unit
Features or amenities make the storage process much easier, which is why you'll want to pick the best storage facility that offers top of the line features to make this process as convenient as possible. Features not only add convenience but also ensure that your valuables are stored in the best possible way. The top features to look for from a self-storage facility include: 
Selection of ground floor units with drive up access 
Month-to-month lease
Keypad controlled access
Security cameras
Individual storage unit door alarms on select units
Well-lit facility
Free courtesy carts
Elevators to upper units
Easy access for large trucks
Extensive moving and packing supplies
Indoor parking available
Concierge service 
How to Rent a Self-Storage Unit
Wondering how to rent a storage unit? Complete the process in a snap! Simply follow these steps to find and reserve storage units.
PLAN – First, consider which items you plan to store and how much space those things require. Use the Storage Size Guide to help estimate the storage unit size you need. Remember to leave enough extra space for adding more items over time and a walkway so you can still access your things. When trying to find the right personal storage unit size, don't forget about the items in your garage.
RESEARCH – Look into the facilities near you and consider how their different features map to your needs. You can find vehicle storage, drive up units, and other special amenities to solve your storage needs.
ASK QUESTIONS – Contact us with any questions you may have. You can call, email, or stop by one of our self storage locations.
SEARCH – Search by zip code, city or browse by location to find local storage units for rent.
MARK YOUR CALENDAR – Pick a date that works best for you to move your stuff. Mark it on your calendar and work toward getting everything ready by that deadline.
RESERVE – Quickly and conveniently reserve your storage unit online, in person, or by phone. Your storage reservation allows you to choose just the right business or personal storage unit.
SCHEDULE IT – Schedule a delivery truck to help get your belongings from A to B. Rent with Price Self Storage and get free use of our truck and driver to help you move in!
SIGN THE LEASE – Visit your storage unit's local office to sign the lease ahead of time to make move-in day that much easier.
PREPARE – Take some time to strategize on your storage layout. Mark boxes with the room or items inside as well as fragile, heavy, light, etc., so that you can stack them accordingly. Check out our Storage Whitepaper for more self storage tips.
PACK – Carefully pack and organize all of the items you plan to move. Wrap fragile items in tissue paper/bubble wrap and disassemble larger furniture pieces if possible.
ARRIVE – Move your items/belongings into their new space. Bring a friend or family member to help and cut the time in half. Take pictures or sketch out a quick map of where you've put things so you'll remember when you need to retrieve anything from storage.
Relax with Room to Breathe
Finally, celebrate when it's all done! You've made a huge improvement in your home or business setting, and most importantly, in your life. You can now live and breathe in a decluttered space. Need a little help getting the ball rolling for finding the right storage unit? Give us a call to reach our free concierge service to help you choose the perfect storage unit for you.
Find the best storage units in the San Diego area today!