School is back in session, pumpkin spice is on the shelves pretty much everywhere, and it's only a matter of time until trick-or-treaters will be knocking at your door. Something about the changing seasons often inspires us to update certain aspects of our lives. A new haircut, a few new pieces in your wardrobe, and certainly a bit of new decor beautifully add to the excitement of autumn's arrival.
When it comes to updating the home for fall, you can make a dramatic impact with just about any size budget. Focus on bringing the hues of autumn into your home from one room to the next. Here are some tips and tricks on refreshing your home's interior with fall room decor.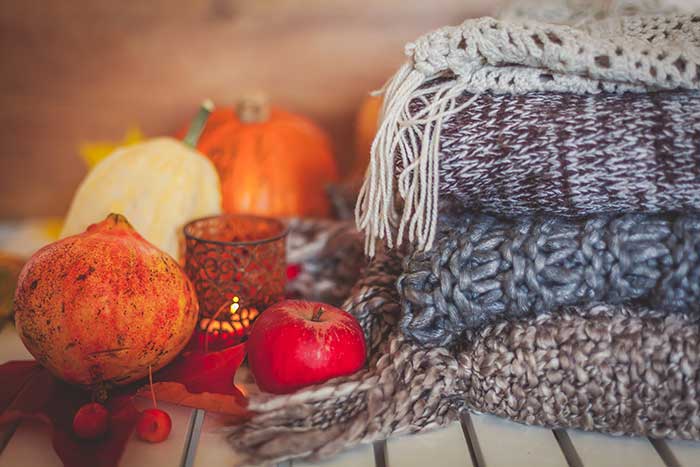 Fall Living Room Decor
The living room or family room gets quite a bit of traffic on a daily basis. From evenings with the family to weekends entertaining guests, this space is many times in plain view. Start your fall decorating with a few attractive swaps in this space.
Toss a wine or chocolate colored throw across your sofa – perfect for a cozy cuddle.
Update the throw pillows with new ones from your favorite home store's fall collection.
Set out a few eye-catching ornaments or tabletop accessories to add a little spice to the space.
Fill a large vase with fresh-cut zinnias or other fall flowers. Alternatively, fill a shallow dish with gourds, fresh-picked apples, or other items showing off a bountiful fall harvest.
Consider integrating a throw rug in a pretty fall palette if your space allows for it.
Swap out the curtains for a darker drape or sheer panel to further welcome the fall season.
Invoke the sense of scent with an autumn-themed candle or reed diffuser set.
Fall Bedroom Ideas
Keep the fall fashions flowing with a few updates to your bedroom. You'll love seeing the rich autumn tones as you awaken and fall asleep each day. Consider these fall bedroom ideas to truly enrich your personal living space.
Trade your light, summery bedcover for a deep-hued, plush comforter that makes you want to dive right into bed.
Add new throw pillows into the mix to match or coordinate with the comforter.
Swap out artwork for choices along the lines of a fall theme that's sure to delight.
Change your curtains out for richer shades suitable for a fall palette.
Switch to a new lampshade that will complement your bedroom's color scheme.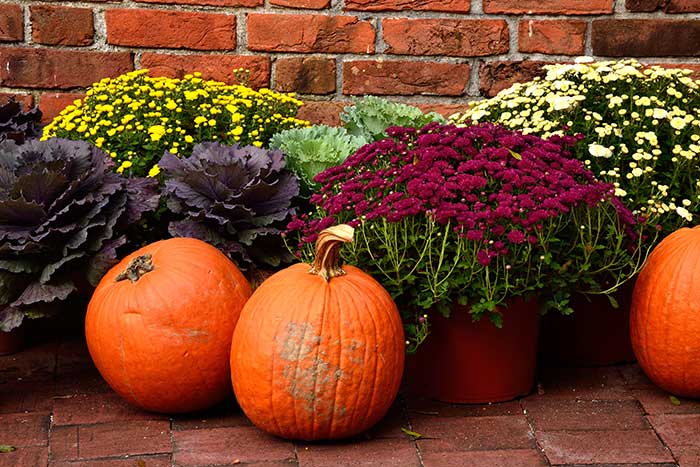 Fall Outdoor Decorating Ideas
Half the fun of decorating for the fall is dressing up your outside spaces. Here you can hone in on your gardens, front door, walkway, and other areas. Consider these outdoor and front porch fall decorating ideas.
Hang a fall-themed wreath or other seasonal cluster to your front door for instant visual impact.
Check out seasonal mailbox wraps for a colorful and eye-catching bit of design.
Refresh your gardens with some pretty fall flowers boasting hues of burgundy wine, yellow, orange, and red.
Consider setting a few pumpkins, indian corn, hay bales or other fall decor items on your front porch.
As Halloween approaches, pull out all the stops. Add a scarecrow, spiderwebs, lights, and other fun decorations into your outside decor scheme.
Other Fall Decor Ideas
Carry your fall themes throughout the rest of the house as well. Here are a few more fall room decor suggestions:
Swap out bathroom and kitchen soap dispensers for the fall themed variety.
Set out kitchen towels and bathroom towels in fall tones or fall holiday designs.
Set out musical Halloween characters or other fall decor in corners of the room where they will be noticed and enjoyed.
Make a tablescape display with a bold-hued table runner and a set of fall candles or decorative gourds and other decorations.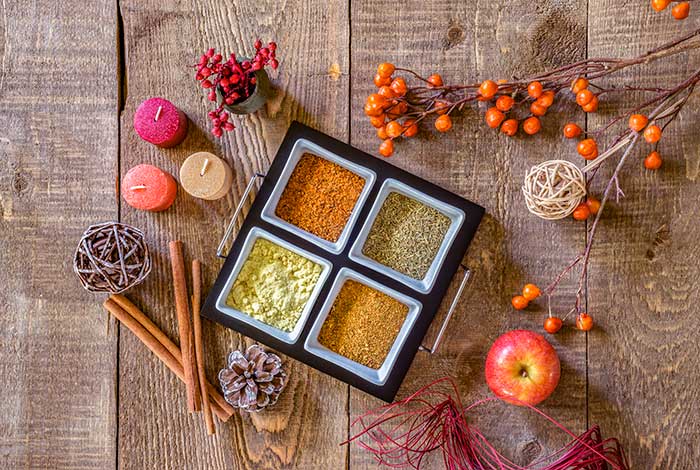 In addition to these ideas, you can also get creative with your own DIY fall decor crafts and ideas. Try these on for size:
Paint or decorate a few mason jars, tie a piece of ribbon around each one, and fill with fresh-cut fall flowers for a beautiful display.
You can also make festive wreaths, candleholders, and plenty of other DIY fall decorations to enjoy all season long. A quick trip on Pinterest will give you more ideas than you can accomplish all year long.
Make pretty autumn garland with fake fall leaves from a craft store and fairy lights.
Let your kids make their own fall holiday decorations and crafts and then display them proudly.
If you enjoy the holidays, you will see just how easy it is to accumulate a lot of decorations and specialty servingware over the years. With Thanksgiving following right on Halloween's heels, you may want to secure a personal storage unit for effortless out-of-sight, out-of-mind storage. As the end of summer nears, simply drive to your storage location and pick up your "autumn" boxes. You can even plan a fall themed party and save your supplies and decorations safely for next year.
What are your favorite fall room decor items to have around the home? Please share in our comments below.