Your standard dorm room is not exactly spacious. Tiny may actually be the best word to describe it. The space would be smurfarrific for most Smurfs, but for normal people, dorm living can be quite a challenge. This is especially true when you consider not only sharing the limited space with a roommate, but storing your combined possessions there and still having a place set aside where you can concentrate on school work. Each and every square inch in the room is precious and maintaining at least a semblance of organization is crucial. You will find literally no room for being disorganized in this situation. With little a bit of effort and a lot of creativity, staying organized in your college dorm room can be easy and quite manageable.
Deciding how to organize your dorm room is one of the first few things you'll do this semester, and it can be a lot of fun. Your dorm's initial layout can set the tone for many aspects of your college experience throughout the year. Here are a couple of college organization tips to help you keep your small dorm room at least partially organized and uncluttered.
BE A MINIMALIST
Try to pack the bare minimum when you first move into your dorm room. Counter to what you may believe, in this situation, the less you have, the happier you will be. If you find that you actually need something that you didn't pack, pick it up when you're home for the next school break. Need it right away? Most college towns have a shopping center nearby with everything you'd need while living at school. (And, there's always Amazon.) If you find at any point that you have accumulated too much stuff in your dorm room, you can always take it back to your parent's house next time you visit. If you want it close at hand, you can find an affordable storage unit nearby. Maybe your roommate or friends will share the space with you and split the cost.
BE A GOOD SHARER
If you get along, try sharing larger items in your dorm with your roommate. You don't need two printers, and you definitely don't need two grammar books. Also avoid doubling up on mini-fridges and microwaves. Save money and space by splitting up the necessities. Talk to your roommate about other shared dorm room ideas that can make your space as cool and functional as possible.
COLLAPSE WHEN NOT IN USE
Opt for collapsible items when possible. A collapsible laundry basket easily folds and tucks away until laundry day. The same goes for your drying rack, which by the way, may be another good item to share with your roomie.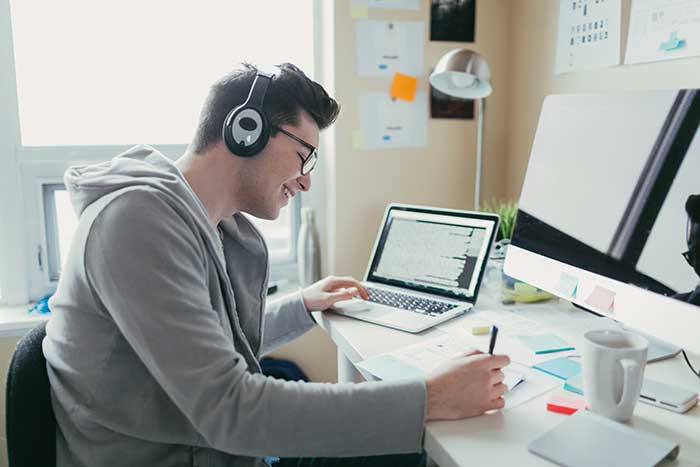 CREATE STORAGE WHERE THERE WAS NONE
Look into clever items like a bedside tote or a hanging organizer you can attach to your dresser or desk chair. Use 3M strips to mount hooks and other neat organization gadgets under shelving for bonus storage. You can also stick magnetic containers to your fridge for keeping kitchen items or other accessories close at hand. Finish off your kitchenette with an over-fridge caddy that keeps your napkins, plates, and flatware accessible.
EVERYTHING DOES DOUBLE DUTY
With such a limited amount of space, everything has to do double duty. The space under your bed can be your second closet, your desk a bookshelf, and your printer should be a 4-in-one (printer, scanner, copier, fax machine). Look at futons that start as a chair or fold out into a bed for overnight guests. Some ottoman styles also offer this bonus feature, or a hidden cube of storage inside. Get the most out of each of your belongings by making sure that they can do more than just one thing.
EXPLORE COOL DORM ROOM SETUPS
Just because your room is set up a certain way when you arrive doesn't mean you have to keep it that way all semester long. Try cool dorm room setups where you get a little creative with your furniture arrangement. In some cases, you can even stick your desk under the top bunk bed for a cozy study cove. You can also angle your bed out from the corner of the room or find other fun configurations.
REMEMBER SECRET STORAGE
Every dorm room needs a secret space to stash a little extra cash. A decorative book with hidden compartment could be the perfect place to save love notes. A cool canister could hide your checkbook and a bit of spending money. Get creative and remember to blend it in with your other room décor and accessories.
MAXIMIZE HIDDEN AND VERTICAL SPACES
Bed: Your bed probably takes up more room in your dorm than anything else. Take advantage of the hidden storage space under your bed by using under-bed storage bins to store books, school supplies, shoes, or out-of-season clothing. Stack bins or choose different sizes to allow you to sort items as appropriate within the space you have. You can increase this space by putting your bed on bed risers or cement blocks.
Walls and Doors:  Hang a shoe bag behind your door; these pockets can be used for more than shoes — socks, extra toiletries, small camera, batteries, water bottles, and yes even that extra case of beer. Hang a few hooks on the wall or if allowed, install a small shelf. If you have a large desk, consider adding a hutch; the additional shelves are very convenient and accessible when working at the desk.
Closets: Hanging organizers will help you get the most out of this storage area as well as employing wall hooks for extra storage space. Use specialty hangers to hang more clothing in the same available space. You can attach shower curtain rings to a wire hanger and then hang tank tops and camisoles on it for quick layering. Don't forget about the floor space where you can use baskets or bins to store items. Make sure to avoid empty spaces. Use your empty suitcases and bags as extras storage places or nest them inside of each other to reduce clutter. You might also want to keep your snacks and groceries out of sight in a set of plastic drawers or a bin on your closet floor.
Desk: You can easily make your desk double as another bookshelf by buying or making another level with a board and a couple bricks. Adding this extra level will enable you to store your books and a computer and still have room to study. You should also consider increasing the storage area of your desk by placing your notes and class papers in a file cart or accordion file folder. Keep your cords from getting tangled with cord organizers or your own DIY version. Further organize your life by making use of a bulletin board/white board, where you can hang a calendar to keep track of assignment deadlines. Likewise, a daily planner can help to keep track of your appointments and due dates on the go.
Dresser: The top of your dresser can double as an additional shelf on which you can store books, CDs, or videos. Top your dresser with a small shelf for another tier of storage.
STORE YOUR DORM FOR THE SUMMER
Rather than carting all your stuff back and forth to college over the off-season, store it smartly. Consider saving yourself and your family the trouble by renting a personal storage unit near your school. You may also wish to move your belongings into storage following graduation. This opens up your options while deciding where you will live and work next. Visit a Price Self Storage near you if you need self storage for the summer or any other season.
Now that you have all this organizing stuff down and your dorm room is cleaned and organized, you can focus on the important stuff, like socializing, and uh…Studying of course…let's just hope your roommate is as organized as you are. Good luck with that!
These are just a few suggestions for keeping your dorm room clean and organized. With a little imagination, you can come up with a whole lot more. Let us know what is working for you.