Most of the time, kids are inside by nightfall. The end of this month offers a fun change of pace for everyone. All Hallows' Eve is upon us, and kids are scrambling to put the finishing touches on their Halloween costumes while parents are taking out Halloween decorations from their personal storage space (or even self-storage unit) and putting plans in place for the annual Halloween trek across the neighborhood. Staying safe on Halloween seems to be a no-brainer, but a few Halloween safety tips can go a long way to ensuring everyone has a fun and safe holiday. Here are a few safety tips for Halloween, from trick-or-treating to candy eating and everything in between.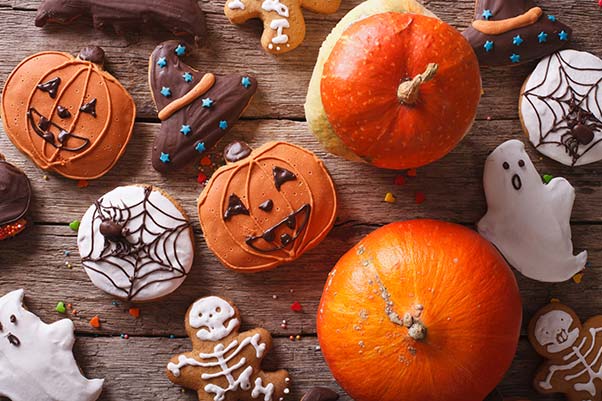 Halloween Costume Safety
Is this the year of the DIY costume, or will you be buying one from the store for your kids? Consider these costume safety tips:
Remember to safeguard against choking and strangulation hazards on costumes, particularly for babies and young children. Avoid putting anything around the neck or leaving loose strings and ties dangling.
Keep Halloween fire safety in mind. Use caution around open fires and flames of any kind, especially jack-o-lanterns and paper lanterns along your walk.
Choose sturdy and comfortable footwear over anything likely to cause a stumble.
Consider the length of your child's costume to prevent trip-or-treating.
Consider face paint and makeup over masks for better visibility.
Delight each child in the group with a glow stick necklace or bracelet as the finishing touch to the costume. This makes it even easier to keep track of little ones in the dark!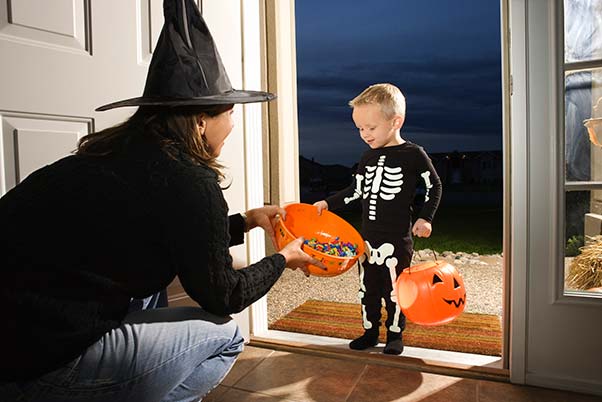 Trick-or-Treating Safety
Keep these Halloween safety tips in mind during trick-or-treating time.
Keep young kids close on Halloween night, holding hands when possible.
Always keep babies in your arms, in a carrier, a wagon, or a stroller for an added layer of safety. Avoid letting people you don't know hold your baby.
Stay on well-lit streets, sidewalks, and paths. Discourage walking across the grass when possible.
Remind your children not to go inside the homes of people you don't know.
Teach your kids to look both ways—left, right, left—before crossing the street. Also teach them to make eye contact with drivers before ever walking in front of a car.
Consider going up one side of the street and down the other instead of zigzagging back and forth.
Walk with your children or hang back a bit at the curb.
Older children may prefer to trick-or-treat without you. If this is the case, consider following along slowly in your car so you can still keep track of their location and safety.
Make Halloween candy safety a priority! Remind your children that you need to check their candy before they can eat it. Always look for open wrappers or anything that shows possible signs of tampering.
If you find any Halloween candy that appears unsafe, remove it from your child's stash and contact authorities so they can investigate and alert the public if necessary.
Remember to drive slowly and carefully as you follow your kids or move to the next trick-or-treating spot. Many small children and some dogs may even be out for the trick-or-treating fun and they can both dart out unpredictably.
One last reminder for parents – take as many photos as you like, but avoid getting lost inside your cell phone while out and about.
When Halloween is over, don't forget to pack up your costumes, trick-or-treat baskets, and decorations and stow the boxes in your attic or personal storage unit until next time! In the meantime, you can prepare for the next holiday season and get the decorations out of your Christmas storage or Christmas tree storage space.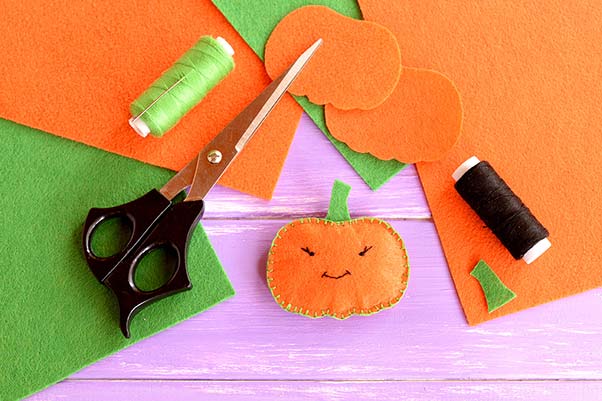 Bonus! More Fun Halloween Activities
Keep the Halloween fun going all week long! Even if trick-or-treating isn't your thing, here are several other fun Halloween ideas you can consider.
Go on a Halloween date. Get a babysitter and go out for a thrill at a haunted house tour or other spooky Halloween attractions in your area. You can even opt for dinner and a (spooky) movie!
Do Halloween crafts with the kids. Make a jack-o-lantern or paint a pumpkin. You can find plenty of Halloween craft inspiration online to keep your little ones busy all week long.
Make a few delicious and festive Halloween recipes. Roast up those pumpkin seeds you scooped out of your jack-o-lantern and mix up some fancy Halloween trail mix. Make spooky cookies and plenty of other fun and delicious Halloween goodies.
Watch Halloween movies and television specials as a family. Make a yummy snack and watch the classics like "It's the Great Pumpkin, Charlie Brown." These are memories in the making!
What are your favorite Halloween traditions? Be sure to share them in our comments below, and happy haunting!
(P.S. If you need additional storage for your Halloween decorations, feel free to check out our storage size chart.)