Favorite spots, familiar smells—pets find comfort in the things they know. Moving with pets across the country is no small feat. You've got to pack your own things, sell or get rid of the stuff you aren't taking, and coordinate shipping or moving services to transport all of your belongings to the new house. On top of all of this, you've also got to pack for your pet's needs during travel and ensure your dog's or cat's comfort and safety during the trip.
Even if everything goes smoothly, the move and the transition can be stressful for pets. A thoughtful approach can help to ease the entire process for everyone involved. Here are a few pet moving tips to help you plan a successful move to a new home.
Pet Travel and Moving Tips
When moving animals, extra planning comes into play. Set aside as much time as possible to get organized and ready for your move. Keep your pet's comfort as a priority rather than an afterthought and you should both be in good shape for moving day.
Pack like you're taking your pet on vacation. Keep necessary items handy in a duffle bag or tote for use during the trip or immediately upon arrival. At the very least, plan to have a bowl, fresh water, food, your pet's bed or crate, and a leash, if applicable. Pack overflow items and those you won't need right away in separate luggage.
Plan out your potty breaks. When traveling by car or rented moving truck, take a look at your route for the day and try to map out a few rest stops. Knowing your targeted stops ahead of time makes it easier to stick to your schedule while also ensuring your pet's comfort. While it's not a guarantee you won't have to stop someplace else unexpectedly, deciding on set stops takes a lot of the guesswork out of your trip.
Research pet-friendly options ahead of time. If you are moving across the country, you may need to book accommodations for a night or two during your trip. Make sure the place you book allows pets matching your own pet's description—small, medium, or large dog, cat, and so forth. If you have time, you can also look for dog-friendly restaurants.
Separate your pet from the excitement. Try to keep your pet out of the loop on your moving plans if you can. Some animals experience anxiety when they see their family packing suitcases or going through other pre-travel routines. See if your pet can visit with a local friend or family member for a few hours while you pack and work on other moving-related tasks. The visit may be a welcome treat while the packing and preparation may go even more smoothly solo.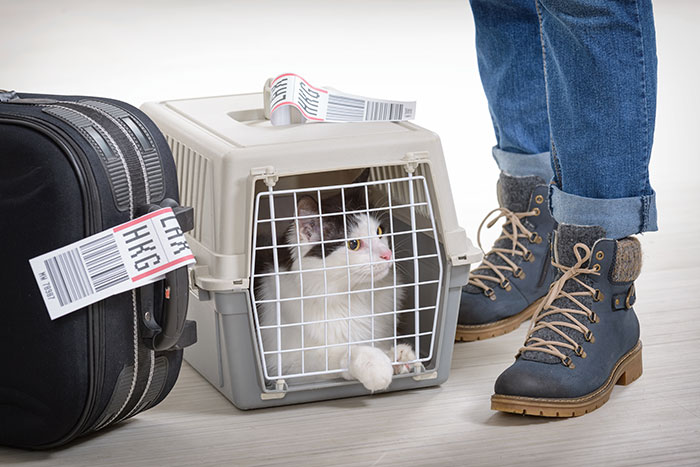 Travel in your own vehicle if possible. Your pet is probably familiar with your car, truck, or SUV. If you are able to make the move in your own vehicle, bring your pet along as copilot for an adventure that keeps things fairly comfortable.
Look into pet travel requirements if flying with pets. Find out where your pet would be on the flight as well as any specific requirements regarding type of pet, breed, and health, to name a few. Flying with a cat may be a totally different situation than flying with a dog. Find out ahead of time if you can carry on your pet or if you'll need to check or transport your dog, cat, or other pet.
Consider pet moving services if needed. You know your pet best. Try to imagine your pet's reaction to being transported by a company separate from you to determine if dog or cat movers are even a feasible option.
Gather records from your vet. When you are moving with a dog, cat, or other family pet, you'll want to bring your pet's medical history with you. Check in with your vet to make sure your pet is safe to fly, if that's how you plan to move, and go over any other requirements. Request a full copy of your pet's veterinary file to keep tabs on any ongoing issues and detailed notes on previous illnesses, vaccinations, and more.
Update your pet's information. If your pet has a microchip, tag, or other form of identification, be sure to check and update to your new address, phone number, or other relevant contact details.
Stick to routines as best as possible. Your dog may be accustomed to a walk at a certain time of day. Your cat may expect to snooze in your lap at the same time each night. Do your best to maintain your pet's routines even in the hustle and bustle of moving to a new location.
Explore and create new memories together. Once you and your dog settle back into your routine, try to find a little extra time to venture out into the world around you. Find a new place to hike, picnic, or just spend some time out of the house. If you've got a cat, play some new games at home or find other ways to enjoy your new space with your pet.
Give your pet time to adapt. Moving with cats, dogs, or other pets takes patience and adjustment. Expect some degree of anxiety or distress in your pet's mood as you begin the next chapter of your lives in a new home. Don't expect too much right away.
Relocating to a new home brings about huge changes for your dog or cat. It may take a little time for your furry friend to warm up to the new space. While you're busy discovering new eateries and local hotspots, be sure to give your pet some extra special time as well. Watch and enjoy the moments where your pet finds enjoyment in your new location. Celebrate the small victories and know that it won't be long until you both find a new normal.