Autumn is upon us, which, for many people, means it's time for boots and booties with dresses and skirts, tunics and leggings, beloved football jerseys, and dozens of other fall fashion favorites. Even if the weather doesn't get cold enough to warrant completely cleaning out your closet, you may still want to switch clothing colors or styles when the seasons change.
Of course, clearing out your closet and drawers does have its perks. Just organizing clothes you wear all the time and making extra room by putting away those you don't can make a big difference in your day. Keep tabs on all of your outfits and accessories by boxing up anything that is no longer seasonally appropriate and saving it for next year. Getting your closet and drawers organized makes it quicker and easier to get dressed for any occasion at a moment's notice.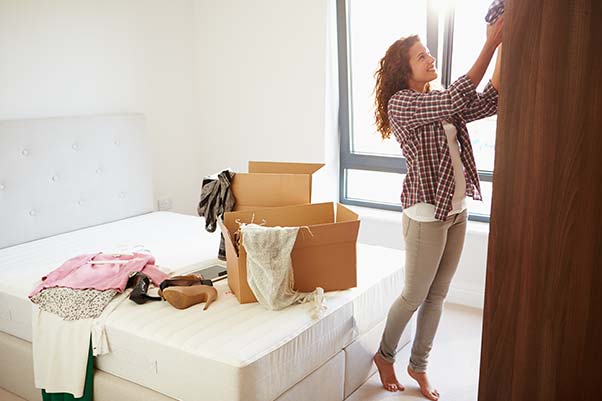 How to Organize Clothes
Soon it may be time to say goodbye to some of our summer clothes until next year or vacation, whichever comes first. It's just about time to break out the fall fashions, and winter style is only a few months away. Consider these clothes storage ideas to help keep your wardrobe polished and fitting for the season.
Go through all of your clothes and assess. All of them. Decide if some no longer fit or have fallen off-trend. Those would be good bets to donate or give away. Even the clothes that you love—like the outfit that you met your spouse in or the one you got engaged in—but still don't wear—may be clothes to let go. Make peace with how good these clothes were to you and either thank them for their faithful service before donating them, or set them aside for storage and sentimental safekeeping.
Organize each storage area with like clothing. If you have the space, consider a closet organizer to make all of your favorite clothes easily reachable. Under-the-bed storage can be great for folded clothing as well as shoes or other accessories. Keep your tees together in the dresser with tanks and other similar clothes.
Set out your week's outfits on a garment rack.If you have the space to display it, a decorative garment rack can be a lovely way to organize your clothes. Knowing what you plan to wear ahead of time also cuts down on the frantic flurry of outfits in the morning when absolutely nothing you own seems to be the right choice for the occasion.
Invest in a few clothes storage containers. Pack your can't-part-with pile in one clothes storage box and fill the others with seasonal clothing that you plan to wear again next year. Label each box clearly as to what is inside, even if the boxes are transparent.
Consider offsite storage to keep your house neater. Even if you have an attic or a garage with rafters, storage space fills up quickly. A personal storage unit affords ample space to safely stow your possessions until you need them next. Clothing tends to clutter up the house rather quickly when dressers and closets get full, making it more difficult to put away clean clothes and trickier to put together outfits. Move your seasonal clothing into storage for a stress-free experience. When you want to change clothes, your boxes for the next season are just a short drive away.
The changing seasons inspire fun and attractive fashion changes as well as new activities and adventures. Even if you still wear some off-season clothing from time to time, it just makes sense to keep the current season's must-haves most accessible. Tackle the clothing clutter now for a fun and carefree season ahead!