If you're like many California residents, you may count a boat or recreational vehicle (RV) among your biggest investments. Though these vehicles supply endless fun that more than covers their sizeable price tags, the truth is that most owners only use them every so often. Boat and RV owners know all too well that months or even years can go by while their prized investments sit idle. During these times, boats and RVs can deteriorate if not properly stored. The first step to successful boat and vehicle storage? Preparation. In this guide, our team at Price Self Storage provides a wealth of tips from the industry's top experts on how to prepare boats and RVs for long-term storage.
Vehicle Storage Tips: How to Prepare Any Vehicle for Storage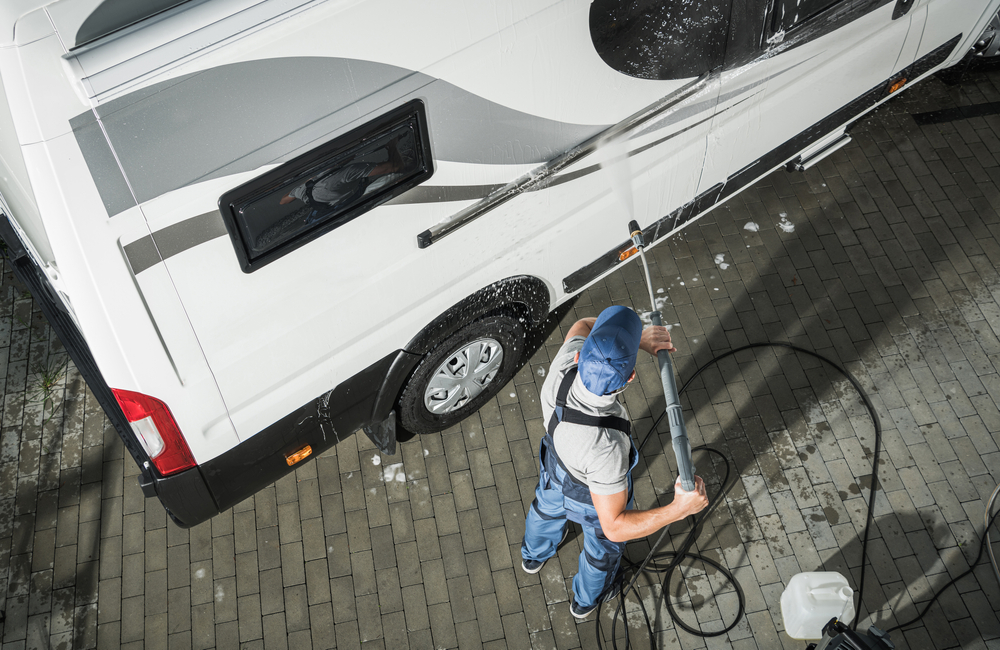 Starting things off, there are a number of general storage steps every vehicle owner should take when moving any vehicle into long-term storage. No matter what type of vehicle you're storing, following these preparation steps will help you keep your car, truck, boat, motorcycle, or RV in tip-top shape over its long stay in storage.
Wash and wax your vehicle. A dirty, unwaxed vehicle can attract dust, grime, and moisture. We recommend washing your vehicle to discourage buildup and applying a layer of wax to protect the paint from moisture and other microbial damage.
Park your vehicle facing out of the garage. When storing your vehicle over a long period of time without proper battery maintenance, it can shorten your battery lifespan. Experts recommend parking your vehicle with the front facing out of the garage or storage space for easy jump-starting.
Take care of your tires. Some tips are to inflate your tires to maximum cold settings, move your vehicle every 2-3 months if possible, or jack it up if moving it isn't possible to preserve the condition of your tires while your vehicle is in long-term storage.
Buy a trickle charger to save your battery. We recommend buying trickle charger (or "battery tender") to replenish your battery at the same rate it discharges. This will improve your battery's lifespan and help ensure that it's ready to go when you take your vehicle out of storage.
Invest in a protection plan. No matter where your vehicle is stored, accidents can still happen. Though unlikely, fire, theft, and other damages can befall vehicles in garages and storage spaces alike. We recommend investing in a protection plan to allow you peace of mind while your vehicle is in storage. Protection plans are typically offered by storage facilities themselves, or through most insurance providers.
RV Storage Tips: Getting Your RV Ready for Storage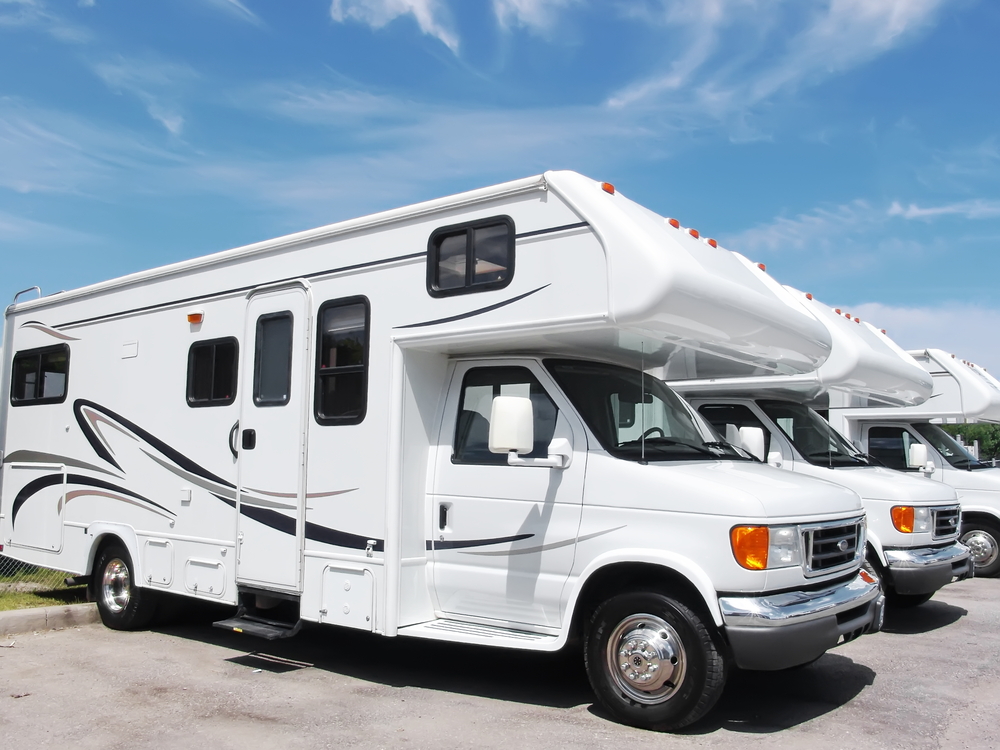 RVs are typically used seasonally, most frequently when the weather is nice. During the colder winter months, many of these large vehicles go into storage, where they can be parked with minimal risk of weathering, damage, and deterioration. If you are considering to move your RV into storage, prepare with the following:
Inflate your tires to maximum cold pressure and move your RV every 2-3 months. Inflating your tires will keep them from going flat while moving your RV regularly will help tires retain their shape and stop them from becoming oblong. Can't move your RV? Invest in jacks to raise it off the ground.
Clean and check all seals. Seals that aren't flush can let in moisture, dirt, and pests. Check all seals on your RV to ensure that they are watertight. If you find any that aren't, use tape as a quick fix. Remove propane tanks and cap propane lines to keep them clean and clear of dirt, insects, and other debris.
Leave doors cabinets and drawers open. Leaving doors and cabinets open (and giving their interiors a thorough cleaning) will reduce the chances of mold or mildew and leaving them ajar improves ventilation.
Charge batteries fully and disconnect them. Charge your batteries fully and then use a battery disconnect switch to ensure that they won't die over long periods of time in storage. You can also invest in a battery tender to steadily replenish your battery and counteract discharge.
Take care of your tanks. Many RVs have both septic water tanks and freshwater tanks. To keep septic water tanks in working order throughout their time in storage, flush them out and then add ¼ of a tank of water back to keep them from drying out inside. For freshwater tanks, fill them fully with water plus ½ of a cup of bleach and run the solution through all of the pipes. This will disinfect your pipes and prevent mold or bacteria from growing.
Boat Storage Tips: How to Store Your Boat for Winter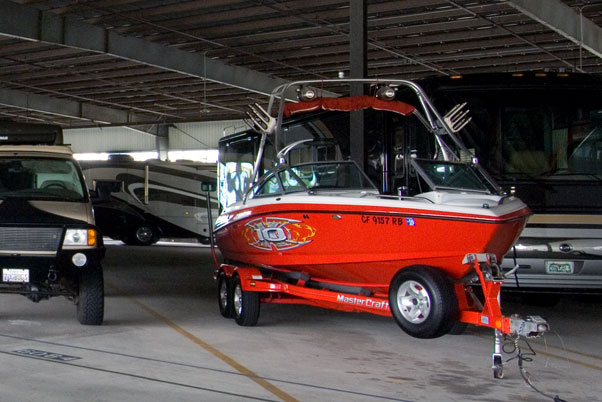 As the colder, stormier months roll around, the bulk of boat owners put their vessels into storage until the warmer boating season. Storing a boat in a high-quality storage facility can preserve its condition and overall performance while freeing up space on the curb or in the garage. In areas where freezing temperatures occur, it's important to take several steps to prepare your boat for long-term storage. Inadequate preparation can lead to damage from frozen water and other fluids.
There are a few storage options when it comes to storing your boat. Your boat storage options are: 
Indoor Self Storage
A self storage facility is a great option when storing your boat for the winter. Facilities offer amenities such as drive up access, which makes it very easy to pick up and drop off your boat. Want to quickly grab some fishing gear out of your boat? With a self storage unit, you have access to come and go as you please. Find the nearest boat storage facility near you.
Outdoor Storage
You have the option to store your boat on a trailer in your driveway or alongside your house, although it's important to note that an HOA may not allow this. While this is the most affordable method, extra precautions have to take place to ensure your boat is protected when exposed to the outside elements. A boat cover is absolutely needed to protect your boat from sun damage. Furthermore, storing your boat outside leaves it vulnerable to vandals, thieves and pests.
Marina Storage
Storing your boat in a marina, also known as wet storage, is the most convenient option for storing your boat. Having a boat in a marina means you don't have to worry about a boat trailer and transferring it in and out of the water. Wet storage is best for those who live in an area with warmer weather, where the temperature doesn't fall below freezing. To store your boat in a marina, you will need to pay a slip free, which is a monthly payment similar to renting. One main issue with marina storage is your boat is always in constant contact with the water, which allows aquatics pests such as algae and barnacles to attach to your boat and will damage the hull of the boat if not regularly maintained.
Cover Your Boat
Your boat should be properly covered with a waterproof tarp or custom watercraft cover, even if you are storing it indoors. A good cover will help keep dust and debris, moisture, and rodents out of your boat. Your motor should also be placed in the downward running position and covered with a tarp or canvas cover. Avoid plastic engine covers that could lead moisture build-up and corrosion.
Although it takes a little dedication when preparing your boat for storage, it will save you time, money, and a lot of heartache down the road. Once your boat is ready to be stored, Price Self Storage has the perfect solution for your boat storage needs at the following, convenient locations:
Norco
Situated between Corona and Norco at 2200 Cota Street with convenient access from both the 15 and 91 Freeways, our Norco storage facility offers outdoor RV and Boat Storage with a highly advanced security system.
Solana Beach
As Southern California's premier 100,000 square foot indoor Boat and RV storage facility, our Solana Beach Boat & RV storage location offers both pull-through and extra wide parking spaces between 11' and 65' feet long. Convenient to the San Diego area, our secure facility features fully accommodating doors to welcome RVs and boats of just about any size with plenty of space for full maneuverability. You and your family enjoy convenient daily access with cutting edge security systems such as surveillance video cameras with recorded footage and restricted computerized access to the gates. Our security protocols permit only authorized customers to gain entry through the secure gate system at all times.
Murphy Canyon
Enjoy convenient access to our Murphy Canyon boat storage facility off of Murphy Canyon Road, about two minutes north of San Diego's Qualcomm stadium. Key features include cutting edge security, a resident manager who stays on-location, and surveillance video cameras with continuously recorded footage.
Azusa
Keep your RVs, oversize vehicles, and watercraft of all sizes secure in our Boat and RV storage facility in Azusa. Our clients enjoy daily access with convenient pull-through and extra-wide parking spaces between 25' and 35' feet long. We also offer a disposal station for sanitary waste to ensure you are always ready for your next adventure. Our cutting edge security system leverages recorded surveillance video cameras and computerized access restricting our gates so you can rest assured that your vehicle or vessel is safe in our care.
Boat Storage Prep
Once you have decided which storage method is best for you, the following steps will teach you how to prepare your boat for long-term storage.
Prepare your boat for long-term storage with the following steps:
Remove all fluids and replace them with a non-toxic antifreeze product to prevent fluid freezing, which can damage boat components.
Drain any showers or hose fittings that may hold water.
Invest in a small battery tender to ensure that your battery still takes a charge after months (or years) in storage.
Inspect and cover areas where water may pool in your boat.
Clear all weep holes of accumulation and debris.
Cover any exposed plastics that may be made brittle by the cold.
Always remove the transom plug.
Clear water from your boat's bilge.
Secure all lines and fenders so that they do not freeze to the hull.
Remove all garbage, canned beverages, water bottles, and other containers that can hold liquid from your boat before putting it in long-term storage.
Fog your engine. Fogging oil coats the vulnerable parts of your engine with a protective layer that will help to avoid corrosion during storage.
Fill your tank up before you store your boat. You'll also want to add a fuel stabilizer, which is a product that bonds with the gasoline in your engine and forms a layer to prevent evaporation.
Preventative Maintenance
Preventative maintenance is crucial to keeping your boat running and looking its best. You should conduct regular maintenance on your boat; however, you should be especially thorough when you store it. With proper maintenance, you will be out boating while your boating buddies are busy fixing the broken parts on their boats. Whether you pay someone to maintain your boat or do it yourself, here are some of the most important items you should be sure to check before you store your boat:
Engine
You should look over your engine and do preventative maintenance on it after every trip.
Look over the engine for corrosion or rust. Also look over the engine clamps, fuel line, belts, and hoses for old or worn parts that should be replaced.
Check the engine's oil level and top it off or change it as necessary.
To help prevent condensation in your fuel system, remove the spark plugs to spray fogging oil into the cylinders, fuel up your gas tank, and add some gas stabilizer.  Make sure to run the engine for a couple minutes to allow the additives to get to the gas contained in the engine and fuel lines.
Electrical System
Make sure that all electrical connections are tightly fastened and free from corrosion or damage.  Use an anti-corrosion spray on all electrical connections to keep them functioning properly. You should also check your boat's battery. If you are storing your boat for a long time, make sure to unhook and remove the battery and then clean the terminals, focusing on any areas that show signs of corrosion. Once finished, apply a little grease and finally, charge the battery to full capacity and store it in a safe, warm place.
Bilge pump
A malfunctioning bilge pump could put you and your boat in a lot of trouble, so make sure to look over the electrical components to make sure it is working and free from corrosion.
Hull
Look over the hull carefully for signs of cracks or other damage. If you find any damage, it should be repaired immediately.
Propeller
Examine your propeller for any damage that would require you to repair or replace it. You should also tighten the propeller shaft and nut and grease the assembly.
What About Motorbikes and ATVs?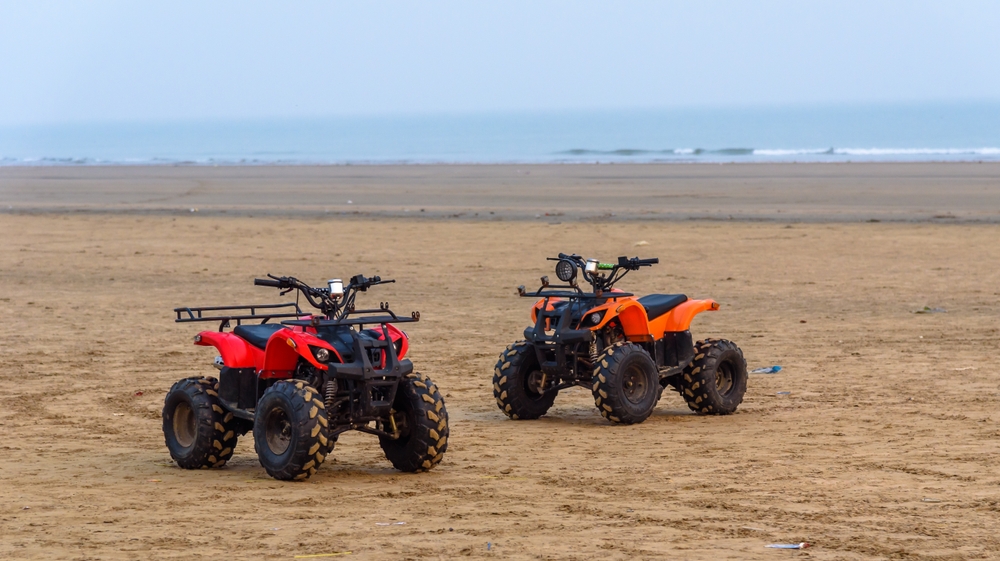 Smaller recreational vehicles such as ATVs, motorcycles, dirt bikes, snowmobiles, and scooters often find their way into storage alongside larger seasonal vehicles. When preparing these vehicles for storage, owners should follow the same steps and guidelines as listed above. Other good tips are to invest in a quality fabric cover to keep out pests, dirt, and moisture, thoroughly clean and lubricate all moving parts, change the oil and drain fuel tanks, and clean the air filter.
Book Boat and RV Storage With Us
To ensure that your RV or boat stays in great condition while in long-term storage, it's always important to take proper preparation steps. If you want to learn more about how to properly prepare your RV or boat for long-term storage, our team at Price Self Storage is here to help. Contact us for more storage tips, and book long-term vehicle storage at one of our many California locations today!