Decorating the home for Halloween often becomes a favorite tradition for young and old. The timelessness of setting up spooky Halloween decorations and even crafting them by hand becomes a beloved activity to enjoy with the whole family. No matter if you are crafting an entire haunted house or merely adding a mysterious touch to your own décor, this is one holiday where you can really let your imagination run wild. Here are a few suggestions for fun DIY Halloween decorations for inside and outside of your home.
INDOOR HALLOWEEN DECORATIONS
Decorating for Halloween indoors can be great fun for the whole family. Making some of the indoor Halloween decorations by hand adds an unforgettable element to the experience. Here are a few DIY styles of inside decorations for the spookiest holiday of the year.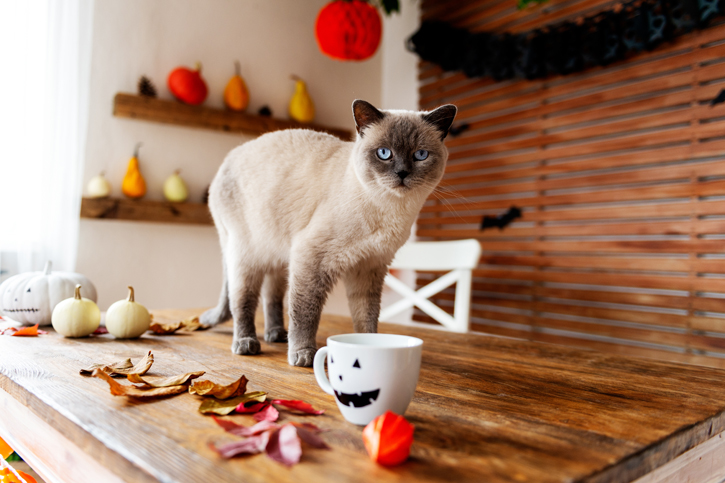 Hang Halloween Window Decorations
Work with your kids to cut out and decorate cool Halloween shapes to put in the windows. Decorate them with sequins and glitter for a sparkly touch. Make shapes like traditional jack-o'lanterns, ghosts, black cats, witches, monsters, and bats. Let your kids run wild with their imaginations as they design this fun window artwork and then hang their favorite pieces all over the house. You can also use window paint for a more involved DIY Halloween decorating craft. Alternatively, try your hand at creating window silhouettes.
Enchant Your Chandeliers
Hang Halloween spiders and other creepy crawlers from your chandeliers for a spooky touch to your indoor Halloween decorations. You can dangle sparkly garlands, skeleton bones, or other eerie accents for a fun and festive atmosphere.
Create a Halloween Wreath
You can hang your Halloween wreath indoors or outdoors, depending on the materials you use. For an indoor wreath, start with a wreath form and a selection of colorful and eerie ribbons, bows, and Halloween accents. Fasten the fabric elements on first for the background and then gradually add layers of fancy accents. For an outdoor wreath, simply choose materials that won't be destroyed at the hands of Mother Nature.
OUTDOOR HALLOWEEN DECORATIONS
Setting up Halloween yard decorations is half of the fun this time of year. Take some time to dress up your home's exterior with a pop of color and creepy wow factor. Here are some ideas for outdoor Halloween decorations you can craft yourself.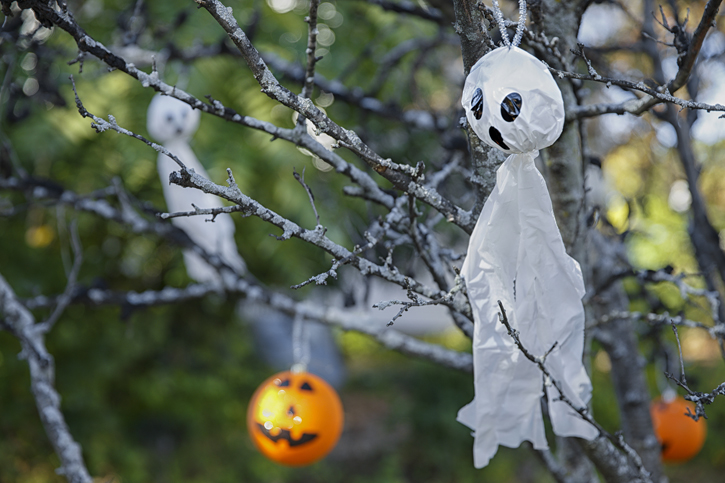 Haunt Your Trees with Tiny Ghosts
Start with a white plastic table cloth, some string, small balls, paperclips, and a black marker. Cut squares out of the tablecloth and tie them around the balls so they look like little ghosts. Draw on the eyes if you wish, and then thread the paperclip through the top of the ghost to make a hook. Tie the string through the paperclip and onto a tree branch. Do this over and over again to create a cute little ghost tree!
Make a Creepy Spotlight Silhouette
Cut out a Halloween shape from outdoor-safe materials like a plastic yard sign or other sturdy material. Secure your DIY Halloween decoration into the ground at an angle from your exterior spotlight so you can create a unique silhouette projection on your home's or garage's exterior wall. Try a Halloween tombstone or a grinning jack-o'lantern. Young trick-or-treaters will love the creative decorations as they meander through the street on Halloween.
Add a Ghoulish Glow to Your Gardens
Stick spooky solar lights into your gardens and along your pathways for a bewitching bit of light at night. You can also add other creepy accents to your outdoor spaces. Try sticking skeleton arms in the dirt or mulch so that they look like a skeleton is about to climb out of the ground. You can also enhance the eeriness of your home's exterior with a haunted house light projector or another theme for a similar effect that glows and gleams across the whole exterior of the home.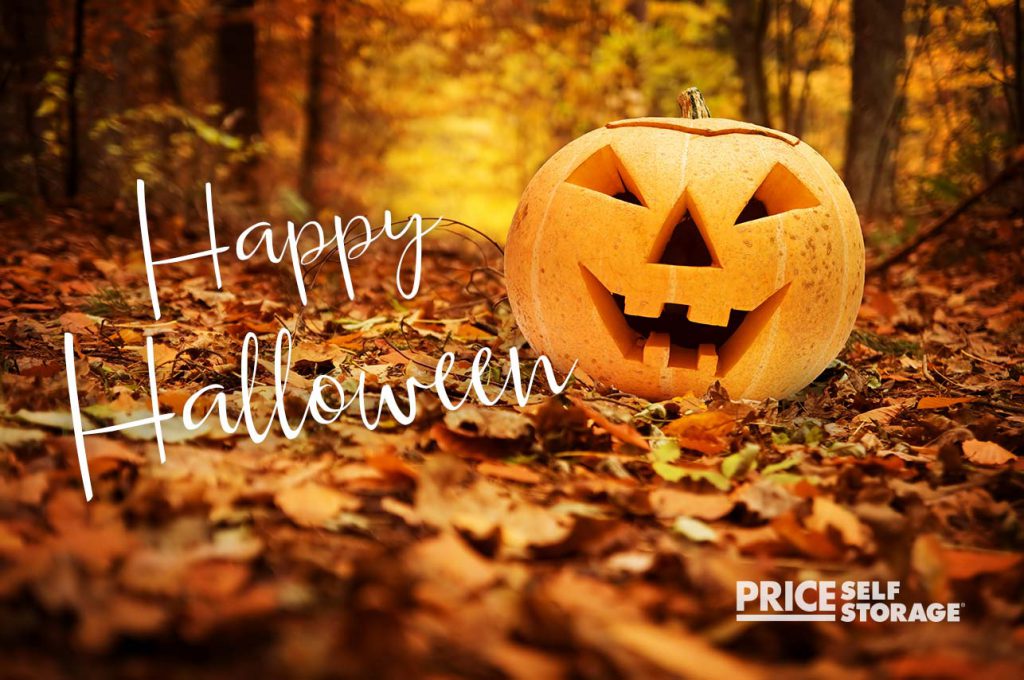 These are just a few ideas to give your house a pop of personality this Halloween. You can go all out or keep your decorating simple—however you see fit to celebrate the spookiest holiday of the year. When it's all done, simply drive over to your private personal storage unit and stash all the Halloween decorations away until next year.