There are many great life hacks that can be found around the home, especially in the kitchen. We've compiled our favorites to share with you. In case you haven't already, submit your favorite #PSSLifeHack into our social media contest and you'll be entered to win free storage and a gift card towards the Container Store.
Perfectly Chilled Wine
No one likes watered down wine, but paying for wine chill inserts can get expensive. Why not use the grapes that made the wine to keep your glass full? It's easy and affordable!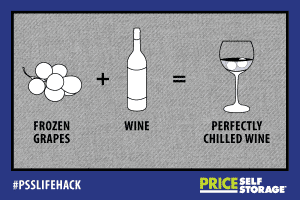 Citrus Ice Cubes
One of the best ways to keep beverages like lemonade and sangria fresh and cold is with ice and fruit. Wouldn't it be brilliant to combine the two ideas into one project? Muffin pans make it easy and allow for giant ice cubes with large, vibrant pieces of fruit. The large ice cubes will keep your beverage cool longer, too.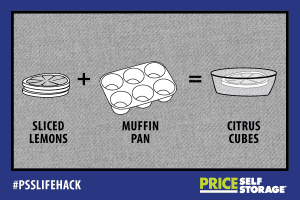 Oven Baked Taco Shells
Tacos are delicious, but can be greasy and hard to manage. Have you ever tried placing your taco shells on an oven rack? They require no deep fried oil and easily mold into the perfect taco shape every time.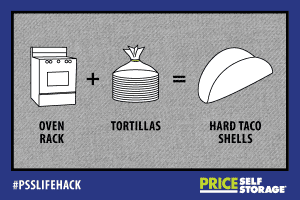 Fresh Herbs
The key to a delicious meal is to incorporate fresh, natural ingredients. Fresh herbs are a great addition to any meal, but can be hard to use before they spoil.  Get your money's worth for each produce purchase by freezing your herbs. All you need to do is add olive oil or your favorite cooking stock to some fresh herbs. Pop them in an ice tray, freeze and then add to any food dish when ready.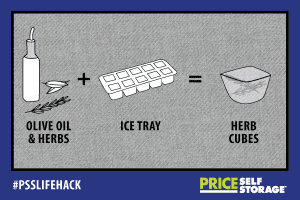 Grilled Fish
Grilled fish can fall apart really easily on the grill. Get the perfect grill every time by cooking fish on top of sliced lemons. Not only will the fish absorb the citrus, but the fish won't stick to the grill and fall apart while cooking.
Crystal Clear Ice Cubes
Are you a self-taught mixologist at home? Enhance your cocktail presentation by ditching the cloudy looking ice cubes for crystal clear ice. It's easy! All you have to do is boil water before putting it in the ice tray.