Apartments aren't exactly known for their abundance of storage. Space in closets and other storage locations is usually at a premium, so apartment dwellers need to get creative to make room for their belongings and keep things uncluttered.  And with the holidays just days away, you may need to make space for guests and seasonal decorating. Here are a couple tips to help you get the most out of the limited space you have:
Choose Furniture that Does Double Duty
If you end up purchasing furniture for your apartment, try to get items that can fulfill more than one function, or at the very least offer a little extra storage space. From ottomans with storage space inside to using a dining table as a desk, multi-function furniture will help you store a lot more in your small space.
Maximize Your Closet Space
First of all, make sure you get the most out of the closet space you have by organizing it. There are a ton of closet organizing solutions available that can help you minimize clutter and maximize your space.  You may also be able to increase hanging space in your closet by adding another rod. Once you have maxed out your closet, a simple armoire can be purchased fairly inexpensively and set up in a bedroom to double closet space.
Go Vertical
Since your floor plan is probably fairly small, wall space should be your best friend for storage in your apartment. Add some shelving to keep things organized and off the floor.
Less is More
When you don't have much space to work with, you want to limit the amount and size of the furniture and decorations you have. This will keep your apartment feeling more open and help you to keep it uncluttered. Some interior designers also suggest incorporating armless furniture or moving your furniture away from the walls to help a small space feel more open.
Use the Space Under Your Bed
The space under your bed is another ideal location for storage. There is a big difference between storing things under your bed and hiding them under the bed, however. Baskets or plastic bins should be incorporated into your under bed storage to keep the space neat and uncluttered.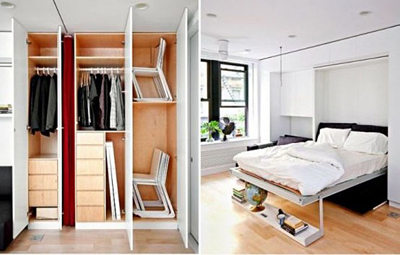 Use Your Balcony
If your apartment has one, your balcony area can be a great storage area. The balcony is ideal for storing bikes and other outdoor items. You can also store a multitude of other items in a large deck box. Many deck boxes also double as seating, so your balcony doesn't get too cluttered.
Stay Organized
It almost goes without saying, but if you don't keep your apartment organized, it doesn't really matter how much space you have. Of all the things you can do to get the most out of your apartment, this may be the hardest to keep on top of, but it is also one of the most important things you can do.
Rent a Storage Unit
Last, but certainly not least, if you have more belongings than you can fit in your apartment (and still keep everything organized), don't try to shove everything in. Renting a storage unit is easy and allows you to hold onto your belongings while still keeping your apartment open, organized and uncluttered. Call us today to reserve a storage unit and get the first month free!