Laundry that needs to be folded, boxes of junk needing to be sorted, bags of clothing waiting to be donated… We're all guilty of hiding clutter when we need the rest of the house to be neat. Where that clutter gets stashed depends on the layout of your home and what you can afford to get away with doing. Oftentimes, the guest room falls to this unsightly fate. Turning the guest room into a personal storage area doesn't work unless you don't intend to welcome any houseguests.
Rather than letting this room accumulate clutter on its way to the point of no return, take some time now to get your spare bedroom in shape for the holidays and beyond. Here are some essential tips on guest room design to make your spare room look and feel comfortable and more spacious.
1. Keep It Simple
The more furniture and belongings you pack into your guest room, the smaller and more cramped it is going to look and feel. Consider sticking with simple guest room ideas to keep the room feeling open and airy. Work with the minimum if possible—a bed with a few throw pillows and a nice comforter, a dresser, a nightstand, lamp, and some artwork on the walls. If you have more wall space, you may consider a bureau, a chest, or a dressing table for a slightly retro effect. Add a plant as a finishing touch with a pop of color and life.
2. Create Illusions of a Larger Space
Remember that you can do a lot with guest bedroom design once you add a little creativity. For smaller spaces, hang one or more mirrors to visually expand the size of the room. You'll also make it easy on your guests when it comes to getting ready in the morning, giving them a place to check their appearance before venturing into the day.
3. Opt for Comforting Guest Room Colors
Rather than going trendy, stick with the tried and true. Fill your guest room with soothing blues, serene greens, or muted earth tones. If you need a little inspiration, consider a palette of perfect guest room color ideas by HGTV.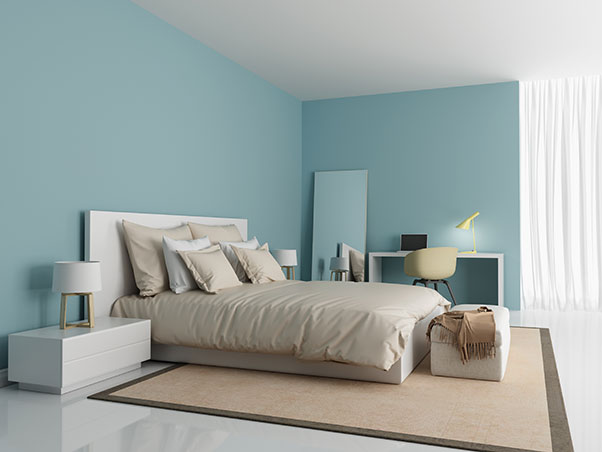 4. Welcome a Bit of Solitude
Create a peaceful retreat in your guest room with carefree home accents that add to the relaxing look and feel. Enhance the mood and tranquility with scented candles or reed diffuser fragrance. You can even create the feeling of seclusion with a canopy bed or a curtain nook that envelops the bed in its own private nook. (And you can creatively get the look of a canopy bed without investing in new bedroom furniture with a little inspiration and some DIY canopy hacks.)
5. Create an Office Guest Room
Easily build a private space that effortlessly transforms to an abode for guests at a moment's notice. Open your mind to modern spare bedroom ideas that beautifully blend form with function. A writer's desk, a chair, and a locking file cabinet paired with a chic daybed form the perfect place for work or rest. This office-bedroom combo infuses a chic modern flair to your spare room without letting that extra space go to waste when you aren't entertaining company.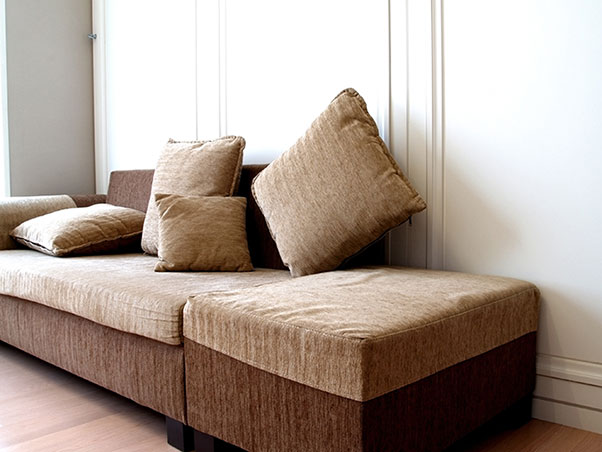 6. Craft a Convertible Guest Room
Some homes don't have quite enough space to devote an entire room purely to guests, and that is okay. Along the same lines as the office guest room, you can let your mind wander across all the unique spare room ideas, from a den to a craft or sewing room, media room, and more. Opt for a sofa bed or futon to stretch the multipurpose power of your living space.
7. Keep the Space Clear of Clutter
The biggest problem with spare rooms is that they often become a magnet for the clutter of the home. Piles of laundry to deal with, piles of mail to go through, piles of things that need to be put away, donated, sold, or trashed. Avoid the urge to use your guest room as a closet. Instead, sort the clutter, dispose of what you can, and consider an offsite self-storage unit to store your belongings out of sight, out of mind. This lack of clutter creates a more carefree living space for your guests and your own family with plenty of breathing room and just the right ambiance.
Deciding how to make a guest room welcoming begins with putting yourself in your guests' shoes and involves a little inspiration to pull it all together. Try these guest room decorating ideas or feel free to share your best suggestions in our comments below.