With Christmas less than two weeks away, the year's hottest toys, gadgets, and other dream-worthy purchases continue to fly off the shelves. If you're like most parents, you may have some trouble finding places to hide all of the presents until Christmas morning. Not to worry, though, as you can easily find creative ways to keep those special gifts hidden with a few tips. The bigger challenge often surfaces once the dust settles on Christmas morning. Indoor and outdoor storage concerns materialize just about as quickly as your kids joyfully tear through neatly wrapped presents, leaving behind a tattered trail of crumpled wrapping paper, bent bows, and wadded bits of tape. If you can see through all the discarded wrappings, the piles of shiny new things remind you of the task ahead.
Inside items are one story—clothing, shoes, household gadgets, and even some toys can typically find homes with ease. Either they smoosh into drawers and under beds or couches, into bins and toyboxes, or on closet shelves, while some other items taking up space may march to the beat of out with the old and in with the new. But all of those exciting new outside toys deserve a place to call their own as well. Pool toys, sand toys, balls, and bats, obstacle course kits, and other fun things would fit nicely inside an outdoor storage chest or container. Not all homes have outside storage bins, though, and in many cases, it's just an oversight with most of the focus fixed on organization for inside the house.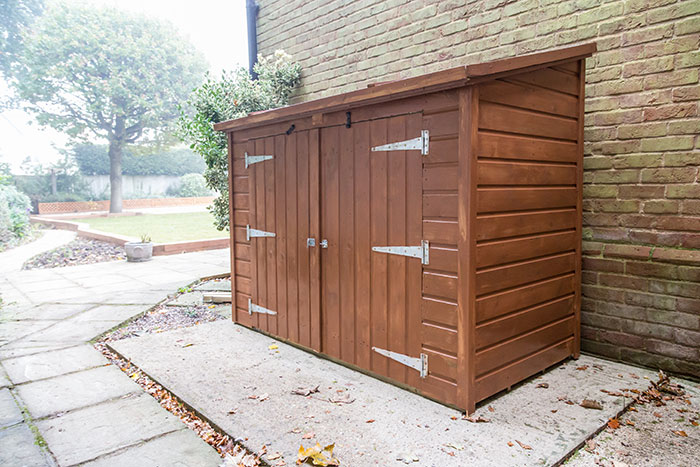 Easy Outdoor Storage Solutions
Outdoor storage containers are available in many shapes, sizes, and styles to suit your needs. When adding fun, new outdoor toys to your collection, it also becomes necessary to keep these items safely stowed. You can outfit your favorite outdoor spaces with waterproof outdoor storage to keep your things safe and sound. Don't forget to look for storage options with a lock to keep everything secure when not in use. Here are a few ideas to organize your collection of outside fun and games.
Set up a pool storage box on the deck to serve as the perfect place to stash pool floats and other swim toys when not in use. Other pool toy storage options may include a box in the rafters of your garage, a specialty rack to hold your floats, or a deck box to keep uninflated items out of the elements. The deck storage box also makes it easy to store outdoor home accents, grilling accessories, and more, depending on your needs.
An outdoor toy box provides ample space for sports equipment and games meant for outside playtime. Keep your Wiffle ball set, your horseshoes, and other fun items easily at hand.
Add a bit of creativity to your outdoor toy storage near your children's swing set. You can build a corral for sand toys and other outdoor play essentials or incorporate a waterproof outdoor toy box for effortless pickup.
Take outside toy storage to new heights with shelving units dotted with baskets brimming with outdoor toys. Try to build this under some kind of roof or overhang if possible.
Create your very own outdoor toy garage for all of your kids' ride-on toys. PVC pipes with shower curtain supplies enhance the style and make it easier to keep the toys clean.
Look for clever outdoor storage options that account for future growth with multitasking potential. A storage bench offers a place to sit with hidden storage, giving you the most bang for your buck in the given footprint of the storage piece.
If you find your outdoor storage needs continue to grow, you may wish to look into a shed. Sheds provide great versatility in storing everything from lawn equipment to flowerpots, kids' toys, and more.
For offsite large toy storage, check out convenient and affordable options with your own private personal storage unit. You can store your items during the off-season, keeping your home and grounds neater and free from clutter.
Outdoor storage seems to be more of an afterthought for many people. Outdoor spaces offer so much to us in terms of comfort, social environment, and general mood and health. Take a few moments now to set up and organize the storage of your outdoor patio, porch, deck, and yard, and you will be well set for a long time to come.