The sheer amount of "stuff" one family accumulates can be staggering, especially when it comes to the children's playroom. From action figures to stuffed animals, games to blocks, balls, and beyond, it can be a real challenge to keep the space clean and organized to say the least. Sometimes it seems like no number of baskets, bins, and toy boxes can set the scene straight. The good news is that a change in process can make for a better result time and time again.
Think of the state of your children's playroom as a two-part equation. First, you have the toys themselves to deal with, plus the games, books, and any other odds and ends the kids own. Next, you have to keep the room clean once it's neatly organized. Of course, when you remember the purpose of the space—a playroom—you'll see that keeping the space organized and clutter-free seems about as easy as getting your kids to stop bouncing off the walls when you're on an important phone call. But we digress.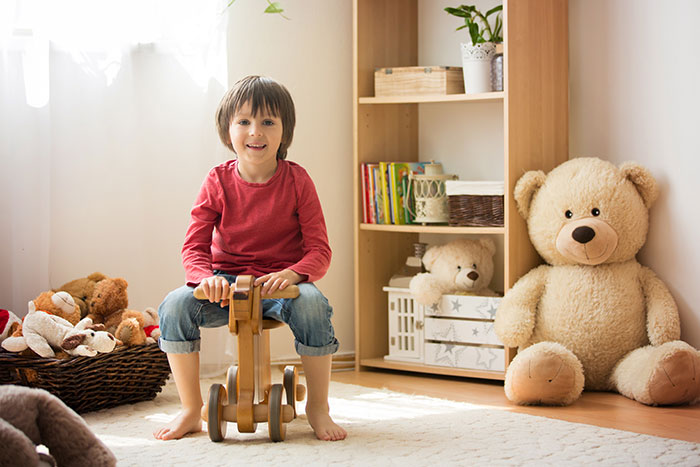 The good news is that a strong organization system and a few ground rules can make all the difference. Consider these tips to provide you with toy solutions and clutter control in your kids' playroom.
Find clever storage ideas all around you. When organizing toys on a budget, an old shoebox, a basket, or a drawstring bag can become the perfect storage solutions. Focus on the size of the container and the amount of toys that will need to fit inside.
Look for the holy grail of storage—hidden spaces. If your playroom has a couch, storage drawers underneath will offer additional space to store out of sight. Bins under a drawing table make the perfect holder for all of your children's art supplies. Be creative and resourceful!
Choose playroom furniture that doubles as storage. Check out storage ottomans or benches for seating and cabinets or cubbies for toy storage along the walls. (Remember to use wall anchors for any heavy furniture that may tip.)
Consider different playroom closet ideas. Look at closet organizers, plastic drawers, shelving and more to ensure your kids' game collection and other toys are safely stowed.
Make every bit of space count in a small playroom. Hang toy shelves on the walls to expand your storage space. You can also get into the habit of rotating toys for dual benefit. First, you keep a bin or two of toys out of sight—in the attic or even a self storage unit—for a few months. Then, swap those toys for other ones to keep the selection fresh and exciting. Small playrooms may not have enough space to store all of their toys at once. Remember, less is more.
When designing a brand new playroom, cover all your bases. Think about the value of built-in playroom storage in addition to the more traditional chests and shelving. Include a cozy window seat in the plans if possible for a comfy reading corner, with seat storage underneath, of course.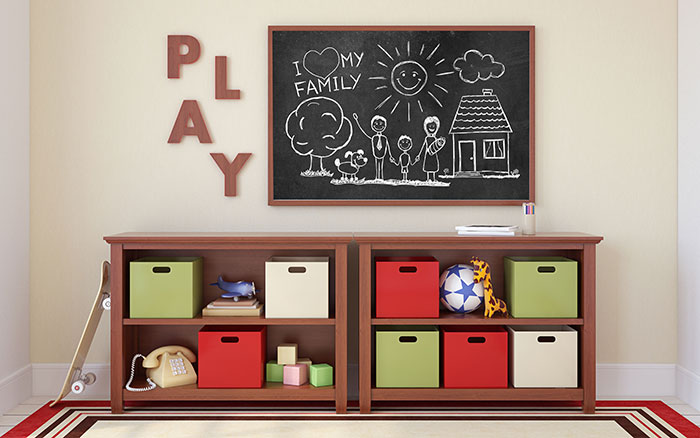 Be a master toy organizer. Choose bins or boxes to organize your kids' toys according to type. Use labels if desired to easily remember what goes where and encourage your kids to pick up their toys daily. Once the room is clean, stash the boxes in a toy box or in the playroom closet.
Rely on chalkboard paint for fun and function. Paint a wall for a giant chalkboard and consider using chalkboard labels for easy swaps.
Hang up a small hammock for stuffed animal storage. A corner shelf or stuffed animal hammock makes a great space for plush friends.
Set a new rule with your kids about cleaning up. Require that they put away their toys before they can take out new ones. Also, ensure that they pick up the playroom before watching shows or enjoying other rewards.
Your creative insight and pure imagination can create a truly unique, modern playroom to delight your little ones for years to come. A healthy dose of organization and a dash of structure ensure your children's playroom stays neater and cleaner for all the family to enjoy.