Bored with your living room? Need some pizazz in your bedroom? Sometimes all it takes is some new art on the wall or a new piece of furniture to make our rooms (and lives) a little more interesting.
And lucky for you, it may just be your storage unit to the rescue. After all, who wants to spend hundreds of dollars at a furniture store when you can upcycle what you already have? So take that cheap nightstand that stood the test of time or that small bookshelf hidden against the storage unit wall and let's make something new again.
Dressers and Nightstands
Upcycling itself can take many forms, and it depends on both effort and material. For the artist at heart, you can paint your dresser into a work of art. This simple trick will brighten up even the ugliest of furniture. Or, if you happen to have an extra door, and a nightstand or dresser, create this beautiful and functional "hall tree."
Helpful Hint: If you're not using the drawers of your dresser or nightstand in your upcycling project, don't throw them out. Drawers work well as floating shelves, garden planters, and even stacked into the form of a book shelf.
Just For Kids
Chances are, if you've had a recent move, you will find an extra bookshelf or coffee table in your storage unit. These items can be transformed with the help of upcycling into custom pieces that will spark the imagination of any child.
Nightstands with a bit of paint and elbow grease become play kitchen stoves. Coffee tables may be quickly recycled into a Lego table (great for kids and the kid at heart). And, if you happen across a shorter bookshelf in your storage unit, you can turn that bookshelf into a multi-level dollhouse.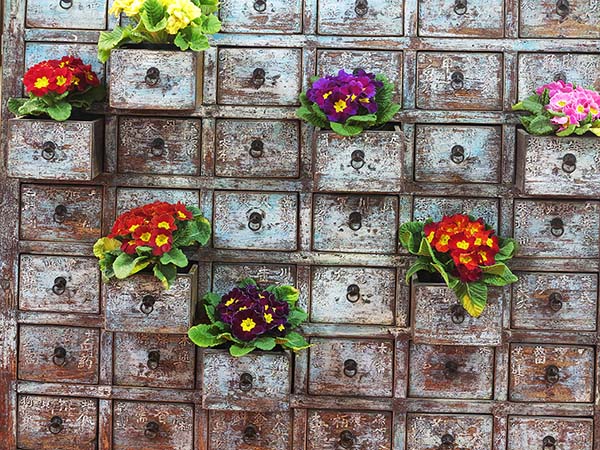 Suitcase Upcycling
Kids shouldn't have all the fun. These days, people are upcycling everything. Even suitcases are made new, whether they become portable dollhouses, small yet functional desks, rolling bars, or even upcycled cat beds.
Flip Your World Upside Down (Or On Its Side)
Sometimes when you're looking at an item you want to upcycle, you have to look at it with a different perspective. For instance, many people place their squared bookshelves on their sides with cushions atop to create a window seat; this is one of the smartest upcycles you can do as retailed window seats, custom or otherwise, are often fairly expensive. Even mason jars, once used for that time you went through a jam making phase before the materials were left in storage takes on new life as festive snow globes or chandelier lighting.
Helpful Hint: One item you may have not thought of upcycling is an old metal cabinet. Even metal filing cabinets can be made new as with this open garage storage piece.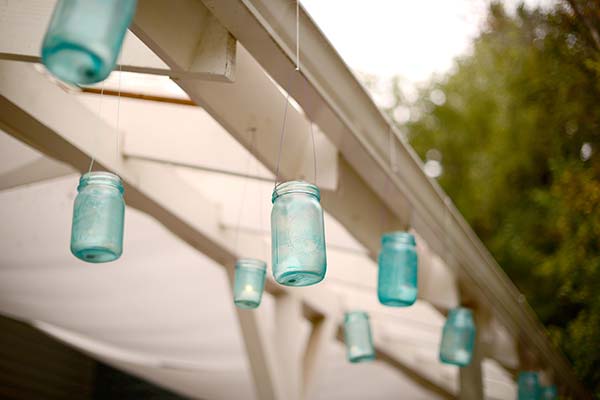 Drawing to a Close: Be Creative!
When it comes to upcycling crafts from your storage unit, there is limitless inspiration. Take this dining table, for example. The blogger at Sawdust and Embryos found that she loved the idea of staining flower designs on wood tables. But why stop at tables? Each craft can take on new form, whether it's staining an upcycled window seat, adding fresh metal details to that hall tree, or even taking that vertical pallet garden and decorating it with mosaic tiles. The most important thing when upcycling is to have fun with whatever craft you choose and to remember that inspiration is around the corner in your storage unit.
Share with us your favorite upcycling projects and inspiration! Don't forget to share your work in the comment section below.