Is your mind bursting with things to do to get ready for Christmas? You aren't alone. Even if it's the most wonderful time of the year, it is certainly also the busiest for many people. With shopping to do, presents to wrap, cookies to bake, and cards to send, the holiday to-do list is festive and fun for the most part. Of course, somewhere in the shuffle of getting ready for Christmas, you'll need to remember to save time for a little holiday house cleaning.
Try these helpful tips for holiday prep to get your home Christmas-ready from top to bottom.
Holiday Prep for Bathrooms
Starting your pre-Christmas cleaning in the bathrooms can be a highly rewarding strategy. These rooms transform beautifully with a relatively quick turnaround and you can elevate the look with a hint of holiday decor. Try these simple bathroom cleanup tips:
Remove any unnecessary items from the bathroom and clean as usual.
Swap out bathmats and towels for rich jewel tones of burgundy or evergreen.
Set a mini potted poinsettia or other holiday arrangement on the counter.
Choose a fragrant candle to invoke the senses—try cinnamon, French vanilla, or a blend with mandarin oranges and clove.
Add a Christmas door hanger or other holiday décor accent for the finishing touch.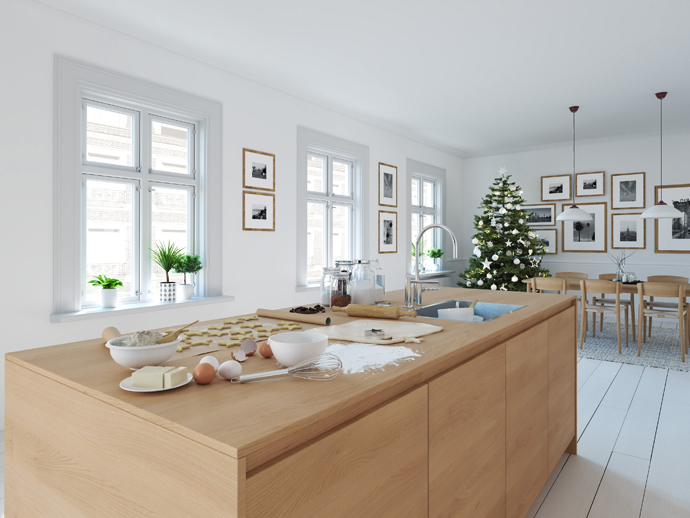 Christmas Kitchen Clean Up
Clean up in the kitchen goes a long way in getting ready for Christmas. After all, you'll want all those counters and surfaces to be ready for your cookie baking and holiday food prep, not to mention hosting holiday gatherings. Try these kitchen Christmas cleanup tips:
Remove any clutter from the kitchen and return belongings to wherever they should be.
Clean the kitchen according to your usual process.
Box up any small kitchen appliances and gadgets that you don't regularly use. Move them into self storage for the time being to give you more space this season.
Swap out chair cushions at your kitchen table, replacing them with a touch of sparkle or holiday hues.
Gather all of your specialty baking supplies such as cookie cutters, pans, and other essentials.
Choose a delightful holiday candle to add to the atmosphere, such as sugar cookie, buttercream, or peppermint.
Dining Room Declutter and Decorating
The perfect space for a crowd, the dining room opens the door to many creative options in décor, Christmas preparations, and of course, holiday entertaining. Use your dining room table as a staging space for making gift baskets, a workspace for your annual Christmas cookie bake, or purely and simply, a space to sit and enjoy time with family and friends. Here are some tips on Christmas cleaning, decluttering, and decorating in the dining room.
Remove any unnecessary items and put them away or into storage.
Clean the dining room as usual, paying close attention to areas that may attract more attention, such as the china cabinet, curio, or wine rack.
Set an antique bar cart in the corner with options to warm the holiday spirit.
Set out holiday candles to create a warm ambience, with scents such as cranberry or hot cocoa.
Bring in some evergreen clusters for a joyful centerpiece or other accents in the dining room.
Add a festive table runner with a winter or holiday theme to tie it all together.
Holiday Prep for Bedrooms
A touch of holiday cheer brightens your home's bedrooms as well. During your Christmas declutter, consider these simple yet sophisticated touches you can use to carry the Christmas atmosphere to every bedroom.
Continue with your plan of cleaning before Christmas, first removing any unnecessary items. You should already have your seasonal clothes in storage, giving you more space to enjoy at home. (If not, it's a super easy step to take!)
Next, tackle the usual tasks in each bedroom. Put away clothes, straighten dressers, pick up floors, and vacuum.
Change your sheets to a cuddly set with a Christmas or winter theme.
Enhance the atmosphere with a peppermint oil diffuser or a candle when you're there, such as playful mistletoe or a sweet cinnamon fragrance, which is actually known to help inspire sleep at night.
Add a few holiday throw pillows to tie it all together!
Family Room Fixup
Depending on your home's layout, this room could be the easiest or one of the most difficult to keep clean! Fix up your family room during your Christmas clean up, enlisting the whole family to help do their part. Try these holiday prep tips for a decluttered and decorated family room this Christmas.
Remove any items that don't belong and put them away or into storage.
Clean this room as usual, putting away toys, gadgets, books, and anything else that's accumulated. Dust, vacuum, and generally get the room looking the way you want.
Set out a manger scene or create a "reindeer garden" that you and your family can enjoy as a tradition every year. For the reindeer garden, collect and display tiny reindeer figurines and ornaments and introduce one new one each year.
Enhance the fragrance of the family room with a rich bayberry candle or a balsam and cedar fragrance.
If you have a fireplace, use it! Enjoy this special season toasty-warm and surrounded by those you love.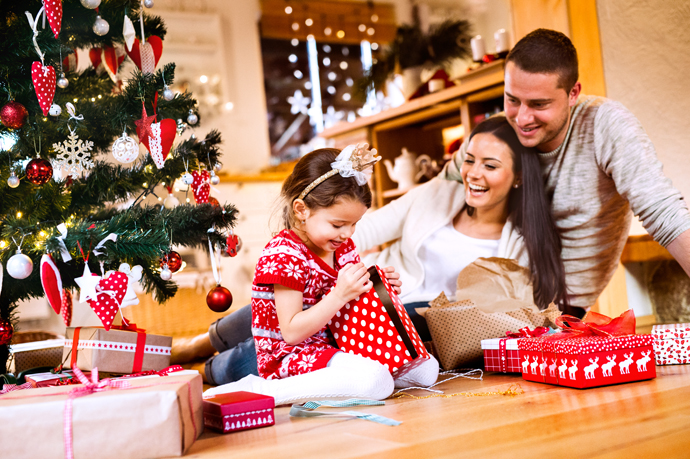 Play Room Pack Up
You definitely want to leave time to declutter before Christmas to make room for the new things Santa's going to be bringing.
As you declutter for Christmas, the playroom may be a challenge. Start with the areas of greatest impact!
Focus on storage and organize with cubbies, cabinets, and other creative storage solutions.
Move toys your kids have outgrown into storage, or get into the swapping system where you rotate toys in and out of storage every so often to keep kids interested and engaged.
Skip the candles for this room, but consider another unique air freshener option like a reed diffuser you can put out of reach.
Let your kids decorate the playroom walls or doors with their own holiday artwork! There's nothing like young artists' pride in their work.
When cleaning house for Christmas, remember that decluttering doesn't mean you have to get rid of your things. Simply box them up and send them over to us at Price Self Storage, where we offer you an extension of your home's storage.