Moving to a smaller house is an eventual reality for most of us. The specifics of that simpler setting can vary widely from one person to the next. Will you relocate to a condo or smaller home, move in with family, or perhaps set sail for a posh retirement community? Whatever you decide, you will still have to deal with the process of downsizing your home.
Over the course of a lifetime, people accumulate so much stuff. The average home contains roughly 300,000 items according to professional organizer Regina Lark as cited in the Los Angeles Times. For many, all that clutter becomes a normal part of the landscape. Homeowners may not realize they've got blinders on until it comes time to downsize.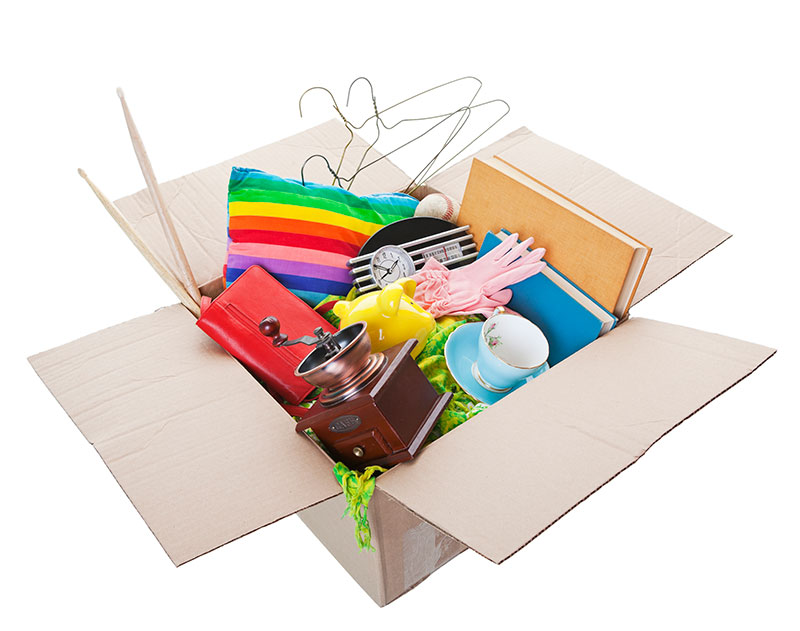 How to Get Rid of Stuff When Moving
Downsizing is a great clutter buster! It forces you to take a hard look at all the stuff you've accumulated over the years. You will find that discovering how to get rid of stuff before moving isn't always a black and white issue. You can approach the process of downsizing your life in a number of ways. Here are some tips to help you get started:
Start with the easy wins. Downsizing implies having less stuff. Toss the trash and any recycling first. Next, box up and drop off the donations, and finally, set aside any items you hope to sell before you move.
Have a yard sale. When downsizing, get rid of as much as you can in one fell swoop. List prices on all of your big items and advertise the big ticket items likely to draw interest. Consider batching items as lots in bags and boxes to get rid of more stuff in one shot. What you don't sell, donate or try again next week. You can also look into consignment.
Try to whittle down your food supply. Make your best attempt to clear out your pantry, fridge, and freezer. Finally cook that frozen turkey and finish off as much food as you can so you don't have to pack it. Resist the urge to buy new food if you can help it, and opt for takeout if you absolutely must. Whatever you don't consume, you can give to friends, family, and neighbors. You may also be able to donate to your local food pantry.
Avoid the game of 'take it or toss it.' Instead, consider self storage for a win-win situation. By stashing your boxes in a personal storage unit, you give yourself more time to focus on the immediate goal, moving. Storing your items allows you to delay the heartbreaking process of choosing what comes with you and what is lost forever. You'll have plenty of time to go through your boxes once you've settled into your new place.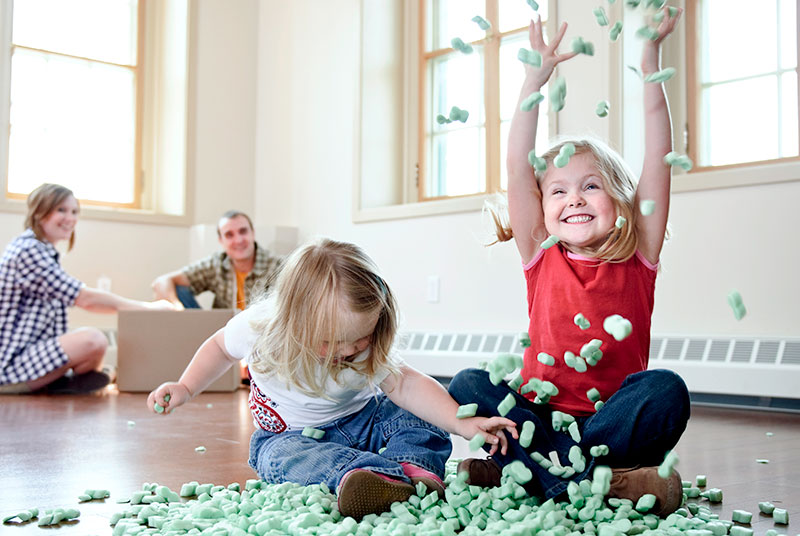 Downsizing Your Home with Kids
Moving to a smaller home when you have kids can be tricky at times. Having kids equals SO. MUCH. STUFF. From playpens to toys to itty-bitty clothes and shoes, from special seats to strollers and full bedroom sets and beyond, you have so many more things to clean and put away. Here are a few tips to help you downsize with kids:
Schedule a babysitter while you pack. Parents know how hard it is to focus on almost anything with kids always needing something. Downsizing is certainly no different. Ask Grandma to come and watch them or hire a sitter so you can focus. You'll get your sorting and packing done in half the time and your kids will love the special attention.
Sort items by age when packing. If your kids have outgrown something entirely, it will be easier to let it go. You can sell the accessories, clothing, and toys they no longer use or participate in one of the kid stuff consignment sales local to your area. Likewise, things they haven't yet grown into can be safely stored until the time comes.
Look at your furniture objectively. Trade full beds for bunk beds if possible. Choose new furniture with built-in storage and let go of oversized pieces. For any furniture you can't let go but also can't keep, look into self storage options so you don't have to decide.
Downsizing your home with kids will take some patience as you decide what you can let go. When it's time to downsize, remember that it doesn't mean you have to give away or sell all of your things. Self storage units offer great convenience and security to keep your family's belongings safely out of sight, out of mind. Once you do downsize, you should find that you spend less time cleaning, less time picking up everyone's stuff, and more time playing and enjoying your family. Enjoy!