There are at least two times a week we think about recycling: at the grocery store when we're shopping for greener products and on trash day. When we are satisfied with the symbol imprinted onto the container, we place it in our grocery carts and recycling bins in the hope that we're doing just a bit more to clean up planet Earth.
After its inception over 45 years ago, the recycling symbol has become a major part of our scientific vocabulary. Yet as our knowledge of recycling has expanded, the system of symbols has expanded as well. Even though we still have the original universal symbol (♲ or the black version here ♻), there is still some confusion as to what each new symbol means. Here are some of the many recycling symbols you should know to help you to make the right recycling decisions.
Recyclable versus Recycled
When you're picking up items at the grocery store or the mall, you'll notice that there are two kinds of recycling symbols. The first symbol designates the product is "recyclable" while the second symbol designates the product as "recycled."
Recyclable Products

These symbols are used to represent the "recyclable" products. Recyclable means that the products are made from specific materials that can be recycled, depending on whether the local community has the ability to recycle them. Sometimes with these symbols, it will say "This product can be recycled" or "recyclable." There is one unique recyclable symbol used for non-plastic products, often with some information as to the contents of the product.
Recycled Products

The three "recycled" symbols above are used when a product already contains recycled material. The first two symbols are general "recycled" symbols while the third symbol is used when the number centered in the middle of the symbol is the percentage of the product made from recycled materials.
Already Recycled Plastics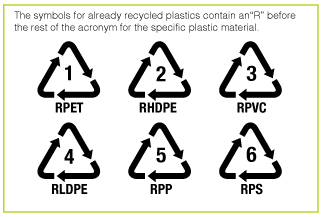 At left are the symbols for already recycled plastics. Note the "R" that is used before the rest of the acronym for that plastic material. The "R" denotes that the plastic has already been recycled.
The Plastics
Plastic 1 – PETE, PET, PETG (also known as Polyethylene Terephthalate) – picked up by all curbside recycling programs.
Plastic 1 is used to create soda, juice, water and beer bottles as well as nut butter containers, salad dressing bottles, and mouthwash bottles. Many consider it safe, but the plastic allows bacteria to accumulate. This plastic is recycled into fiber, furniture, tote bags, and even polar fleece jackets.
Plastic 2 – HDPE (also known as High Density Polyethylene) – picked up by most curbside recycling programs.
Slightly more heavy duty, the recycling symbol containing the number 2 is found in various food and household bottles, jugs, and tubs. When recycled, your juice and shampoo bottles can become picnic tables, lumber, benches, tiling, pens, doghouses, and detergent bottles. As far as safety concerns, anything with this symbol is considered to be safe with a lower risk of leaching.
Plastic 3 – V or PVC (Vinyl) – rarely accepted in recycling programs
While this plastic is used to make food wrap, detergent bottles, cooking oil bottles, and PVC piping and siding, Plastic 3 may contain chemicals which cause health issues including chemicals that are known carcinogens. It's often recycled into street items such as gutters and speed bumps, but can also been seen in paneling and flooring much like Plastic 2.
Plastic 4 – LDPE (Low Density Polyethylene) – rarely accepted in recycling programs.
This plastic, known for comprising shopping bags, dry cleaning bags, frozen food, and food wraps is considered to be safe. Curbside recycling programs are starting to accept this plastic, which is a good thing since it can be recycled into trash can liners and compost bins for further recycling needs. Plastic 4 can also be recycled into shipping envelopes, furniture, paneling, and plastic lumber.
Plastic 5 – PP (Polypropylene) – sometimes accepted by curbside recycling programs
If you flip over your yogurt container, ketchup bottle, or medicine bottle, chances are you've come across Plastic 5. This plastic is recyclable and is one of the safer plastics used in day to day life. Brooms, bicycle racks, and plastic pallets can all be made from recycled Plastic 5.
Plastic 6 – PS (Polystyrene) – rarely accepted by curbside recycling programs
You probably know this plastic by its informal name, Styrofoam, which is found in cartons, trays, disposable plates and cups, and more. You probably also have seen that Styrofoam cup floating in the wind on the beach because they're extremely difficult to recycle, and are so light that they fly out of the trash can if not weighed down. This plastic also poses a potential health risk especially when heated, so avoid putting hot coffee in Styrofoam cups. When it is recycled, it's made into foam packing, insulation, and sometimes even egg cartons.
Plastic 7 – Other and Miscellaneous
Anything placed in the Plastic 7 category should be looked at carefully, because all of the plastics are different. For instance, some products under the Plastic 7 umbrella may contain BPA and other toxic chemicals. Plastic 7 may be used for multiple-sized gallon water bottles, but is often used in sun glasses and computer cases, so the chance of ingestion is reduced.
Plastics aren't always safe for consumption or recycling, so it's important to look at the number. 2, 4 and 5 plastics are considered the safest, while 3, 6, and 7 are ones to avoid (especially if you're interested in recycling).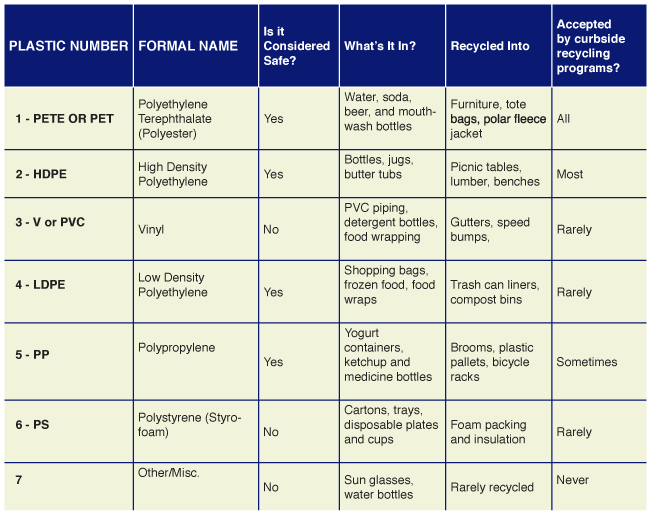 Plastic Recycle Symbols with Acronyms

Plastic Recyclable Material without Acronyms

Paper and Glass
Unlike plastics, paper and glass are almost always recyclable and therefore do not always have symbols on the product. When they do, they're used as a reminder to the consumer that these items can be recycled and placed in a bin for curbside recycling programs.
The symbol for recyclable glass, created by the Glass Packaging Institute, is shown along with the various recycling symbols for paper products. If you are shipping a product or discover used corrugated packaging in your storage unit, you can tell it's recyclable if it displays the Corrugated Recycles logo of www.corrugated.org. Next, if a paper product has already been recycled, it will have the 100% Recycled Paperboard logo.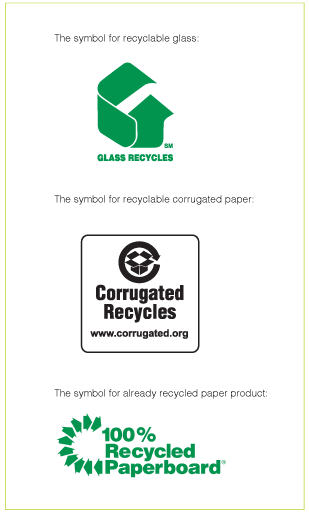 More Recycle Symbols
Our recycling symbols don't end with these symbols. In fact, companies and organizations dedicated to a greener Earth create new recycling symbols that quickly become a part of the massive recycling symbol system already in place. It's this dedication that makes the consumer's life easier and our environments healthier.
Now when we look at Pasadena and Downtown Los Angeles, the reduced pollution allows us to see much farther. Our beaches are cleaner, as are our mountain trails. And every Earth Day, children and college students celebrate our love for this great land with universal recycling symbols, and it's all in part because of our awareness to continue recycling.
Price Self Storage encourages recycling throughout our communities. Tell us how you act responsibly through recycling in our comment section below, and inspire others to do the same.