Pictures, paintings, and wall art deliver a pop of personality to the walls of your home. You can add a splash of color or create a mood that's dramatically different from one room to the next. Arranging wall art is an art in and of itself, with brilliant beauty serving as a fine reward for cleverly organized artwork groupings. Consider these tips on hanging pictures and organizing wall art for the ultimate visual impact.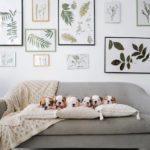 How High to Hang Pictures
You can create a pleasing visual aesthetic by the way you arrange your home's artwork from room to room. Consider these tips on arranging wall art for a quick and effortless foray into your home design experience.
The general rule for how high to hang pictures is to hang so that the midpoint of the artwork is between 57 and 60 inches from the floor.
If your ceilings are higher than the standard 8 feet, you can get away with hanging your artwork a bit higher.
If most of the people in your family are of shorter stature, you can safely hang your artwork a bit lower than 57 inches.
You should strive for at least 3 to 6 inches between the top of your furniture and the bottom of the picture frame.
If you are stacking photos vertically on the wall, you may need to adjust how high you hang the pictures to accommodate the entire grouping.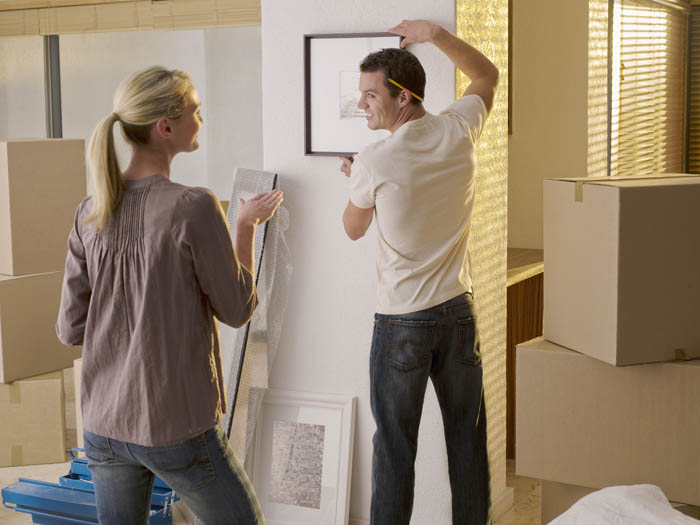 Ways to Arrange Pictures on a Wall
Few things are as personally satisfying as a wall of pictures showcasing your beautiful family. Consider these tips for hanging pictures in groups.
Hanging two identical pictures creates an interesting bit of symmetry. Flank your bedposts or your bathroom vanity with a pair of art pieces. Two like images create a serene sense of peace in your space.
Hanging two pictures together of the same frame sizing makes it easy to match up the images in a good location. You can hang them side-by-side or on the outside of a key piece of furniture or other home accent.
When hanging two pictures next to each other, be sure to take some measurements first. Ensure you center your artwork comfortably with a bit of space between the pictures. You can create an illusion of a longer room by hanging the pictures side by side.
Create the illusion of higher ceilings by hanging one picture directly above another. This makes the room appear taller with a unique use of open wall space.
Hanging three pictures on a wall works especially well due to the rule of threes and the understanding that odd numbers of items in design tend to work best. Consider hanging three identical frames side by side with a different image in each frame. You can also opt for one large image in the center flanked by two smaller images on either side.
Hanging four pictures on a wall may seem complicated at first, but it's really not. Consider arranging the artwork into a square layout. You can mix the images up beautifully with diagonal pairings or another arrangement. Even if the frames are different in size, you can still create an attractive artwork collage.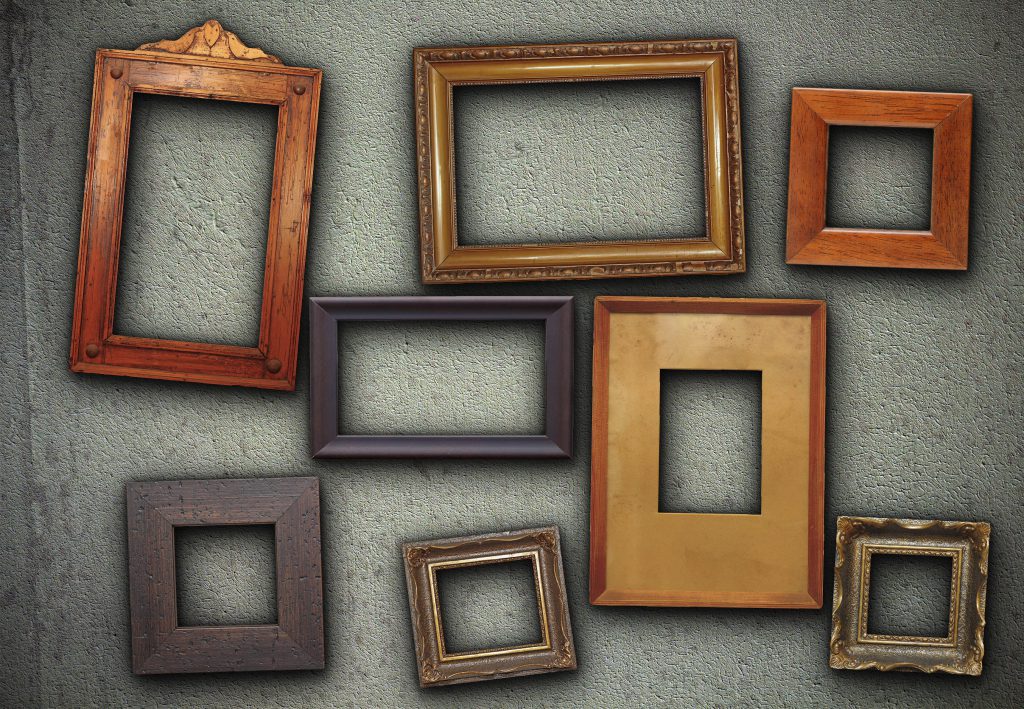 Create a photo collage wall with a half a dozen or more recent photos of your loved ones. A mix of posed and candid shots works great in this style, and you can add another powerful touch of class with wooden or metal accent words.
Pictures hanging on the wall 24/7/365 can become a little stale after a while. Consider spicing things up a bit by changing out your artwork with the turn of the seasons. Swap florals for foliage or seascapes for mountainous glory. Store your inactive pieces safely and securely in your private personal storage unit until the seasons refresh again. 

You can also place the pictures in picture frames with different shapes to spruce up your

wall space

.

Tape printed pictures on the wall to get an idea of what it will look like before hanging any nails or picture hooks. Move things around until you find the right fit!

Play with themes through the frames. Similar-looking pictures can look more cohesive if they have

matching frames

. The

matching frames

can make it seem like they are one cohesive

art piece

.
These are just some ideas for arranging pictures on the wall. Incidentally, these are also great ideas for hanging artwork. Grouping pictures by theme not only makes them more interesting to look at, but they're also much easier to store in your personal storage space or self-storage unit. Categorizing the pictures makes them easier to store away and even transport in case you are moving to a new home. (Note: If you don't know how big your storage space should be, check out a storage size chart.) 
Hanging multiple pictures on the same wall creates a warm ambiance that welcomes guests into your home and reminds your family of the closeness you share. Consider different picture grouping ideas to design a comfortable space that shows off your personal touch. You can showcase your children, your pets, or shots from a recent vacation, among endless other ideas. Let your imagination take control as you dream up a beautiful and artistic aesthetic for each of your favorite spaces.