Do you know what a life hack is? Perhaps you've seen them, but didn't even realize it. A life hack is a strategy or technique adopted in order to manage one's time and daily activities in a more efficient way.
A great example of a life hack is using a toilet paper roll as a speaker that enhances the sound that comes out of your smart phone.
We love life hacks and think that they're a great way to repurpose items that you already have, while allowing you to stay organized. Beginning now until September 30 2014, we are taking entries for what you think is the best life hack. All participants in the contest will be entered to win a gift certificate to The Container Store.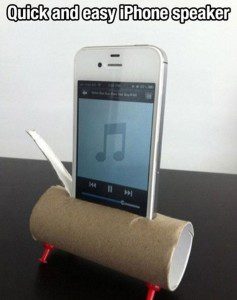 Here's how you enter the contest:
1. Take a photo of your life hack
2. Publish the photo on Facebook, Twitter or Instagram, using the hashtag #PSSLifeHack
3. Get your friends and family to vote for your life hack photo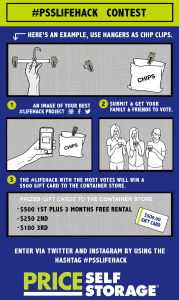 It's that simple. The life hack photos with the most votes will win. Here are the prizes that you could win:
1st place: $500 gift card to The Container Store and a 3 month free rental at Price Self Storage
2nd place: $250 gift card to The Container Store
3rd place: $100 gift card to The Container Store
What will your #PSSLifeHack be?