With an average of 103 items in her closet, it's unfortunate that the average woman truly likes wearing only 10% of her wardrobe. These figures come from a study by ClosetMaid, a company focused on home storage and organization. ClosetMaid discovered that participants considered the majority of their clothing to be too tight, too loose, or just plain "unwearable." Clothes donation may seem like an obvious solution, but despite not loving much of one's wardrobe, many people still find it difficult to part ways with their clothing.
Letting go is often hard, particularly with things that hold an emotional significance or a fond memory of the past. Those pieces aside, you can find new homes for your unwanted clothing with quite a few charities. Consider these suggestions to help you find out where to donate clothes.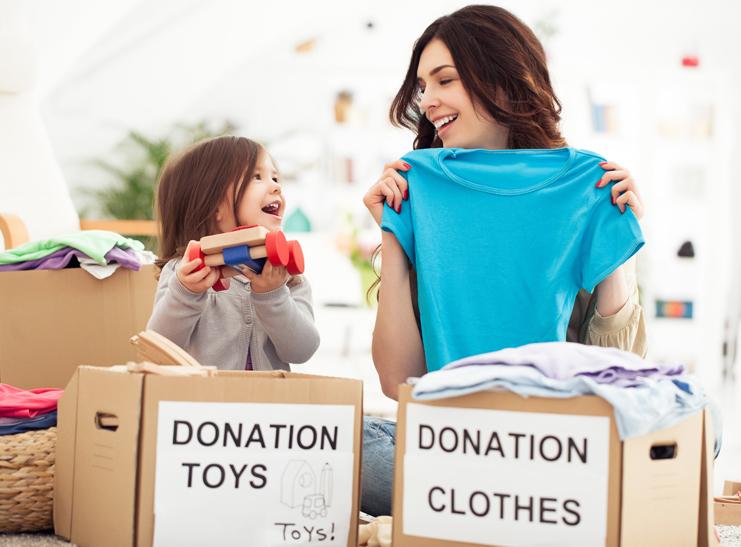 You can foster healthier employment rates by supporting a good cause with a Goodwill donation.Goodwill turns the revenue from secondhand donations into employment placement and job training opportunities for people in need of work. The charity accepts clothing and household goods by a drop-off directly at the stores or may in some cases offer a scheduled pickup. This group brings new meaning to the idea that your trash may be someone else's treasure.
Military Order of the Purple Heart
Wounded combat veterans receive life-improving benefits such as welfare funding, rehabilitation, and service work through donations collected by the Military Order of the Purple Heart. The veterans' clothing donations group accepts gently used clothing and household items. It's easy to schedule pickups for Purple Heart donations simply by calling 888-414-4483 to find a branch near you.
Bring your old clothes donation to Salvation Army, an international movement with deep roots in the universal Christian Church. Thrift stores like Salvation Army offer used clothing, furniture, and housewares for a reasonable fee and turn the revenue (about 82% of it) into funding for aid. You can find a Salvation Army near you and schedule a convenient drop-off to help those in need of help, often following natural or manmade disasters.
Help to support health, education, and financial stability by donating to the United Way. Supporters can give gently used clothing, housewares, cooking supplies, and more to benefit fellow man. The group's belief is that we all rise or fall together, so consider this feel-good clothes donation opportunity.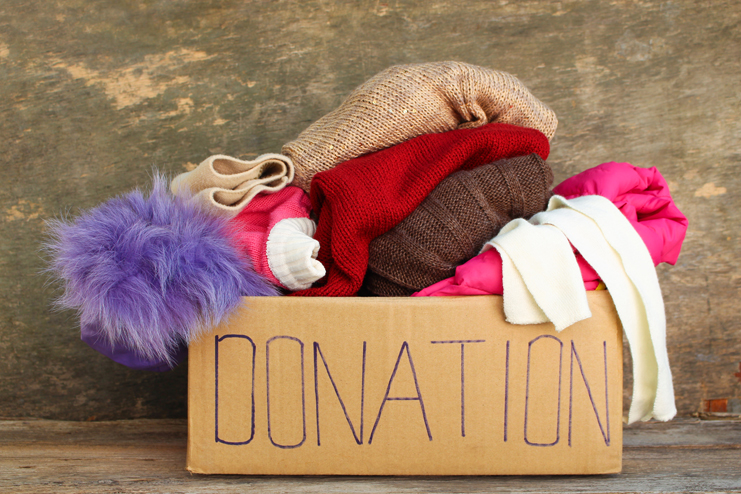 Change someone's world when you donate used clothes for professional pursuits to a charity like Dress for Success. The charitable organization works to help women to achieve financial independence through support, professional attire and tools for career development. The group encourages donations as well as charitable clothing drives for corporate and professional wear.
Likewise, Career Gear helps to dress men appropriately for job interviews. The organization appreciates new and used clothing donations of professional attire. You can find a branch near your location or simply mail your donation to the Career Gear location in New York. Career Gear strives to help low-income men to find economic independence through literacy training, career development, and other skills and tools.
Even your gently worn shoes can enjoy a second life. Soles4Souls began as a relief effort following the 2004 Indian Ocean tsunami and Hurricane Katrina in 2005. The group collects unwanted shoes in good condition and distributes them to people in need. The organization has outfitted people in 127 countries with more than 30 million pairs of shoes. Once you've tackled your clothing clutter, take some time to assess your footwear inventory. Keep your favorite pairs, but if you have shoes you haven't worn in years—or ever—consider making a shoe donation as well!
Now is a great time to schedule a donation drop and free up a little space in your home. Consider these options to help you let go of old clothing. Determine your best options for scheduling a drop-off on site, a pickup at your home, or a stop at convenient clothing donation bins located around town. Going through a clothing purge may seem to be a daunting task. Begin to clear the clothing clutter by taking it one shelf, rack, or drawer at a time to give your closet and dresser some breathing room. If you aren't ready to part with certain items, find safe storage for them. Must-keep clothes that you don't actively wear may fit nicely in an attic or in storage under the bed. You can also keep your treasured threads in a private personal storage unit until the time comes that you want or need them again.