Preparing for the arrival of your new baby is exciting, but it can also be a bit overwhelming, especially if it's your first child. Even the most organized people can become unraveled when planning for the arrival of a newborn. Fear not, moms-to-be naturally possess the nesting instincts to combat new baby anxiety, and we've also compiled some of the best tips we could find on the subject to help you get organized, stay organized, and enjoy your new bundle of joy.
Write it Down
If you're overloaded with things that need to be taken care of before the baby arrives, start writing things down in a notebook. Ideas can come at anytime, so it's a good idea to be ready to jot down a note in your smart phone or send yourself an email when important things come up that need to be added to the list. In addition to tasks that need to be completed before the baby arrives, prepare lists of people you'll need to contact from the hospital and addresses so you'll be ready to send out birth announcements.
Delegate
Don't go it alone. Dads-to-be may have their own share of anxiety during this time, so don't be afraid to reach out to friends and family who are usually more than happy to help with things like setting up a crib or assembling a stroller. Ask a friend or family member who has been through the experience to accompany you when selecting items for your baby registry. They can offer you advice on what you really need and what you might want to skip. Remember that baby stores are in business to sell baby stuff and you probably don't need everything they sell.
The Big Picture
When putting together your baby wish list remember to include some storage bins and items that will help with organization. Prepare your baby linens and clothes by laundering them a couple of weeks before the baby is expected to arrive. Organize clothes by size – keeping your newborn outfits handy in the top dresser drawers and older baby items in the bottom. The idea is to be ready with all the things that you'll need in the first few weeks while you're adjusting to your new schedule. Be ready with storage space for the things you won't need immediately. For example your baby won't be needing the highchair for about six months, so consider keeping it someplace else, or even renting a small storage unit for items you'll use later. Also, keep in mind that your baby will outgrow certain items as it gets older. If you plan on having more kids in the future, you will need a place to store those items as well.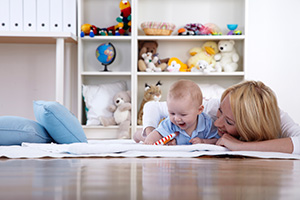 Prepare in advance to store baby's important papers and documents. You don't want to wait until you've just come home from the hospital to tackle this. Setup a file drawer and folders for baby's hospital paperwork, birth certificate and vaccination records. Prepare to scan these documents to a flash drive for backup. And, plan for the memories! Prepare keepsake boxes, bins or storage containers for sentimental items and pictures that you may want to use for a scrapbook.
Give your house a thorough cleaning (or pay someone to clean it) in advance of baby's homecoming. This includes cleaning out items from the kitchen and bathrooms. Organize things you'll use frequently within easy reach. You shouldn't be climbing or reaching for frequently used items with a baby in your arms. Another idea is to duplicate essential baby items in the baby's room, the diaper bag, and even in your car, so you're ready when on the go. Some organizers even suggest setting up a changing station on each floor of your house for greater convenience.
Expect to accumulate a lot more baby stuff than you start out with, especially toys. Even when your baby is a tiny newborn, you can still plan for the onslaught of toys, clothes, and accessories, by setting up bins and shelves with labels so everyone know what goes where. This will give you an opportunity to teach your child early on about keeping things neat, tidy and organized.
By completing your pre-baby planning and organization early and well before your baby actually comes home, you'll be able to enjoy and experience precious family moments as you welcome your little one.