These are just a few of the factors that can impact your final decision. After that, you'll need to narrow down your search by selecting a neighborhood within the city that appeals to you most! Most cities have separate neighborhoods with completely different cultures, age groups, social scenes, communities, and overall vibes. It's interesting to think that these layers and different neighborhoods all fall within the same city, but this is also part of what makes city-living so great. You'll want to choose a neighborhood that aligns with your interests and your lifestyle. 
How to Move Yourself and Your Belongings
Now that you've found your soul city, it's time to start moving and grooving! First thing's first, you'll need to establish a moving budget. Your moving budget will depend on point A to point B. For this example, let's say you want to move from Los Angeles to San Diego. This is a more local move, so your moving budget might not be as large as someone moving from out of state. Let's say you are making a larger move though, like from Seattle to Los Angeles.
How would you do it and what will you moving costs look like? 
Your first big decision for a move will be this—how will you get your things from your previous city to your new one? Typically, you have one of three options:
Rent a moving truck – You always have the DIY option of renting a moving truck and making the move yourself! This option will allow you to save money, handle your own items, and control your own moving timeline. This may also be the ideal choice if you have friends or family who are willing to help you load and unload the contents of your home or apartment.  
Hire movers – Are you doing this on your own? If so, you're going to need to hire some help. This is where professional movers can assist. You may end up paying more, but the convenience of a moving company pays off. 
Get a shipping container – A middle-ground moving cost option that's less expensive than a professional mover,and less work than renting a moving truck, is a shipping container. You simply load up your stuff in your current city and it gets sent to your new location. 
Pack Up Your Things 
Once you've settled on a place and a method for moving your stuff, your next task is to pack it all up. As you pack up your things, remember the following:
Invest in quality moving boxes. You can purchase heavy-duty containers like plastic boxes. This gives you peace of mind, knowing that your items are safe inside a durable container. You can also opt for transparent plastic boxes. These are a real time-saver when you are unpacking! 
Spread out your packing over the space of a week(s) to avoid having to rush at the last minute
If you have multiple rooms, give each room's items a different colored packing label
Protect fragile items with bubble wrap, paper, and padding
By following these tips and creating a game plan ahead of time, you can ensure that this stage of the move goes smoothly.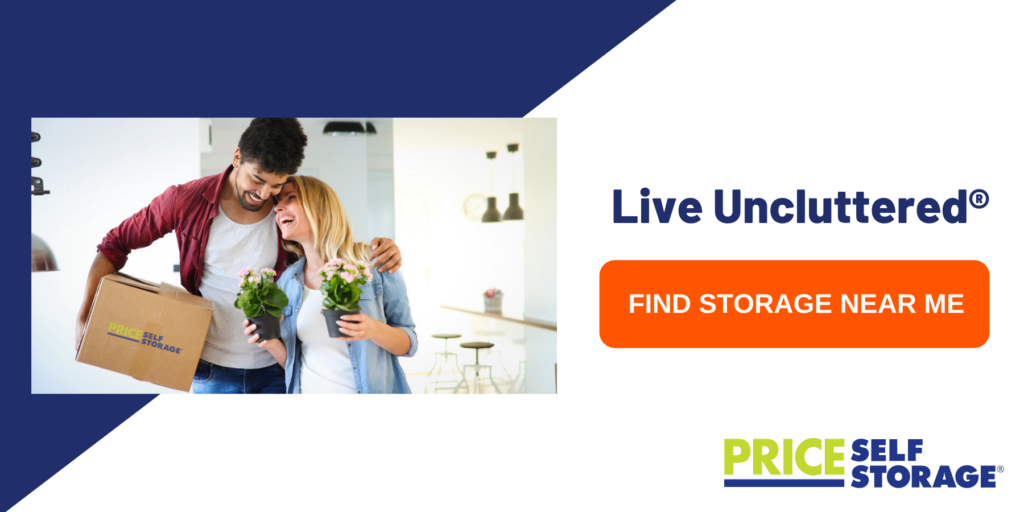 Find Storage 
Perhaps you're downsizing your home or need to wait a month until your new place is ready for you. Chances are, you'll want a place to keep all of your things! For this, a 5×10 storage unit size self storage is an affordable solution. 
But what are the features you should be looking for from your storage provider? 
Open seven days a week, so you can access your things whenever you need them 
A wide variety of storage unit sizes to accommodate your storage needs 
State-of-the-art security systems for increased peace of mind
Zero deposits
Ground floor accessible units for easy loading and unloading 
Mont-to-month rentals 
Vehicle, RV & boat storage 
No deposits required
Climate controlled units 
Also, check to see if your storage solution comes with a concierge service. That way, you get access to storage experts who can address any questions or concerns you might have. 
Price Self-Storage
Once you've completed all of your preparation, the only thing left to do is get moving! 
Are you searching for the perfect storage solution for your belongings? 
Price Self-Storage is here to help you Live Uncluttered®! With dozens of convenient locations, we provide affordable storage for the residents of Southern and Northern California. Each modern location is jam-packed with features that make it easy to store and then move out your items. 
All those features listed in the section above? We check every box. If you need a self-storage solution for your relocation, you're in the right place. 
Whether you are searching for storage units in La Jolla or Culver city in LA, we can help!
Sources: 
Wallet Hub. Best Big Cities to Live In. https://wallethub.com/edu/best-worst-large-cities-to-live-in/14358