Are you in the midst of an office move, a remodel, or are simply looking to clear some extra space in your home? Whether you're wondering how to store clothes or what the best way to store a mattress is, a self-storage unit is a perfect place to keep your stuff. 
However, you might be wondering "how much is a storage unit?" 
Well, self storage doesn't cost as much as you think.
How Much Does a Storage Unit Cost
If you are wondering "how much does a storage unit cost," keep in mind that it will depend on several factors, including:
Storage unit size
Vehicle Parking
Location of Storage Facility
Features
Indoor vs. Outdoor 
Length of rental
Unit Size 
When it comes to self storage prices or costs, the size of the unit is the most important pricing element. 
To begin, you'll need to determine how much storage space you'll need and how much stuff you have to put away. Do you need it for personal storage or business storage? Your storage needs will determine what size unit you will need. 
There are a variety of storage unit sizes, including but not limited to:
5×5 storage unit* – This is approximately the size of a large walk-in closet. It's perfect for storing boxes of clothing, seasonal decorations, or extra items. 
5×10 storage unit* – This type of unit is about the size of a small room. It's the ideal size if you're remodeling a room or you're moving between apartments and need a place to keep your bed, bedframe, and personal items.
10×10 storage unit* – This storage unit size is considered a medium-sized unit. It's suited for storing furniture, especially couches and beds, and is commonly rented by people who are moving from a small apartment or home.   
10×15 storage unit* – A large unit at this size is capable of holding the contents of an entire apartment or medium-sized home, including furniture.
10×20 storage unit*– This extra-large unit is approximately the same size as most garages and is large enough for an entire home's worth of items along with outdoor patio furniture. 
Vehicle Parking  
Need a place to keep a boat or vehicle? If so, there are storage units that are specifically built to park your car, truck, RV, or boat. Similarly to regular storage units, the cost for each space is mostly tied to the size of the specific unit, which may include:
10'x25'
10'x26' 
10'x30'
10'x35'
Additionally, the cost of these spaces will likely increase depending upon whether or not the vehicle is stored indoors or outdoors. Typically, outdoor vehicle storage is cheaper than indoor.
Location of Storage Facility
Like housing, location can have an impact on storage unit prices. Locations with the most convenience (off freeway entrances, next to major roads, shopping centers, etc) tend to be higher in price, but offer more advantages when needing to get your items. So, if you're moving from a big city and need to store your stuff for a longer time period, you can save money by finding a self storage facility a bit further away.
Features   
Some storage units have additional features that come with a higher cost. These might include:
Climate control – Do you have items that need to be kept at a specific temperature? Select units at storage locations have climate controlled storage options and are built for temperature-sensitive things. However, keep in mind that a climate controlled storage unit may cost more money. 
Wine storage – Some storage units are built purposefully with wine collectors in mind. Or perhaps, you're a restaurateur who needs wine inventory storage. These climate-controlled units will ensure that your reds and whites will be kept perfectly all year round. 
Indoor vs. Outdoor 
Whether the unit is indoor or outdoor can have an impact on storage prices. For outdoor units, renters have easy drive-up access, which is perfect for loading and unloading. For indoor units, you have to enter the building and walk to your space. 
Typically, the more accessible the unit is, the higher the storage cost will be. Therefore, a unit on the third floor may cost less than a unit on the first floor. 
Time of Rental
Although it depends on the self-storage company, for most, the time in which you secure a unit will have an impact on storage cost. Similar to apartments, storage unit cost can vary with the season. For example, if you rent in the summer, storage rates may be higher versus the other seasons where the demand is lower.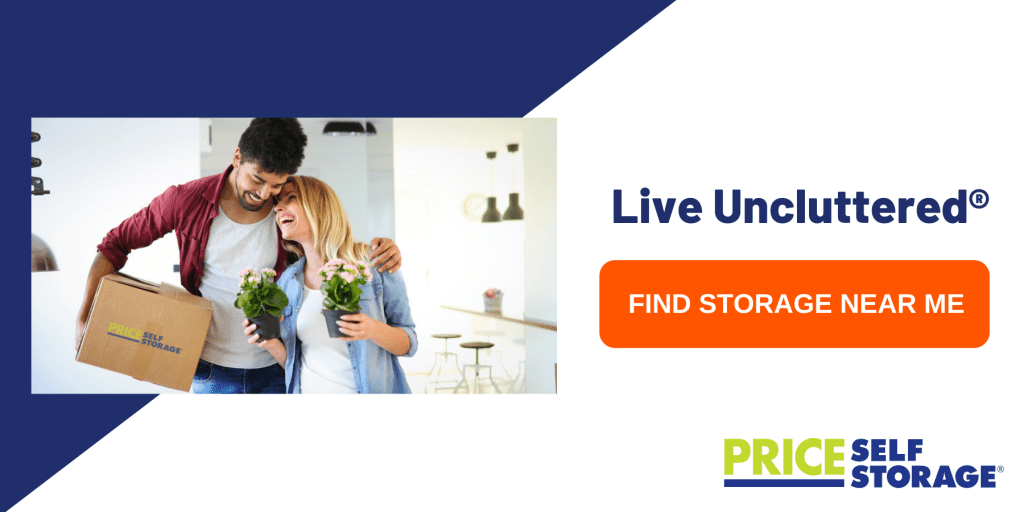 Rental Insurance/Protection Plan
Many storage providers require that you have some sort of protection plan for your items before you drop them off. So, when you are estimating the cost of a storage unit, it's important that you factor in the monthly price of a rental insurance or protection plan, which generally ranges from $2-$25 per month.  
At Price Self Storage, we offer a protection plan for your items that covers up to $5,000 worth of damages.
Price Self Storage – Convenient Storage at Affordable Prices  
Whether you need a storage solution for personal or professional reasons, Price Self Storage has more than a dozen convenient self storage facility locations in California with a range of unit sizes and features—all at extremely affordable prices. 
Our storage prices will depend on several features, including: 
Type of storage
Location
Unit size
Vehicle parking
Indoor vs. outdoor 
Price Self Storage was built to make storage simple, accommodating all of your storage needs at affordable prices.
Wondering how much a Price Self Storage unit near you costs? Give us a call or reserve your spot online today.   
For more self-storage information, check out our top storage tips and tricks! Find the best storage units in La Jolla, Santee, Murphy Canyon, or check out all of our self storage units in the San Diego area today!