It's not always easy to uphold the true visions of neatness and organization in a space that is purposefully designed to keep things out of sight, tucked away from the rest of your home. With summer right around the corner, chances are that your closet is a loose end that needs clear direction and discipline. Closet storage often becomes a love-hate situation for people of all ages. No matter how often you clean and organize the closet, it still seems to get back to its previous state eventually. For best results, you may need to let some items go (like that knit sweater that you haven't even looked at in over a year, or your work out tank top that has one too many acceptable holes in it). Whatever those items may be, they've put in their time, but that time has come to an end.
Memorial Day weekend is the perfect time to accept what items need to go and determine what takes priority in your closet. Getting your wardrobe organized makes it easier to piece together outfits and lets you feel light and free during those hot summer days. We're here to give you some tips that will empower you to conquer your closet.
1.    Identify A "Safe Zone"
Depending on how much of a disaster your closet is, it may feel overwhelming deciding how to organize your closet and picking a place to start. We suggest finding a comfortable place that will give you a quick win, boosting your de-cluttering confidence. For example, start by lining up all of your shoes from most to least favorite, or from most to least important. If you have work shoes that you wear on a weekly basis, they should be at the front of the line. If you have a pair of shoes that were only worn for one special event, determine their significance. Why does that pair of shoes earn a spot in your closet? They may have sentimental value, or maybe you keep persuading yourself that they will serve a purpose for another outfit, sometime in the future. We're hoping this first step in optimizing closet storage, identifying a safe zone, will help you prioritize so that you start to feel comfortable tossing some items.
Just as you did with your shoes, we suggest you do the same process with your jackets, blouses, jeans, etc.
2.    Pick Off Easy Targets First
Now that you've organized all of your big items from most to least important, it should be easy to see all of the items that are taking up space, including those that are holding you back from buying a new item. The three pairs of shoes at the end of your list may be the reason you decided not to buy that new pair of wedges that you know you'll wear with all of your summer dresses. Take those shoes and toss them, or if they're still in good condition set them aside for a consignment store. You may get a few dollars back for each pair, and that money can go towards your new shoes fund.
As for those pants that haven't been worn in over 12 months, realize that it's time to part ways. It's summer time, so they definitely won't be worn anytime soon. Also, do they even fit? Summer is a time for lots of physical activities and lighter foods, so spend your summer working on a body that will look great in a new pair of skinny jeans or trendy leggings come winter.
3.    Believe Winter Is(nt) Coming
Speaking of winter, it isn't anytime soon. So why should you keep looking at winter clothes in your closet? We're not saying that you should throw your winter clothes away, but you should transfer them to a remote location that doesn't interfere with your regular schedule or your available closet storage real estate. Under the bed perhaps? You may even choose to transfer them to a storage unit, conveniently labeled in handy bins with lids. Once it gets cold, they will be there waiting for you. Think of it as a well-awaited reunion. It may even feel like you're getting new clothes once you see them again. Until then, keep your closet light and colorful.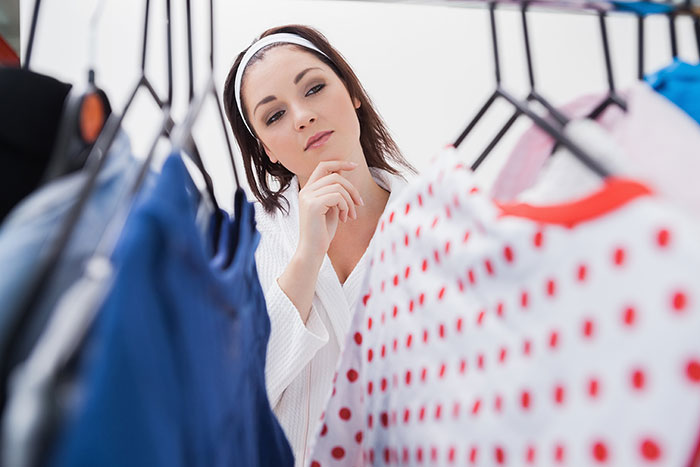 4. Don't Get Hung Up on the Details
As you prepare to organize your closet, take a look at the space available to you in comparison to your sizeable wardrobe. Next, take inventory of the different hangers you have in your closet. Take note of whether or not you have enough of each type of hanger and add new ones if necessary. Then, consider whether a new process can improve your storage as well as your morning routine. Can you make your closet storage space work harder for you? The answer is probably yes. You can cleverly store scarves and tank tops each on their own hanger by attaching shower curtain rings to the bottom bar of a triangular shirt hanger. You can also maximize your hanging space by attaching screw hooks to the bottom of wooden hangers. This way, you can hang small accessories or simply attach another hanger or two for double- and triple-decker storage. Alternatively, you can use a soda can tab for the same purpose.
5. Defy Duplication
One of the key tenets for successful storage reminds us to keep like items together in the same place rather than scattered across multiple locations. This helps you to always know what you already own without accidentally buying more of the same thing. When your bedroom storage options include a dresser, closet, and under-the-bed storage, you can see how your items can get jumbled from one storage system to the next. Focus on true organization. You'll have a much better time come laundry day if you keep all your tees in a drawer, your skirts and pants hanging on the rack, and all of your hoodies folded neatly on a shelf. Categorizing your storage eliminates confusion in many ways. Problems arise when the same kinds of items are stored willy-nilly in different locations, and you start to have difficulty finding things, like your favorite sports team's jersey in time for the game.
6. Maximize Your Space
Even a small closet design can offer savvy storage solutions. Consider organizational systems offering hanging racks as well as shelving to make the most of your space. Employ baskets, bins, or drawer sets to add even more storage space, if appropriate. Remember that robe hooks, hook racks, and other storage solutions can also expand the available storage in a small closet design.
7.    Know Where Your Loyalties Lie
You'll always have items in your closet that rarely serve a purpose, but you're not sure where else to store them and they are valuable enough to keep around for the long haul. Sometimes closet storage may not actually be the right fit for these items. Take luggage, for example. It's big, bulky and expensive. How often do you open up that giant suitcase that is good for a month-long trip abroad? We're guessing that it's not too often. This is the perfect item for long-term storage, as are giant photo albums, boxes of memorabilia and family heirlooms.
A storage solution such as Price Self Storage is an excellent option for keeping your personal effects. With facilities located throughout California, your belongings will be conveniently close by without cluttering up your closet.
What items would you transfer out of your closet and into a Price Self Storage unit?