Shared home, shared belongings, maybe even a shared pet or child… Breakups can seem twice as hard when you are actually living together. Tension is on the rise and the first place you want to go to get away from it all—your home—is no longer a place of comfort and peace. Instead you may find yourself fighting, worrying, and feeling depressed around a person you used to care about quite a bit. Moving out after a breakup is probably the first step toward healing your heart. Here are some tips to help you move on after a breakup.
Breakup Survival Moving Out Tips
No matter if a breakup blindsides you out of nowhere or you saw it coming a mile away, it still stings for all its worth. Here are some tips to help you move out with as little drama as possible.
Try to remain cordial. Every breakup is different and some surely get some sparks flying. If at all possible, try not to engage the other person and avoid picking fights or getting swept into them. With most breakups, the sooner you can cut the person out of your life and move on, the better.
Give yourself some space from the heartache. If the relationship is absolutely, positively kaput, for your own emotional sanity, you should avoid sleeping in the same home let alone same room as your ex. See if you can crash with a good friend, sibling, or back with your parents to give yourself some space. At the very least, set a date to move out of the home or apartment that you share with your ex.
Figure out how to split everything up. For most people, this is one of the most difficult parts of breaking up when you live with someone. You might find yourself dealing with financial issues like shared bank accounts and trying to find an amicable way to split up the furniture, your DVD collection, and your NetFlix subscription. If you have pets together, things can get a little messier and you might need to invite in a mediator or a lawyer if you can't agree. Consider making lists of your top wants and having your ex do the same to see if you can whittle down the big ticket items and anything of sentimental value.
Pack your immediate necessities first. You can always return to the home or apartment in the coming days to box up your things and get them out of there. Aim to have an overnight bag packed with a few days worth of outfits and toiletries at the very least. Packing and moving out can be cathartic even though it is surely gut wrenching at the same time.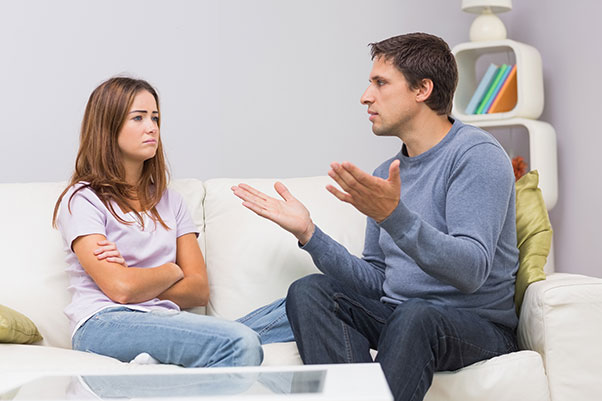 Secure your valuables and personal electronics. Anything of great expense or great personal value should be swiftly moved to a safer location. It doesn't matter if you are the one who ended the relationship or if your ex did—hard feelings are sure to abound so it's best to proactively protect your property just in case.
Bring a friend or family member to help you pack everything else. Having another person there can serve as a buffer if your ex gives you any trouble while you try to collect your things. A helper also allows you to pack in double time, limiting the time you spend in an uncomfortable location. In most cases, it may be a little while before you have a permanent residence ready for you. Looking into a self storage unit can give you peace of mind as you find a way to safely store your things until you have decided on your new home.
Make a Moving Out List. Whether you use an app on your phone, a file on your computer, or good old paper and pen, you should come up with a plan containing steps to moving out and moving on from the relationship. List out action steps like things you need to pack or split up, utilities or services you need to cancel, and so forth. Once the dust settles, you can consider steps for putting the house up for sale and scheduling a moving out cleaning. In cases of divorce, your moving out list may be a little more complicated than from a traditional breakup. Having a list to guide you can be quite helpful as you may feel your world's been turned upside-down.
Be good to yourself. Breakups are a time of emotional turmoil and constant stress. You may not feel like it at first, but you could certainly use a little TLC of your own during these troublesome times. Consider a spa appointment, some retail therapy, or even a vacation. If budget is a concern, get back to basics and do little things to improve your health and keep your balance in check—ensure you eat well, exercise regularly, and get some fresh air. The endorphins alone can have a truly therapeutic effect.
Moving out on your own takes dedication, time, and effort. Moving out after a breakup adds the element of loss, making simple tasks seem infinitely more difficult. Take each day at a time and focus on your list of steps to moving out, helping you to stay focused on the future. While the days may seem dark now, remember that you will come out on the sunny side soon. You'll make new memories, and you'll find a deeper love and a real and true happily ever after. You've just turned to a fresh page in the next (and quite possibly, the best) chapter of your life—embrace it and make it a great one!