If you spend a lot of time on your patio and in your background, children's toys, lawn tools, gardening materials, and pool equipment most likely make a regular appearance in your outdoor storage space.
Fortunately, with the right tips and tricks, you can declutter your backyard with personal storage and organize your outdoor living space in no time. Here are four patio organization ideas to bring a sense of order and functionality to your outdoor area. 
#1 Group Items Together 
Your patio and backyard are multi-use spaces that see a lot of variety day-to-day, whether you're grilling a few burgers or repotting perennial plants. That means they're likely filled with an assortment of tools, toys, and other supplies you and your family use when enjoying the extra space outside. 
Grouping your items by purpose or functionality is the first step to organizing your backyard.1 For most people, your backyard items can be grouped into a few tidy categories:
Lawn tools – This category includes things like your lawnmower, shovels, rakes, leaf blowers, and string trimmers. Essentially, it includes everything you use to keep your yard immaculate. Consider buying a small shed for a convenient place to keep these items. You can also include shelving to keep smaller items out of the way. 
Toys – When you have a dedicated place to keep all of your children's toys, it's easier to keep them from leaving their gadgets strewn all over your patio and yard. You can use cart organizers for all of their balls, racks for their bicycles, and buckets and tubs for their water guns, rackets, and everything else. 
Gardening supplies – All of your pruning shears, trowels, gardening gloves, plus everything else you use in your garden, should be kept together. The solution? A potting bench. Look for a model that features dry garden tool storage for things like potting mix, seeds, and gardening boots. 
Pool supplies – This includes everything you need for the pool, from your inflatable pool chairs and foam noodles to all your goggles, life vests, and pool skimmers. If there's room in your storage shed and it's pool-adjacent, you can keep them there. Float holders, mesh organizers, and pool pouches are all options for organizing your pool supplies.  
#2 Buy Patio Furniture With Built-In Storage
If your patio area has limited square footage, you may be wondering about how to organize patio spaces that are on the smaller side. 
The answer is simple—decorate your outdoor area with patio furniture that has built-in storage.
When your outdoor furniture and other piece double as discreet storage, you aren't just decluttering your backyard—you're maximizing every inch of your patio with this storage solution, and clearing up room to make memories. 
Furniture with storage space built-in is widely available in a variety of styles, including:
Chairs
Sectionals and sofas
Tables
Ottomans
Making sure that your patio furniture stays nice and clean can help with backyard organization and cleanliness. For information on how to protect your patio furniture from the elements, our resource center can fill you in to make sure you keep your patio looking great.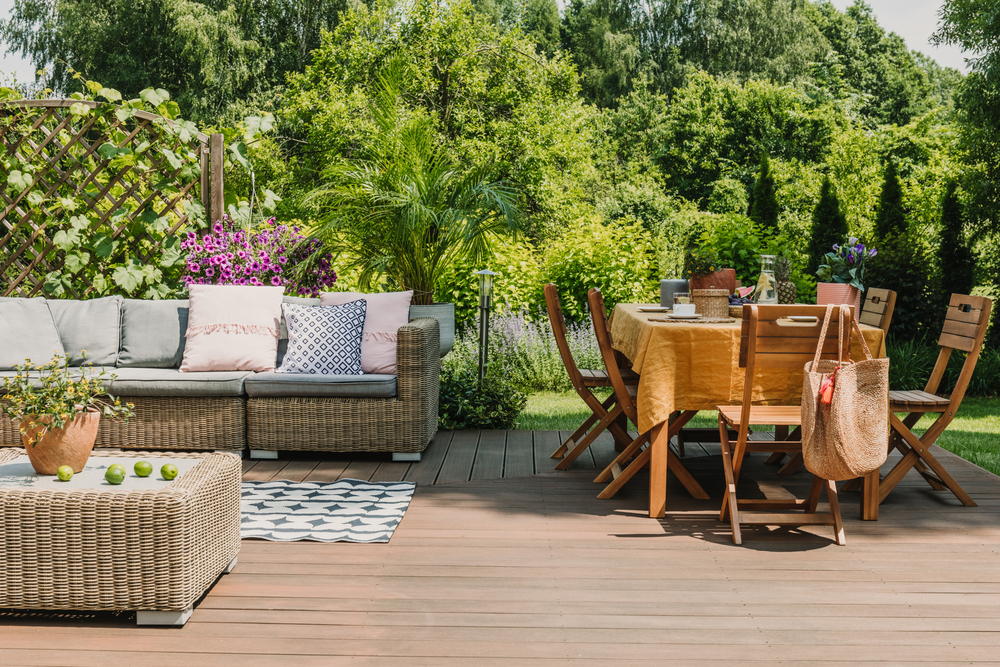 #3 Divvy Up Your Space 
One idea to add a sense of organization to larger outdoor living spaces is by creating individual areas that flow into one another without overlapping. You can bring this backyard renovation philosophy to your patio and backyard for an outdoor space that's streamlined and intentional. 
Begin by making a list of everything you use your patio and backyard for. It will probably include things like dinners with friends, backyard BBQs, pool parties, and the like. Then, create designated areas throughout your backyard that are catered to:
Dining 
Grilling and food preparation
Lounging and socializing 
Play and recreation 
If you've finished your backyard remodel and are still left with miscellaneous items that don't match your new open-layout space, such as an extra picnic table or decor that's more French Country than Shabby Chic, you can also consider storing nonessential items in a self-storage unit.
#4 Consider Outdoor Shelving
Shelving space is a hallmark of any well-organized area, whether that's inside or outside. You can build your shelves creatively to break up your dining area from your lounge space or simply add them to your porch to tidy up and provide extra storage. 
Adding shelving to your patio can be as simple as:
Stand-alone shelving unit – Free-standing shelving units in various sizes are perfect for small patio areas. They offer ample out-of-the-way storage for things like gardening tools, grilling tools, and lawn tools.
Outdoor console tables and sideboards – These are an excellent solution because they combine shelf space with built-in storage. 
Plant stands – Show off your green thumb by displaying your potted plants in a way that's visually pleasing and well-organized.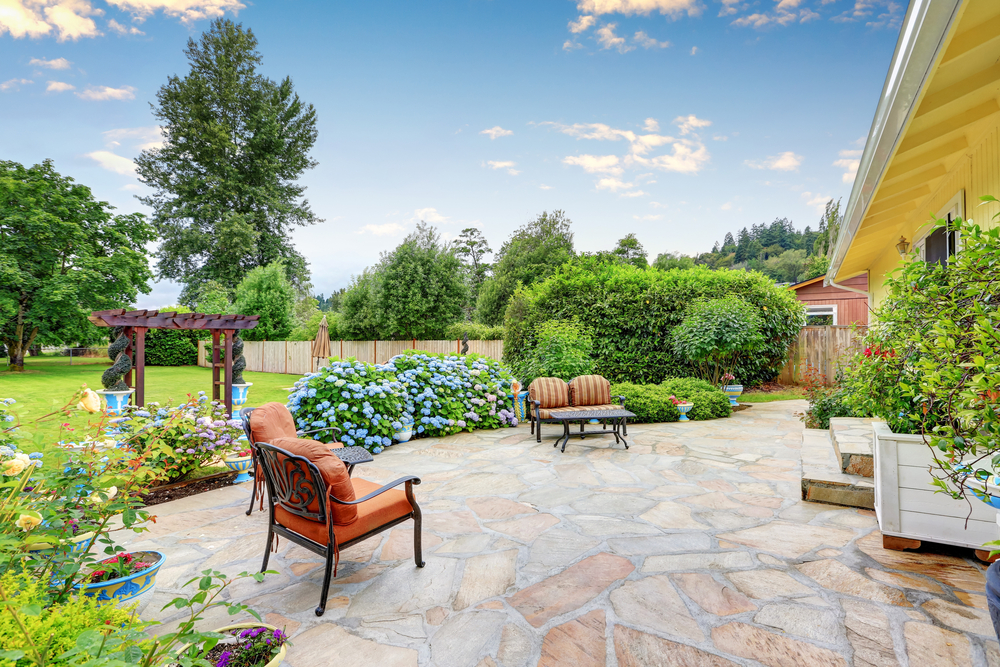 Guarantee a Pristine Backyard With Price Self Storage 
When it comes to organizing your backyard or outdoor space, it all comes down to versatile storage and design. While furniture with built-in storage and outdoor shelving can do wonders for your space, you can also use a self-storage unit when redesigning your backyard.
Whether you have out-of-season lawn furniture, backup pool supplies, or camping gear that's taking up room in your shed, keeping all of it in a self-storage unit can free up space at home and declutter your life.
That's where Price Self Storage comes in. We offer climate-controlled units in size options that fit all your storage needs, plus premium benefits like free concierge service, month-to-month leases, and security features for peace of mind. We also offer a storage size chart so you can know exactly what options fit best for your living space.
Looking for a place to store your stuff? Check out Price Self Storage and book your unit today.
Sources: 
The Spruce. The 5 Golden Rules for Organizing Your Stuff. https://www.thespruce.com/the-golden-rules-of-organizing-2647875