Setting aside a dedicated space as a home office can work wonders for your productivity. Even a small home office makes it easier to complete your projects with minimal distraction. Unless, of course, your home office becomes too cluttered. If this is the case, you may find your mind wandering to all sorts of places, mainly to get away from the mess. Rather than let your work suffer for too long, consider taking a break to organize your office.
Home Office Inspiration
Designing your home office layout can be a truly enjoyable experience. Just imagine where you'll hook up your printer and where you can hang your whiteboard. Take the time to browse different setups for home office styles that might suit your need. Here are a few tips to help you discover your own home office inspiration.
Think about your intended use of your office and go from there. Will you need lots of outlets for multiple screens, and lots of tabletop workspaces? Plenty of natural light? More of a darkroom-type setting? Dream it up and draw it out!
Look on Pinterest and other websites to get a few ideas. Keep a folder of small home office inspiration so you can bring your ideas to life.
Decide if you might like to have a theme. If you like the beach, consider painting the walls ocean blue with white trim and including artwork reminiscent of seashells and sandy shores. Take your inspiration in whatever direction your creative wind blows.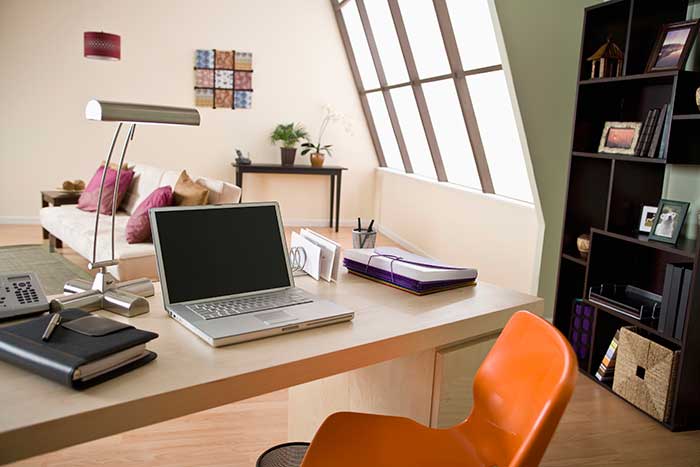 How to Organize Your Office
While a small office size may limit your options for how you lay out your furniture, you can still create a superb workspace. Here are some ideas to help you organize your office.
Consider the flow of your office. Picture how you will go from one part to the next smoothly as you work. If you have a desk as well as a credenza, consider if you have the space to put them back-to-back with a rolling desk chair in between.
Prioritize your greatest needs. In a small office setting, you may not have room for all of your wants. (That chaise lounge may have to wait for your next office location!) At least work to ensure that your minimum requirements of effective working are met.
Give thought to whether you will host clients in your home office. If the answer is yes, make sure that you have a small meeting space where you can sit together to discuss projects.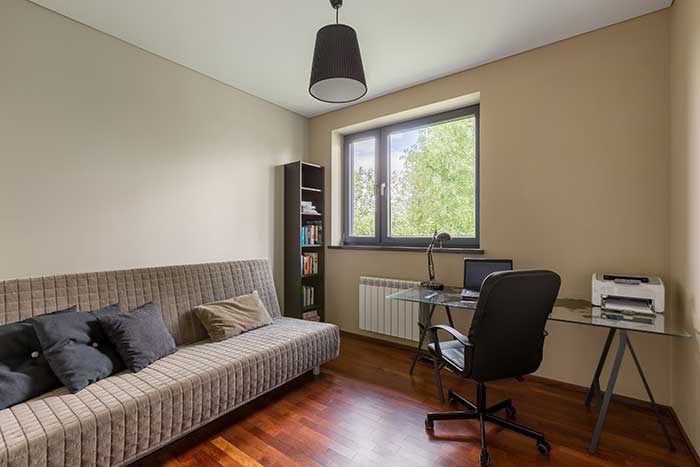 How to Organize Your Office Supplies
Smaller offices also may not have as many storage possibilities. Still, it is possible to create storage where once there was none. Here are a few home office organization tips for smaller spaces.
Consider which office supplies you will use the most. Keep those supplies within reach as you organize your office supplies. Opt for a printer table that can fit a filing cabinet underneath, offering storage for printer paper, envelopes, and more.
Create an office supply organizer in your closet. If your small office has a closet, take advantage of the space to the fullest capacity. Consider all kinds of closet organizers to find the one that best fits the supplies you've kept on hand.
Leverage a storage system that hooks onto the back of the door. Shoe organizers can double as storage systems for everything from arts and crafts to scissors, tape measures, and other tools.
Use jewelry trays or silverware trays inside drawers. These help you to easily sort and store small office supplies like pens, markers, paperclips, tape, and more.
Add more storage with baskets, decorative hampers, or storage ottomans. All of these storage systems allow you to keep important office items close at hand but mostly out of sight. Store your business receipts, "to-do" pile, and other things right nearby without overloading your desk.
Store overflow supplies in an attic or offsite. When you have boxes of marketing supplies, giveaways, and office supplies to the excess, offsite storage offers a sweet solution. Avoid the clutter and keep your workspace neat and inviting. Look into a personal storage unit to keep your extra office accessories, supplies, and marketing collateral stockpile safe until you need them.
Sometimes a simple home office is the best choice of all. Keep things clean, focused, and clutter-free for an optimal working environment.