California is an equestrian state. According to the American Horse Council census, California is home to nearly 700,000 horses. Nowhere is that more true than in the city of Norco, which proudly calls itself "Horsetown USA." 
If you're a lover of all things equestrian, chances are you have a lot of gear. Riding requires boots, horse tack, a girth, a bridle, a saddle, and a saddle blanket. You'll need a place to put all this equestrian gear — so what's the best way to store it? 
Storing
Equestrian Riding Gear
You can't just swing off your horse and dump all your riding gear into a corner! It's important to have designated spaces to store your equestrian gear. Let's look at some ways to keep everything in good shape and organized:
Horse Tack
Room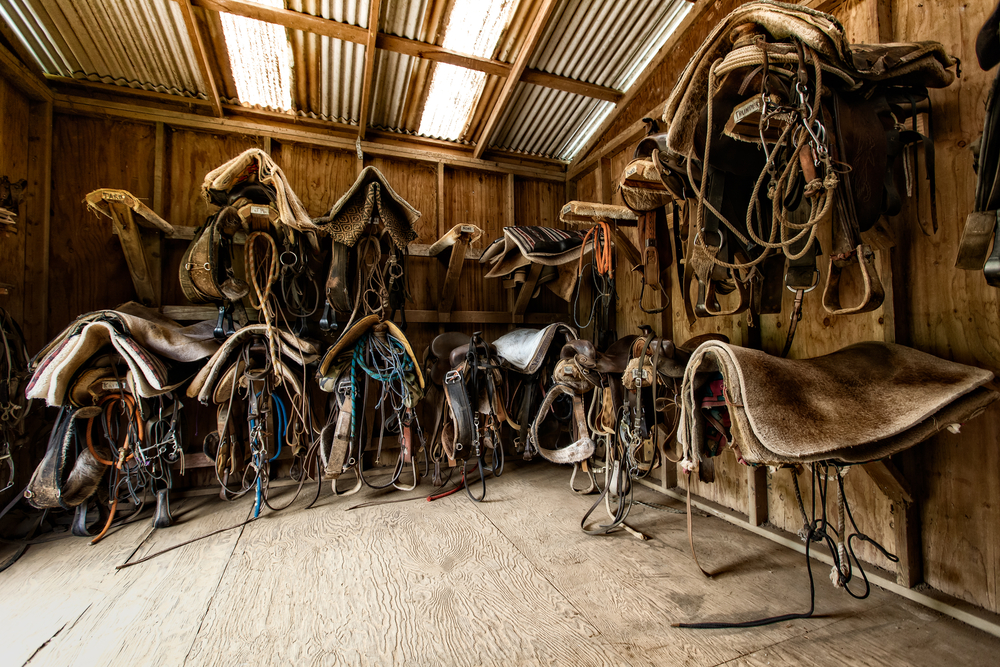 A tack room is an area specifically designated to store your equestrian gear. It doesn't need to be fancy, but it should be clean and dry. Most stables include a tack room, but you can also use a barn, a shed, or your garage. 
Saddle Rack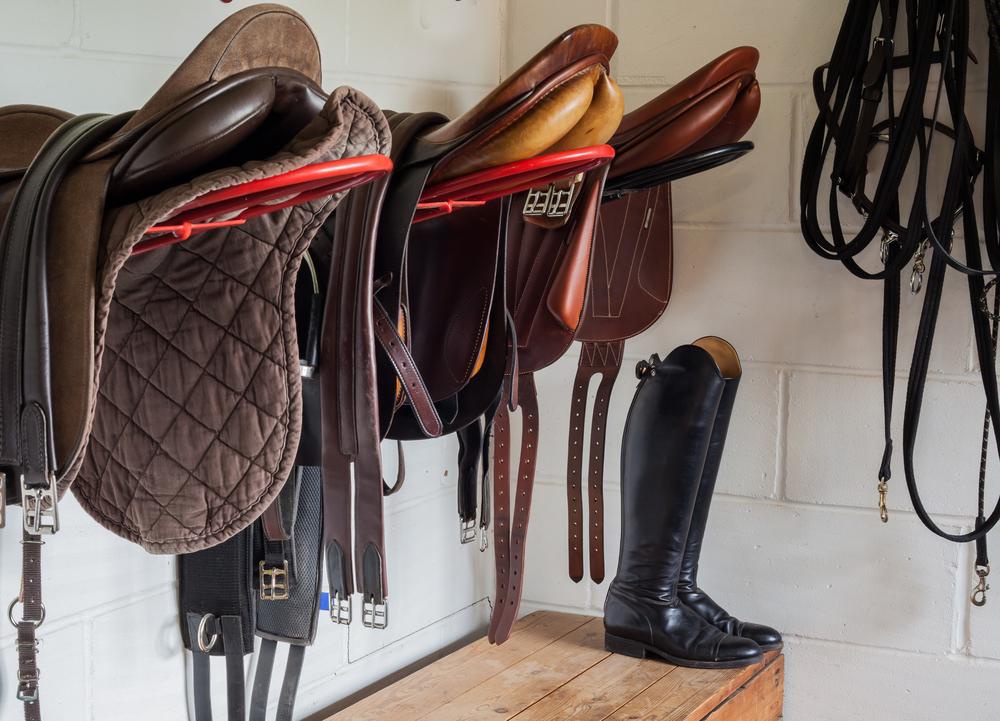 Your saddle is most likely your most expensive piece of riding equipment, so take good care of it. Leaving your saddle on the ground or a flat surface can lead to it losing shape and breaking down. A saddle rack is a special device that your saddle sits on that helps it hold its shape. It can be made of wood, plastic, or metal. 
Bridle Hooks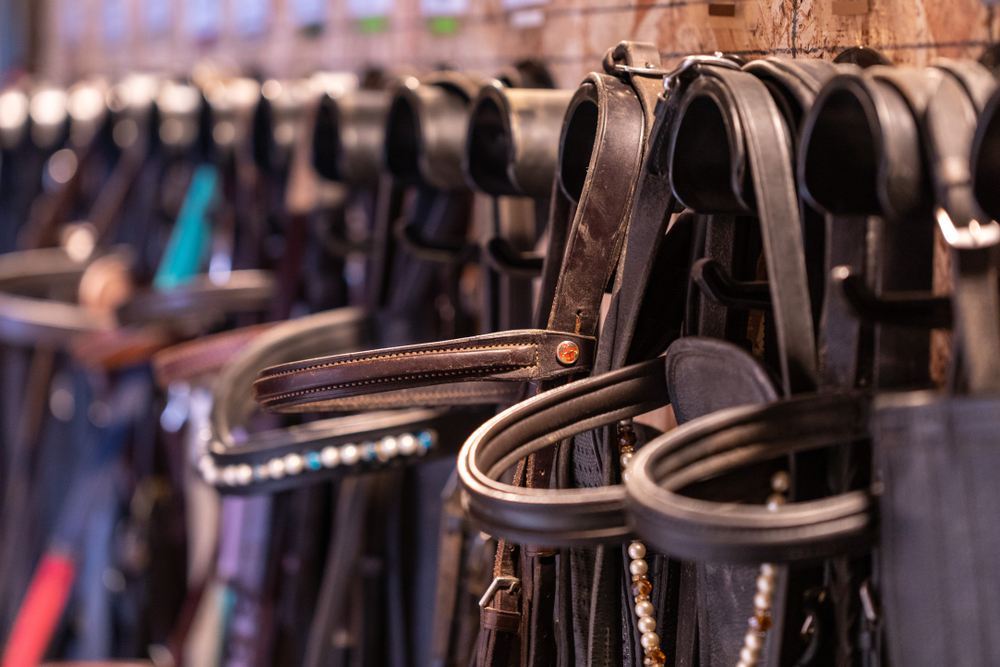 As the name implies, these hooks hold your bridle and your reins, halter, and other similar items. They help keep your equipment from getting twisted or knotted. Bridle hooks can be mounted, or they can be attached to a saddle rack or tack box.
Tack Rack/Blanket Rack/Coat Rack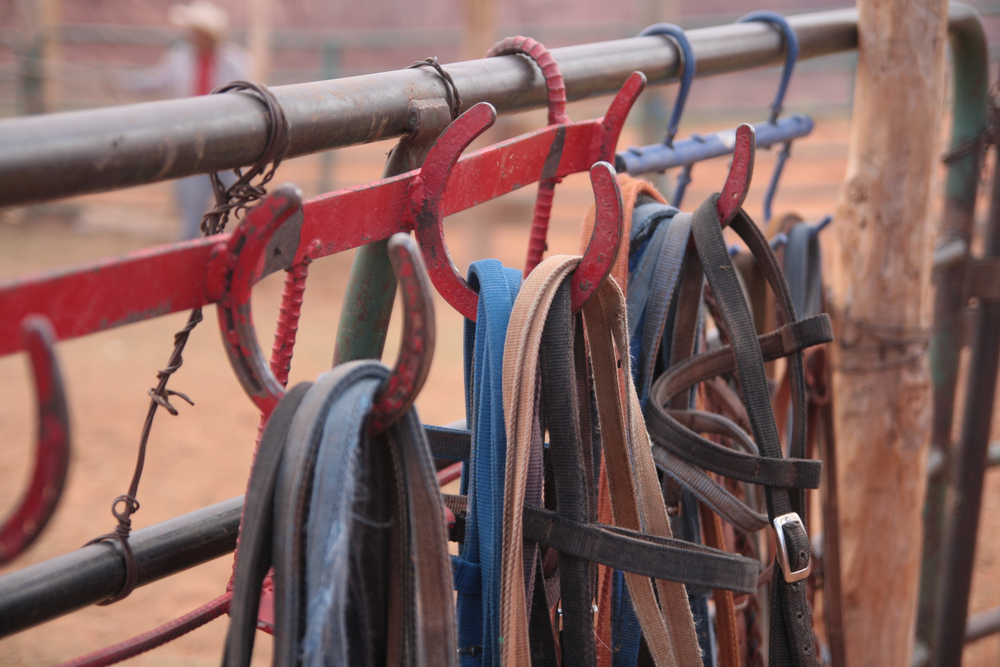 Every tack room does it a little differently. Some have separate coat and blanket racks. A coat rack holds your riding wearables, like your helmet and jacket. A blanket rack allows you to hang your horse blankets and sheets. A tack rack does all of the above. This type of rack includes a variety of hooks where you can hang your helmets, horse blankets, and even bridles, reins, and other gear. 
Grooming Tote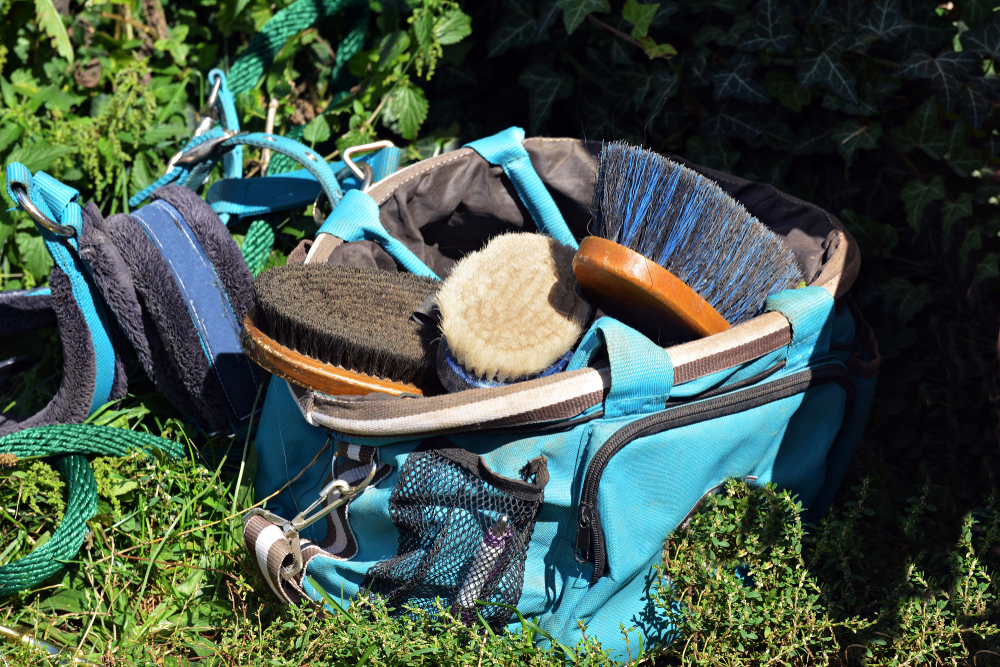 Riding can be a dirty business in California, especially during the rainy months, so it's important to have a grooming tote handy after a ride. Your grooming tote includes all your brushes, combs, hoof picks, hoof oil, fly spray, detangle spray, and other grooming supplies. 
How To Store Your
Equestrian Gear
for the Long Term
If you have extra equestrian riding gear taking up space or plan to take time off from riding, it's important to store your belongings the right way, especially your saddles. Horse saddle storage requires a few extra steps, but they're important to keep your saddle in good condition and extend its life.
1. Clean and Dry Your Gear
Take the time to thoroughly clean all your gear before storing it. You also want to make sure it's completely dry. Any leftover moisture could promote mold or mildew growth, which could ruin your gear. If needed, put your items in a room with a humidifier for a few days before storing them.
2. Keep Items Off the Ground
If you can, hang your bridles, reins, girth, and other longer items. You can also hang blankets, sheets, and clothing or fold them and put them on shelves. It's a good idea to put folded items in boxes or bags to keep dust out.
3. Put Your Helmet in a Case
Invest in a case or box for your helmet to avoid scratches or other damage. 
4. Condition Your Saddle
Take the time to properly condition your saddle before putting it into storage. Leather saddles, in particular, need to be oiled and conditioned so they won't dry out and crack. 
5. Cover Your Saddle
Put a breathable cover over your saddle to keep dust and critters away without trapping moisture.
6. Put Your Saddle on a Saddle Rack
Always store your saddle on a saddle rack so it won't lose its shape. If you can't mount a saddle rack on the wall, you can bring in a free-standing rack.
7. Continue Regular Saddle Care
Horse saddle storage is not a set-it-and-forget-it situation. Instead, you'll want to check on your saddle periodically and oil and condition it as needed. If you ignore your saddle for too long, it could dry out and become useless. 
Use Storage for Your Equestrian Gear
Need to put your equestrian riding gear into storage for a while? If you don't have access to a horse tack room or need to clear out your existing tack room, consider self-storage. You can easily turn a small 5×10 storage unit or medium 10×10 storage unit into a tack room by adding shelves, free-standing racks, and free-standing saddle racks.
Price Self Storage offers Norco storage near the junction of the 15 and 91 on Cota St. We also have locations throughout Southern and Northern California. No matter where you live, take advantage of our convenient month-to-month contracts and online payment systems. Find your closest Price Self Storage location here.