Whether you're taking an overnight business trip or spending a month in Europe, packing some luggage is essential. Here are some luggage packing tips and tricks that will help you save space and keep organized for any kind of excursion.
Start At the Corners & Bottom
Imagine your luggage is a grocery bag. Whether you have a rolling suitcase or a duffle, weight should be evenly distributed so as not become too top heavy. That is why bulkier items such as shoes should be tucked into the bottom corners and sides of the luggage.
Spread the Love
While shoes are one of the heavier and bulkier items in your luggage, don't forget to give them some TLC. Before placing the shoes foot-to-toe at the far bottom corners, roll up socks and stuff them inside your shoes to maintain their shape. Cover the shoes with a shower cap or place them in a bag to keep the rest of your clothes clean.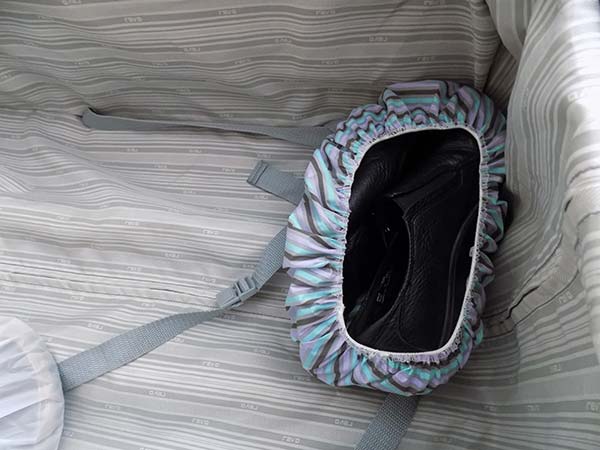 Roll or Fold
There are several different schools of thought when it comes to space-saving techniques. Simply folding your items takes up a lot of unnecessary space. Rolling shirts, non-creasing pants, skirts and underwear, if rolled with care, maintain their shape and is a major space saver.
To save you time, try dividing your clothes into categories. Place all of the pants in one section, or organize by outfit.
Save More Space
If rolling isn't enough, there are plenty of luggage accessories that can help you save more space. Try compression sacks for bulkier items or activity gear. Or, use packing cubes and folders to compress clothing further while maximizing space.
If you're short for time or on a budget, the most common and versatile space saver is a zipping plastic bag. Brands like Ziploc® make massive several gallon size bags for exactly this reason. Simply roll up your clothing and stack in the bag, then zip the bag part way before pushing the air out of the bag. This will create a suction effect and reduce excess space.
Helpful Storage Hint: Space savers, especially plastic bags, are great for packing for storage. They maintain their shape and keep clothes clean long term.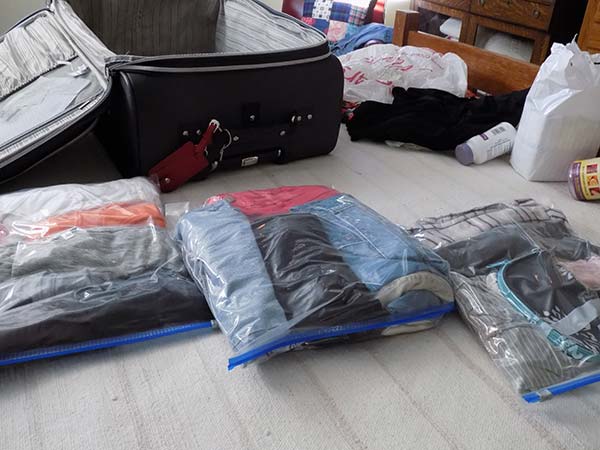 Non-Foldable Items
There are some items that can't be rolled up, either because they are too bulky or because they're meant to stay flat. For fragile or larger items, they can simply nest on top of the rest of the clothing. Or, you can place them in packing folders. Packing folders are basically dry cleaner bags that you can then fold, so they can maximize space while leaving outfits creaseless.
Toiletries
Toiletry items aren't exactly delicate, but they can make a mess. In case of spills, double bag the toiletry items and place in a different compartment. If there's no space left, place it on top of the clothing compartment and nestle it into the clothes so it stays snug. The less they move, the less likely there will be a problem.
Don't Forget These Other Tips!
• Keep a rolled up belt inside your shirt to maintain the collar
• Bras can be nestled together and their shape can be maintained with socks
• Fill in the gaps! Any leftover items including underwear and socks can be stuffed into the nooks and crannies of your clothes. Not only will this open up more space, but it will keep everything snug and prevent shifting while your luggage is in transit.
• Plan ahead! Leave some extra room in your bag and keep extra space savers or plastic bags with you for the long haul. Often times, we bring home more than we left with, whether it's gifts or more clothes.
• Keep extra tote bags or zipping plastic bags for dirty laundry
• For longer trips, dryer sheets keep clothing smelling fresh
Helpful Storage Hint: If you're placing luggage filled with clothing in storage, dryer sheets can prevent them from gaining that musty smell over time.
Price Self Storage hopes you've enjoyed our luggage tips and tricks. Share them with your loved ones for their upcoming trips or help others below by commenting on your own packing tricks.