Fun times by the pool and endless hours at the beach bring so much joy, but then it's time to put everything away for another day. Finding storage places for pool noodles, boogie boards, and your big beach cooler can be difficult. Luckily, a few clever hacks for beach gear and pool toy storage can make a huge difference in how tidy your place can be for any season. 
Let's look at some of our favorite beach and pool organization ideas.
Pool Toy Storage
Pool toys can dramatically increase the fun when it's time to splash the day away. From inflatable floats to beach balls, dive sticks, and even water volleyball sets, there's no end to creative ways to make the most of your time in the water. However, the same pool gear that creates so much joy in the water can turn into headaches when it's time to pack everything away. 
Rather than shoving everything into a closet or taking up valuable space in your garage, try these pool organization ideas. Some ideas require you to invest in storage for pool supplies, but this could be money well spent.
Waterproof Outdoor Storage Box
In between swimming sessions, tuck away outside toys and other pool gear in an outdoor storage box for a neater space. You can keep these boxes at your pool for easy access, put them on the patio, or store them in an outdoor shed or garage. You can even double your value by investing in an outdoor storage bench that offers convenient space for pool toys and accessories as well as a place for guests to sit.
Shelves in Your Garage
Don't just toss all your pool toys in your garage: use as much vertical space as possible. Install garage shelving or purchase free-standing shelving units from your favorite hardware store. Many of these standalone units let you move shelves up or down to fit your personal storage needs. 
Want to keep your garage free of clutter? Add shelves to your shed or pool house. You can also store pool chemicals high out of reach with tall shelving. 
Pool Float Storage Nets
Pool floats have a way of proliferating over time as you find more fun floats to add to your collection. It can be a hassle to constantly deflate and re-inflate all these floats, especially in the heart of pool season when a spontaneous pool party could break out at any time. Consider putting up a pool float storage net. Secure this net to the rafters of your garage or shed and easily store or remove your favorite floats.
Pool Storage Containers
There's nothing wrong with tried-and-true storage containers and tubs to keep your pool gear safely packed away in the off-season. Group together any accessories by type and label the containers for easy unpacking next summer. Diving toys could go in one container, water shooters in another. Stack these containers in your garage, pool house, shed, or an offsite storage unit to free up space in your home.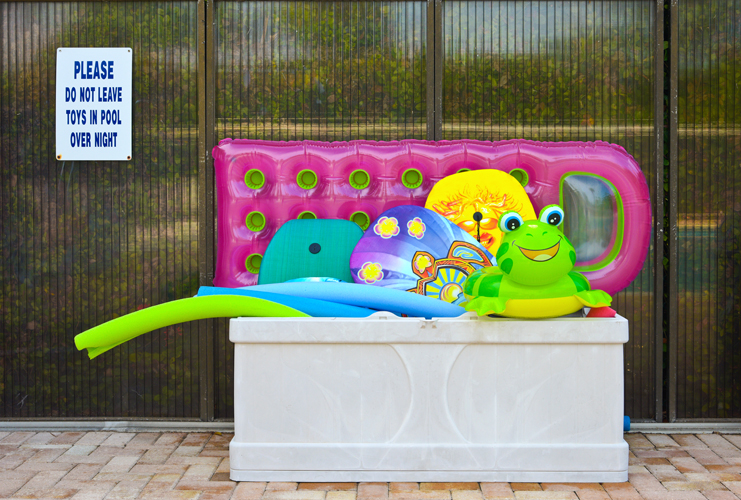 Beach Gear Organization
Trips to the beach (or lake) can be the highlight of summer, but it can sometimes seem like they require a wagon full of supplies. It can be challenging to keep your beach gear organized and make sure you have everything you need before heading for the sand and crashing waves.
Here are some of our top recommendations for organizing all your beach goodies. 
Pre-Pack Your Swimsuits
The one thing you absolutely can't forget when going to the beach is your swimsuit! Pack your swimsuits for the beach in the side pouch of your duffle bag, if available. You can also pack them right in your beach bag so you know where they are when you're ready to hit the beach. When you leave the beach, hang them up right away, or lay them flat to dry. At home, store your swimsuits in their own drawer if you wear them a lot, or in a basket, cubby, or a bin in your closet if you only use them once in a while.
Store Beach Towels in a Special Bin
Don't wear out your home towels by bringing them to the beach. Instead, invest in large beach towels that you can pop in your beach tote on beach days. Store them in your linen closet or in a special bin on top of another closet shelf. Roll your beach towels and stick them upright in your beach bag to take up less space. 
Keep a Dedicated Packed Beach Tote
Keeping a pre-packed tote handy instead of packing a beach bag or tote for every trip will lower the chance of you forgetting something important (sunscreen, anyone?) and ensure you have everything you need on the trip. 
Useful beach items to keep packed in your tote include:
Traditional sunscreen

Sunscreen sticks

Lip balm

Antibacterial hand soap

Eye drops
You might also want to keep a beach trip packing list in your bag of other must-have things to pack, including sunglasses and sandals. 
More Storage Bins
We've already suggested that you consider using storage bins to keep all your pool toys and gear safe. While you're at it, why not pick up a few extra bins to keep your beach gear all in one place? Storage bins can stack easily in your garage or shed and can be a great place to store beach towels, water toys, buckets and shovels, kites, and more. Outdoor storage boxes are also an excellent option for your larger beach gear. 
Beach Gear Wall Rack
Some beach items, such as beach umbrellas, chairs, and boards, can be tricky to store efficiently in boxes. For these bulky items, try a beach gear wall rack. Add the rack to your garage or storage shed. 
Alternatively, you can stand a collapsed sun umbrella in an upright box or open trashcan-style bin along with fishing rods and other awkward items.
Beach Storage Cart
A beach bag is essential but can only carry so much. Other great options are available to tote your stuff to and from the beach. Make your walk much easier with a beach buggy or beach cart designed to carry all your beach supplies. The best beach storage carts feature unique storage spaces for umbrellas and beach chairs; some even have a built-in cooler. Consider using your beach cart as your full-time beach storage. You can keep your beach gear in the cart at home and tuck it in your garage or shed. When beach day dawns, you'll have all your gear ready to transport.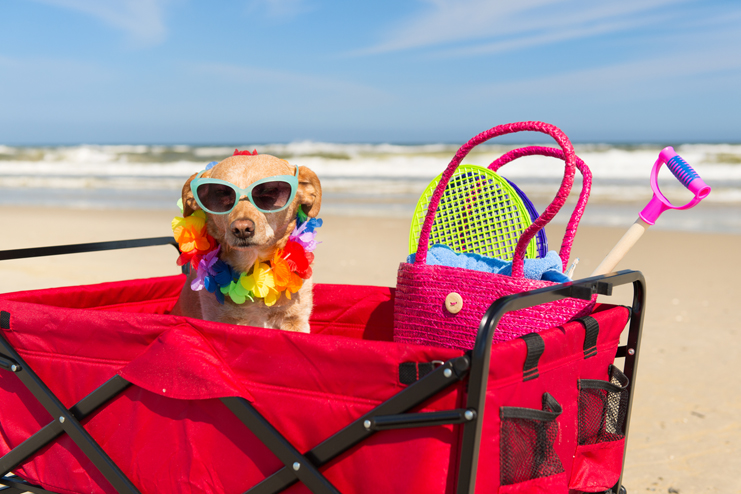 Tips for
Beach
Chair Storage
Beach chairs are absolutely necessary if you want to keep off the hot sand, but they can also be a little unwieldy to store. That's why we've dedicated a whole section to beach chair storage. Here are a couple of our beach chair storage ideas.
Line Them Against the Wall
The good thing about most beach chairs is that they fold. Some fold in flat panels, while others fold up kind of like umbrellas. Either way, you can stack your folded chairs against a wall. If you plan on storing your other beach gear in storage bins or a beach cart, you can tuck beach chairs behind or next to your bins.
Hang Beach Chairs
Take a trip to your favorite hardware store, buy a few large hooks, and install them in your garage. Hang one or more beach chairs on each hook to better utilize your vertical space. You may be able to fit several flat-folded beach chairs across two hooks. Other beach chairs may be folded into carry bags with a strap. You can hang that strap from the wall hook.
Overhead Garage Storage Rack
If space in your garage is limited, invest in a hanging storage rack. You'll need some basic handy skills, but you can install a hanging platform anchored in your ceiling. Even small platforms can hold a number of beach chairs. Larger ceiling mounts can also hold your beach or pool storage bins. 
Rent a Storage Unit for Pool and Beach Supplies
Over time, your pool and beach gear can start to take over your closets, garage, or shed space. A storage unit can be the perfect option, especially for things like beach and pool supplies you only use for part of the year.
Small storage units may be more affordable than you think, and they can really hold a lot of things. If you have extra room after packing away your beach chairs and pool gear, store your extra tools, off-season clothes, holiday decorations, and more.
Have some extra big beach toys, like surfboards, large coolers, jet skis, beach cruisers, and/or beach wheelchairs? Those are all things you can store securely at Price Self Storage. If you aren't sure what size unit you need, take a look at our storage size guide. 
Playing in the water with family and friends is a timeless and memorable experience. Make the most of a trip to the pool or beach by keeping all your pool toys and beach supplies secure and well-organized. Price Self Storage is happy to help with pool toy storage, beach chair storage, and more. 
We have various locations near beaches such as Pacific Beach, Encinitas, and Solana Beach. When you're ready, please contact us to store your beach and pool gear. Call us today, and have a wonderful summer!