With golden rays and longer days, summertime offers the perfect excuse to soak up the sunshine with those you love. Splashing and playing with your friends, fishing from the surf, riding the waves, and floating the day away—these moments become some of the most treasured memories.
Those fun times by the pool and endless hours at the beach bring so much joy, but then it's time to put everything away for another day. Luckily, a few clever hacks for pool and beach gear storage can make a huge difference in how neat and tidy your place can be for any season. Remember your top 10 summer must-haves and consider these tips for how best to store everything.
THE TOP 10 SUMMER ESSENTIALS
Swimsuits – Pack your swimsuits for the beach or pool in the side pouch of your duffle bag, if available. You can also pack them right in your beach bag so you know where they are when you're ready to hit the beach. When you leave the beach or pool, hang them up right away or lay them flat to dry. At home, store your swimsuits in their own drawer if you wear them a lot, or in a basket, cubby, or a bin in your closet if you only use them once in a while.
Towels – Roll your beach towels and stick them upright in your beach bag to take up less space. In between swims, you can store them in your linen closet or in a special bin on top of another closet shelf. A locker rack could provide unique beach towel and accessory storage options.
Sunscreen – Choose a dedicated pouch for beach or poolside toiletries. Keep your traditional sunscreen, sunscreen sticks, lip balm, antibacterial hand soap, eye drops, and other important ointments easily accessible in a zipper-seal bag inside this pouch. When not in use, store your sunscreen bag in a cabinet where you will always know where it is. This also makes it ultra-easy to keep track of when you need to buy new sunscreen.
Sunglasses – The best tip for storing sunglasses is to pick a safe place to always keep them when you aren't wearing them. Placing your shades in drawer in your kitchen or in a decorative catchall dish on the counter will help to ensure you always know where to find them when you need them.
Sandals – The space under the bed can be perfect for storing your favorite sandals, unless, of course, you have too many shoes to fit all of them. If this is the case, consider setting up shoe racks in your closet. With convenient shoe organization, you can quickly find your favorite kicks at a glance.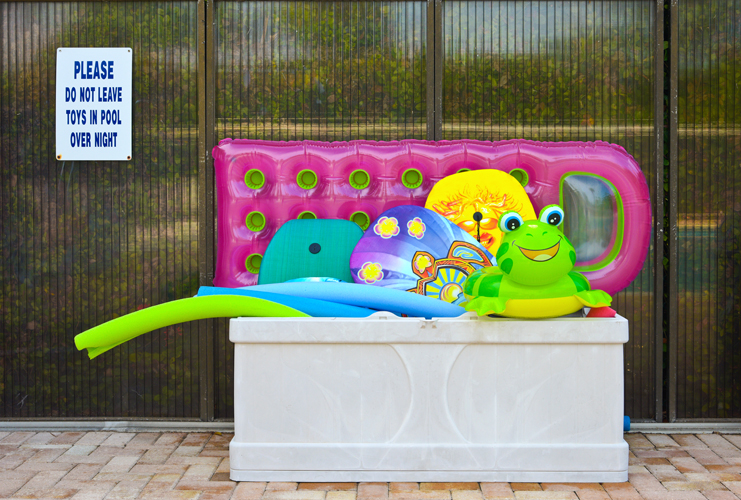 Beach & Water Toys – Pool floats, sand toys, and water toys—ah, the stuff dreams are made of. Keep these items close at hand but out of sight. Store them in an outdoor toy storage box or pack them in bins inside a personal storage unit during the off-season.
Shade – Your beach umbrella is an absolute must for summer. Be sure to protect it when it's not in use to ensure you always have shade when you need it. A beach gear wall rack offers space for umbrellas, chairs, boards, and more. Alternatively, you can stand a collapsed sun umbrella in an upright box or open trashcan style bin along with fishing rods and other awkward items.
Beach Chairs – Optimize your space with clever beach chair storage solutions. Hooks on the garage or shed wall offer a simple fix to keeping the chairs out of the way yet easily accessible. Better yet, during the off-season, store your chairs, umbrellas, and other beach gear in your own private storage unit.
Cooler – You may need your cooler at any given moment, so find a special place to keep it. Choose a soft, collapsible cooler for your everyday use and leave the big daddy cooler for family trips, boating excursions, and parties. When not in use, keep the cooler tucked away in your garage, shed, or storage unit.
Something to carry everything – A beach bag is certainly essential, but even better options are now available to tote your stuff to and from the beach. Make your walk so much easier with a beach buggy or beach cart designed to carry everything in this list and more. The best beach storage carts feature unique storage spaces for the umbrella and beach chairs, and some even have a built-in cooler. No more guilt about bringing too much or leaving items behind, no more fighting about who packed too much, and no more sore shoulders from carrying it all yourself. Choose between a collapsible beach cart or the wagon style beach buggy and know that you can rest easy while it waits patiently in your storage unit.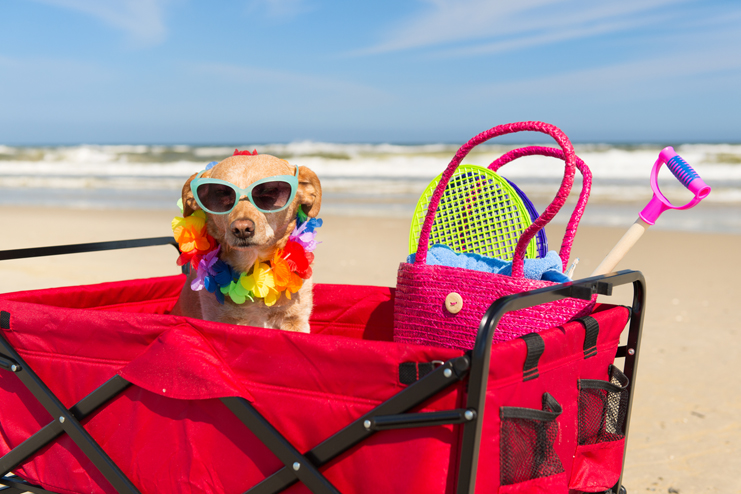 Beach Gear Storage Tips
There is a ton of stuff that goes along with a trip to the beach or pool. This is especially true if you have children. It can be a quite a bit of work to get the kids and all of their stuff together in one spot so you can go. To make your life easier, place your beach gear together in appropriate containers in a storage spot that is convenient to access. That way, you can easily grab it on your way out and throw it in the car.
Make packing up to leave the beach quicker so you can stay and play longer. Here are a few beach gear storage tips to try.
Use a large tote bag for keeping water toys and beach toys together. Make sure that the sand is washed off, beach balls and flotation devices are deflated, and everything is clean before you put it back in the tote bag.
Use a backpack to handle most of the small items. Small items such as swimsuits, sunglasses, towels, sunscreen, and lip balm, should fit into a backpack. Make sure to keep the sunscreen and other items that could leak in a plastic zipper-seal bag and separate from the towels and swimsuits.
Take a cooler. You'll probably work up an appetite playing in the water. Take a cooler along with you and stuff it full of your favorite snacks and drinks. Maximize your space by freezing water bottles or juice boxes to use as ice packs!
Use a wagon or beach cart to get from the car to the beach/pool. If carrying everything is a struggle, a wagon or beach cart takes a load off from the car to paradise.
Organizing Pool Supplies
Keep your deck and pool area neat and tidy with these pool toy storage tips.
Use a waterproof outdoor storage box for toys and pool accessories. In between swimming sessions, tuck away outside toys for a neater space. You can double your money with an outdoor storage bench that offers convenient space to keep toys and accessories as well as a place for guests to sit.
Tackle pool cleaning equipment storage with shelves. Keep pool chemicals high out of reach with tall shelving in your garage, shed, or pool house.
Enjoy inflated pool toys longer. For quick dips, toss inflated pool floats up into a pool float storage net. Secure this net to the rafters of your garage or shed and easily store or remove your favorite floats.
Organize the rest of your supplies into pool storage containers. Group together any accessories by type and label the containers as a solid effort in organizing pool supplies. Diving toys could go in one container and other water toys in another. Organize your pool supplies in the way that makes the most sense to you.
Playing in the water with family and friends is a timeless and memorable experience. Make a trip to the pool or beach easier than ever by planning ahead and having the essentials on hand at a moment's notice. From all of us at Price Self Storage, we hope you have a great summer! (And when you're ready, please contact us to store your beach and pool gear until next time!). Need storage? We have various locations near beaches such as Pacific Beach, Encinitas & Solana Beach. Call us today!