It's that time of year again! With the holidays around the corner that means family gatherings and holiday parties commence. Thanksgiving is less than a month away and you don't want to be stuck preparing last minute. Prepping your home for holiday gatherings overnight can be quite hectic. This year, get your house ready for your holiday guests by getting the whole family involved.
1. Cleaning Up The House
You may not have deep cleaned your house since the last holiday season or you may clean it once a month; either way, there is always some holiday cleaning to be done. Divvy up the chores and assign doable tasks to each member of the family. For example, the kids can fold their Halloween costumes up, put candy into containers and put their toys in closets or the garage. The best way to clear clutter is by putting items into labeled containers and sealing them with the lid. If you have no room to store your holiday items, you can purchase a storage unit to clear the clutter and make room for your guests.
Although it may not seem like a big deal, make sure your yard is presentable, as well. Start by having someone rake up the leaves that have fallen from the trees, gather the pine cones that have fallen and make sure that all toys have been picked up and stored. Don't forget to toss any carved pumpkins, too. We suggest holding onto the pinecones and rummaging through recycling to find used wine bottles. Both can be used for festive repurposing projects.
2. Preparing For Thanksgiving Day
Apply festive touches to your home for the holidays.  Take the pinecones from the yard and turn them into a fall centerpiece buy adding small pumpkins and a fall-scented candle.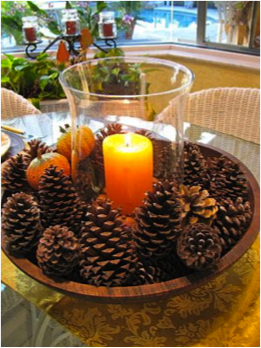 Another decorating idea would be to take your old recycling and turn into festive fall decorations as well.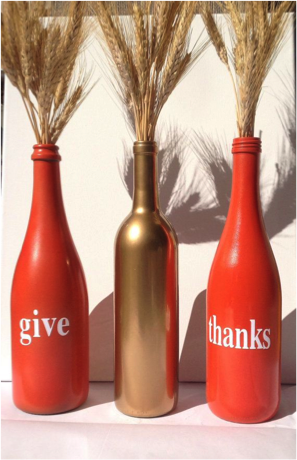 While the family is making the house festive, make sure to prepare Thanksgiving appetizers for your guests when they arrive. We have provided some yummy and easy appetizer recipes for you.
Cranberry Brie Bites
Ingredients:
1 Cup Cranberry Sauce
1 Package Frozen Puff Pastry
½ Pound Brie Cheese
Directions:
Square off the puff pastry and press each muffin square into the muffin cavity, add about a ¾ inch cube of cheese and top the cheese with a dollop of cranberry sauce. Bake 10 minutes or until edges are golden brown.
Roasted Red Pepper Deviled Eggs
Ingredients:
8 large eggs
1/4 cup drained and chopped jarred roasted red peppers
3 tablespoons mayonnaise
1 teaspoon Dijon mustard
1/4 teaspoon paprika, plus more for sprinkling
Salt and pepper
3 chives, cut into 16 1/2-inch pieces
Directions:
Take hard-boiled eggs and crack them. Slice eggs in half and scoop yolk into a large bowl with peppers, mayonnaise, mustard and paprika, process mixture until smooth. Transfer yolk mixture into a pastry bag and pipe 1 tbsp into each center of egg white to resemble a pumpkin. Set a piece of chive diagonally to resemble the pumpkin stem. Sprinkle with paprika and serve.
3. Thanksgiving
The day is finally here! Happy Thanksgiving! Assign tasks to the family so they can help with cooking and serving of a delicious meal. Along with having someone help cook, make sure someone is in charge of setting the table, putting the appetizers out, getting drinks to your guest and clearing and cleaning dishes after dinner. Thanksgiving is hard work and it shouldn't fall on just one person to put the day together. It's even more special to work as a team anyways, right?
Be sure to take the time to tell your loved ones how thankful you are for them and for all of their help. Enjoy a day filled with joy, love and happiness because Thanksgiving only comes around once a year.