All families have their various holiday routines. Some prefer to keep it fun and light, while others can be very traditional. We've broken down our favorite Christmas songs into two different playlists. One is more of the traditional music that many grew up listening to and the other playlist includes younger artists from newer generations. Whatever music you choose to listen to during the holidays, we hope it's a good one.
For those that think the holiday classics will never get old, try out our playlist: Decorating The Christmas Tree
During tree decorations, we recommended a new tradition to start – creating an ornament for the tree. We're especially fond of making these DIY cinnamon stick stars. All that you need for this project is cinnamon sticks and a hot glue gun. These rustic looking stars give a tree character and smell amazing! Add a jingle bell for a special touch of sparkle.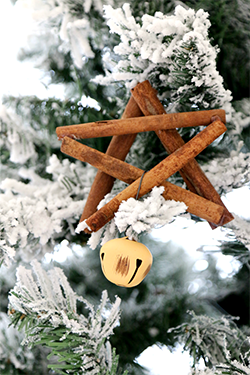 For those that are sick of the holiday classics, try out some new tunes from our playlist: Baking During The Holidays. Few things are as satisfying this time of year as dancing around the kitchen in your apron while singing along to your favorite holiday music surrounded by the delicious aroma of homemade cookies in the oven!
Everyone has a favorite cookie and with the holidays upon us, there's so many more to love. Bake along to our holiday playlist! Once you've gathered all your ingredients at the grocery store, prepare for a fun day of baking and singing along to festive tunes.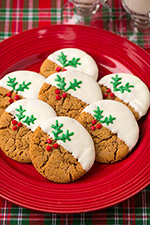 What would Christmas be without a few sugar cookie cutouts? With a touch of almond extract, these sugar cookies are likely to become a cookie jar staple all year long. They are super quick to mix up but require at least two hours to chill, so plan to make this first and move onto another cookie in the meantime. Once chilled, you can easily roll them out and cut out your favorite shapes. Top with colored sanding sugar crystals before baking or ice them any way you like after they cool.
Next, try a fun, yet beautifully presented cookie project that is sure to impress. White Chocolate Dipped Ginger Cookies are a great treat to make for your family, a potluck, or to bring along to a holiday party. Delightful with a hint of molasses and plenty of spice, the real wow factor in these cookies is the perfectly painted holly leaf atop a smooth white chocolate shell. These may look like something you'd pick up at a professional bakery, but you might be surprised at how easily you can make them from the comforts of home.
For some reason, red velvet just seems so appropriate for the holidays. Try these Red Velvet Chocolate Chip Cookies and your world will never be the same again. Moist like a brownie on the inside with a slightly crisp outer edge, you'll probably have a hard time eating just one. (Better make it a double batch.)
Finally, finish off Santa's cookie plate with a classic candy cane cookie. Choose peppermint or almond extract as your preferred flavoring  in this beautiful, timeless cookie that can easily become a cherished holiday tradition. As a special tip, do chill the dough a bit to make the rolling and twisting process a bit easier.
Once you've finished baking all of your cookies, be sure to put together a cookie plate to share with family and friends! What are your favorite holiday cookies to make and eat?