The rustling streams, the crunching leaves, a starlit sky overhead—few activities are as simple and natural as camping in the Great Outdoors. For many families, camping becomes an annual tradition, if not a more frequent pastime. Whether truly camping or actually "glamping," or even living in a van, the experience can be memorable and enjoyable for almost anyone. Camping trips with friends and family bring people closer together, inviting great conversation, adventure, and relaxation all in one. But when camping season's done, or in between your seasonal trips you may be wondering how to store camping gear.
Best Camping Storage Tips 
Camping Storage Bins
Camping storage bins offer peace of mind that your supplies will be safe in the event of a leak, flood, or other water issue. Use plastic clear containers as they are durable, water resistant, and will help you keep everything organized. A clear plastic bin works perfectly as you will be able to see what is stored without having to fully open the storage container.
Be smart about your camping food storage. Choose camping storage boxes with tightly-fitted lids to ensure a pest-proof storage solution for your favorite camping stuff. Some dry goods keep well, but you must keep them dry and away from pests. Consider camping box containers with tight latch lids or lightweight, animal-resistant storage bags. You might even consider a camp chef table with removable food storage compartments. Proper food storage is very important as it will help prevent any unwanted animals from exploring your campsite for food.
When in doubt, store whatever you can in camping containers. You'll find containers of every shape and size, some stackable, some with wheels, and others with the ability to lock if you need to keep potentially dangerous items out of the hands of curious children. Keep your camping gear away from the elements, easily accessible, and safely stored so you always know where to find it.
 Pack Intentionally to Save Time and Space
Space is everything when camping, so it's important to be mindful about what you bring with you. You'll want to be comfortable at your campsite, but you'll also want to reduce weight as much as possible to ease transporting your camping gear.
How to be organized and save space:
Create an inventory and a list for items that you absolutely need. 
For clothing roll it instead of folding it. This technique will substantially reduce the amount of space your clothing will take up in your pack. 
Following a camping trip, make a list of items that you didn't end up using. This may help you decide which items you can leave behind for your next trip in the future. 
Repurpose Household Items When Camping
There are plenty of ways to repurpose household items to save money, space, and time when camping. Here are some camping hacks that will help:
Use an old clothes hanger as a paper towel holder 
Clean out an old ketchup bottle to hold pre-mixed pancake batter
Dry your shoes with crumpled clothes or tissues 
Pack trick birthday candles for matches and fire starters.
Dry Your Camping Gear Before Storing
Make sure to dry off any of your gear before storing. This will prevent any mold or mildew from growing while your outdoor gear is in storage. A great tip is to lay out your tent and sleeping bag in direct sunlight and place any items that have gotten wet on top of them. This will allow your tent, sleeping bag, and your gear to dry out and prevent mildew growth.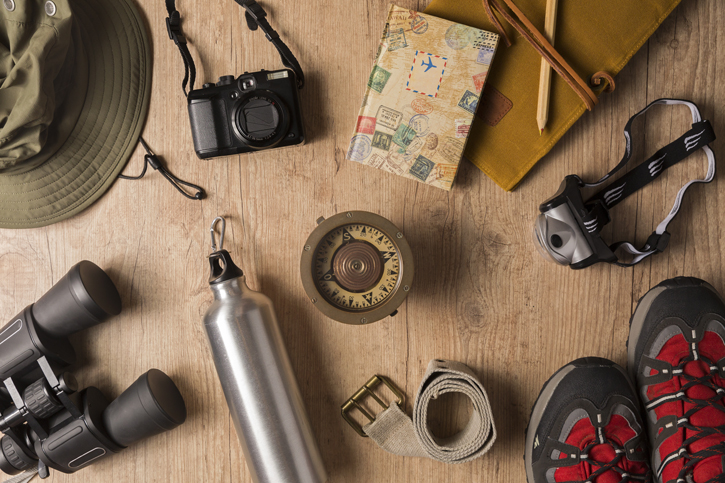 Organizing Your Camping Gear until Next Time
The end of the season is the perfect time to take inventory on your camping equipment before you pack up for next time. Try these camping organization tips to ensure you don't find yourself up a creek without a paddle or deep in the woods without any bug spray.
Create a camping checklist you can review at the start and end of every camping season. Break your list out by categories, such as personal care items, main camping gear, kitchen or cooking items, and so forth. Mark off the items you have and highlight or add a note to any updates or replacements needed.
Look for camping essentials on clearance at your favorite outdoor stores during the offseason. You might be able to expand your arsenal of cool camping gadgets and outdoor gear at a reasonable cost.
Create a camping organizer kit where you can keep your critical items. This would be a good place to store emergency items like flares, matches, a compass, and a first aid kit, among other important camping stuff.
When you're all packed up, consider moving your camping gear storage plans offsite to keep your home free from unnecessary clutter. Look into a private personal storage unit to keep your equipment and supplies safely stowed until next time.  A storage unit can help a lot with camping equipment organization. 
If you're fortunate enough to have your own camper or RV, consider storing that offsite as well. You can find secure RV storage conveniently located near your home or favorite places to camp.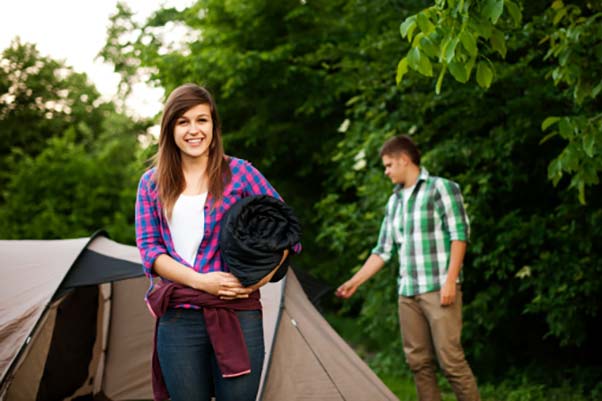 Staying organized with your camping equipment ensures you'll always have what you need to remain comfortable while you are making lots of happy memories. Contact us today to learn about how a storage unit gives your family even more freedom to travel and enjoy the Great Outdoors!