Adding an RV to your tailgating fleet brings so much versatility to your parking lot parties, especially regarding your personal comfort and convenience. First, with the right tailgating RV, you've no longer got to worry about the forecast. You'll likely have a built-in bathroom as well, not to mention indoor seating, a fridge to keep your food and beverages cold, and plenty of RV storage space to lug along your tailgating must-haves.
With so many benefits, your group is sure to have even more fun at tailgating events. Consider these RV tailgate tips to make the most of your pregame experience.
10 RV Tailgating Ideas
Equip your vehicle with an RV awning and side panels. Any avid sports fan knows that the weather on game day is never guaranteed. Be prepared for all elements with both indoor and outdoor shelter options for your crew.
Amplify your media experience with a TV and speakers. You can enhance your audiovisual enjoyment with an aftermarket, upgraded TV/AV system.
Bring the sound and the sights outdoors. Look into options to bring your viewing and audio enjoyment outdoors with suitable speakers and a TV mount on the outside of your RV.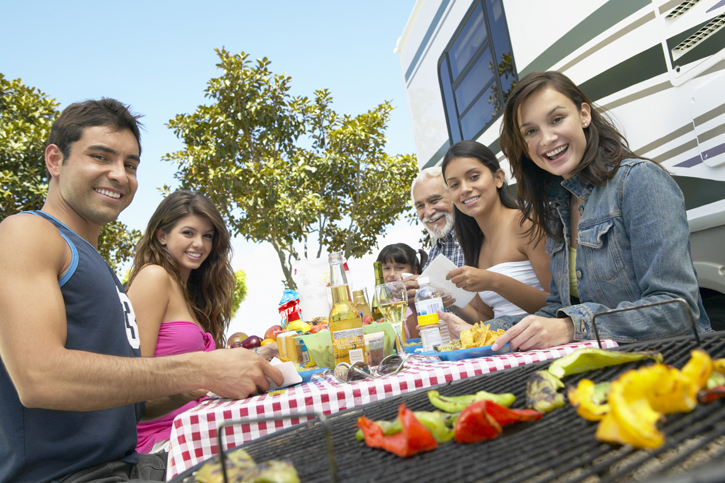 Up the ante with your storage possibilities. Look into built-in storage compartments to stow your beer cooler, grill, and other necessities. You can also add a bumper storage box, towable grill trailer, or other tricked-out goodies.
Create a compact bar area with a built-in storage space. You can easily store your bar wares and beverages in bins during the commute and the set everything up for the festivities before kickoff.
Enhance your RV with a live sound system for announcements. If your group is leading a big tailgate event, a PA system allows you to rally up the crowd, interacting on a wide scale level.
Hoist your flags high with an RV flagpole hookup. Give your friends a convenient and spirited landmark to find you no matter where you set up camp.
Plan your tailgates outside of the box. Now you can rely on the RV's power for limitless possibilities. Rewarm your food, keep leftovers (and jello shots) cold, charge your smartphone, blend up some margaritas – whatever your group wants or needs to enjoy the day. Bring along your favorite small appliances to add a memorable touch to any tailgate.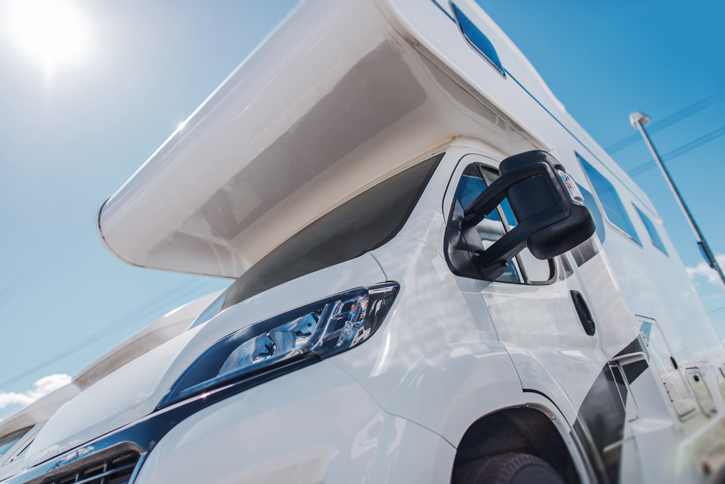 Keep it clean and convenient. Bring along a stretch of outdoor carpeting so tailgating friends can wipe off their feet instead of tracking parking lot grime into your vehicle. Look into other RV accessories to make the experience as comfortable and convenient as possible.
After the season concludes, store your RV safely until you need it next. A secure vehicle storage facility gives you another option rather than parking your pimped-out tailgating RV a little too close to your neighbor's house.
These are just a few RV tailgating ideas to get you started. As your tailgating experiences evolve, you will be sure to add your own flavor to your favorite pastime. You may even find yourself camping out overnight or taking road trips to see your team. Be sure to share any other ideas you have for top-notch RV tailgates in our comments. And if you have an RV or boat you'd like to store safely away from home, check out the affordable outdoor and indoor RV storage options at Price Self Storage!