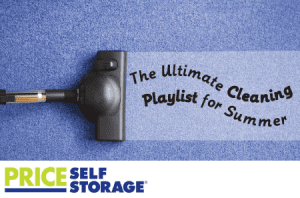 Cleaning the house can be a very therapeutic activity and each person has their own process for tackling the many places to clean throughout the house. For most, it's not a task that we look forward to doing, but it is necessary. Do you remember waking up on a Saturday morning and hearing your parent's favorite songs blasting out of the stereo? Those moments made cleaning seem like a much more fun task and it influenced the music that we listen to during our cleaning routine.
We've put together our favorite songs to pump us up for a dedicated session of cleaning. Stay tuned as we continue to bring you more cleaning playlists that cover other genres and artists. Share your favorite music to rock out to with your cleaning supplies! You may see it pop up on one of our playlists.
You can view the entire playlist below, but click here to listen to the playlist on Spotify. If you like what you hear, please follow us on Spotify.
Rinse, Rock, Repeat: 24 songs, 1 hour and 29 minutes
Jump – Van Halen
We Used To Be Friends – The Dandy Warhols
Just A Girl – No Doubt
Young Folks – Peter Bjorn And John
1901 – Phoenix
Home – Edward Sharp & The Magnetic Zeros
You Make My Dreams – Daryl Hall & Oats
Seven Nation Army – The White Stripes
What's My Age Again? – blink-182
Fortunate Son – Creedence Clearwater
Sweetness – Jimmy Eat World
Purple Haze – Jimmy Hendrix
Can't Stop – Red Hot Chili Peppers
Baba O'Riley – The Who
Radioactive – Kings Of Leon
Rock And Roll – Led Zeppelin
Dancing In The Dark – Bruce Springsteen
Naïve – The Kooks
Some Nights – Fun.
Lonely Boy – The Black Keys
Pompeii – Bastille
It's Time – Imagine Dragons
Chocolate – The 1975
Young Blood – The Naked And Famous