Who hasn't dreamed of an amazing road trip paved with adventure as far as the eye can see? Whether your ideal journey involves sleeping under the stars, glamping in your motorhome, or cozying up next to a warm fire in a posh hotel, you can bring your dreams to life with a fun road trip vacation.
When figuring out all the things you need for a road trip, remember that not everything is a physical, packable item you can pick up at the store. Some items on your road trip checklist will actually be tasks on your to-do list, reservations to make, or important paperwork to complete. Here's a comprehensive road trip list to get you ready for the adventure of a lifetime.
Road Trip List: Things to Do and Pack
Start planning your road trip as far in advance as possible. Having more time to plan lets you organize more adventures and better map out the sights you want to see. That being said, don't shy away from an opportunity for an impromptu road trip if you can pull it off with a few friends. Spontaneous adventures can be just as much fun as those that take months to plan!
Start with a road trip planner. A binder or notebook offers plenty of options to organize all your road trip planning materials, your itinerary, road trip packing list, maps, emergency information, and more. As an added bonus, you add a few photos and mementos to turn your road trip planner into a keepsake scrapbook or photo journal at the end of your trip!
Create your road trip packing list. Take some time to identify all the road trip necessities you'd like to have on hand. Break your road trip packing list down by food and drink, clothing, toiletries and medical necessities, camping supplies if needed, and anything else you might need. When making your road trip list of food, consider what kinds of cooking you'll be doing—food prep in your RV, campfire cooking, or taking more of a grab-n-go approach. Don't forget to pack chargers and electronics—at least for your mobile phone—even if you're unplugging for the trip. Your packing list will look a lot different if you're planning a family road trip with kids as opposed to a getaway with friends.
Get your RV or vehicle ready to go! Is your recreational vehicle road trip ready? First of all, ensure your RV or motorhome's inspection and registration are up to date, particularly vetting all safety features. Visit your RV storage facility and take inventory of your onboard accessories and supplies, noting any that you'll need to replace before your RV trip.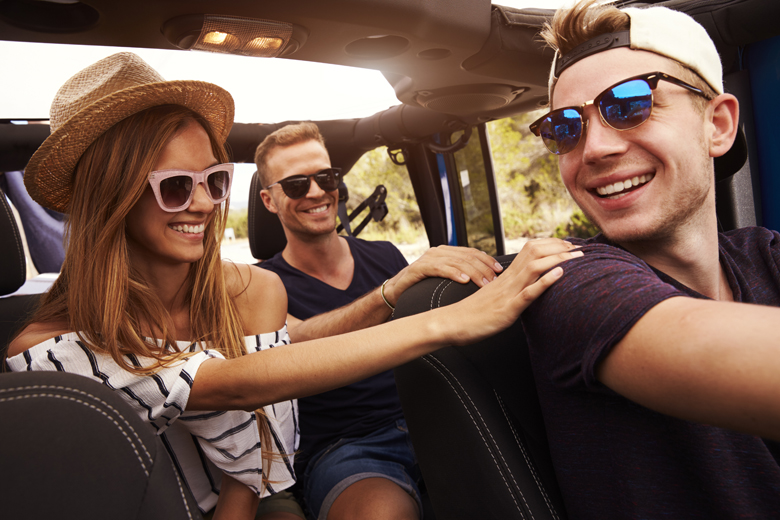 Map out your itinerary and your bucket list stops. Do you have any friends or family who live along your route or a short detour from your stops? If so, contact anyone you'd like to see and try to plan a few visits along your drive. Make sure you bring contact information for everyone so you can adjust timelines if need be.
Determine where you'll sleep each night of your road trip. You may wish to do a mix of camping, glamping, and hotels, or you may find that one of these settings best suits you and your crew. Don't forget to pencil in any overnight visits with friends or family stops you've added to your itinerary!
Consider making a trial run. If you are planning a cross country road trip, you may wish to consider taking a mini road trip first to test everything out. Find a location that's only a few hours away and go for the weekend or a single overnight with enough time before your trip to make any needed adjustments. Of course, driving cross country may become a reality at a moment's notice with a job relocation or other important life change. Either way, do the best you can with your road trip plans and enjoy the ride!
Keep your RV fueled up and ready to go in the meantime. Store your RV with Price Self Storage until your road trip dates arrive. You can easily access your vehicle anytime you need it, choosing a convenient location close to your home, work, or other favorite place. Our spacious parking spaces give your vehicle ample room for parking, loading, and unloading.
Consider all the beauty around as you look into your first or next road trip. The Pacific Coast Highway road trip or a Pacific Northwest road trip could be the perfect excursion to add to your bucket list this year. The West Coast road trip brings the best of the Pacific coast in one detailed and purposeful vacation. On this journey you can experience cuisine, culture, and incredible sights all in one well-planned getaway.
Other popular options to consider may include the great American road trip driving cross country, the Southwest road trip, a Yellowstone road trip, or the famous Route 66 trip. Plan your RV road trip with your family, friends, or even with man's best friend as your copilot for an adventure you'll never forget. And reach out to us at Price Self Storage to simplify your life with great options in vehicle storage and self storage solutions.