Every parent knows traveling with kids is always an adventure. Just about every mom or dad has a nightmare story to share from a time they were traveling with children. From an unexpected illness to forgotten diapers, there's rarely a dull moment. Whether going by land, air, or sea, sometimes a little extra planning can make all the difference. Here are suggestions to help you make the most of your family's travel time.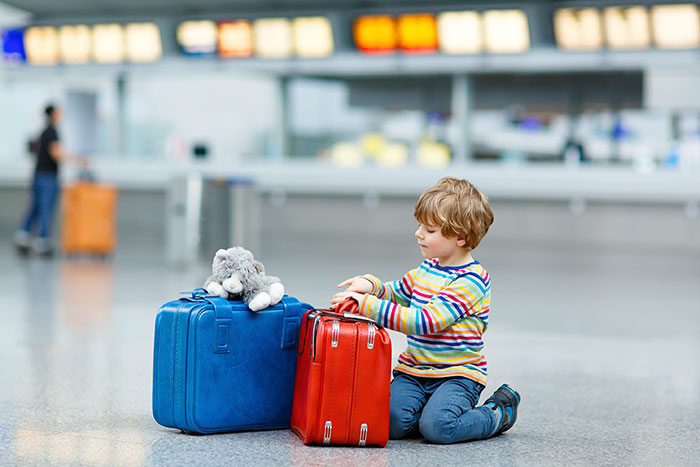 Tips to Survive Traveling with Kids
Consider the key factors in a family road trip or flight. Avoiding boredom, keeping the peace, and combating hunger likely top the charts for most parents traveling with kids. Try these tips to help ensure a smooth and uneventful passage to your destination.
Pass the Time
1.  Bring a selection of travel-ready snacks. Prepackaged snacks work just fine, or you can get a little creative. Try packing up tiny tidbits inside a tackle box or craft compartment box. Your kids will look forward to these exciting snacks just as much as the trip itself!
2.  Pack each child his or her own "carry-on." Bring along a cuddly blanket and stuffed animal for comfort during your travels. Also include books, a few toys, a game, or other activity.
3.  Download movies and games onto a tablet to keep the ride running smoothly. Make sure you have a screen for each child to avoid a close-quarters battle. Technology makes it possible for us to have a seemingly endless list of things to do in a long car ride.
4.  Consider packing a travel bag that always stays with your RV. Get a few special books and games your family can look forward to every time you travel. Include a pack of wipes or hand sanitizer and other necessities while traveling with kids. When your trip is done, simply lock up your travel activity bag inside your RV when you drop it off at the RV storage location.
5.  Make a playlist of fun road trip songs or travel songs. Whether it's the best of the Beach Boys or a compilation of other hits, your family can enjoy a fun karaoke singalong to your favorite vacation tunes.
6.  Keep a mental list of road trip games you can play in the car. Start with "The first one to see…" and move onto "I Spy," the license plate game, and other fun family games in the car. Here are a few fun options from Parents.com.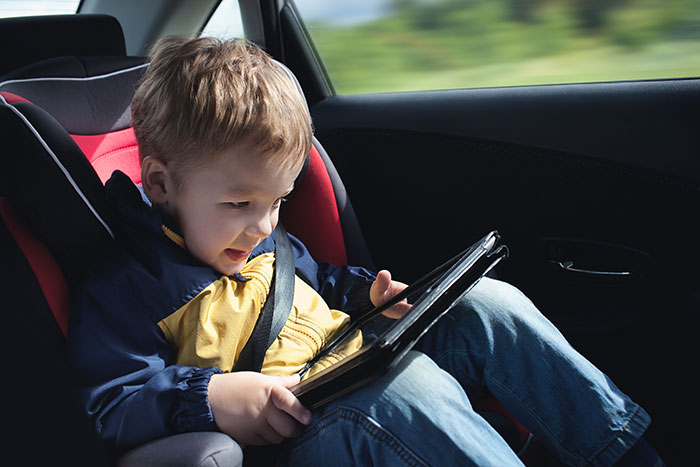 Plan for the Unexpected
7.  Tote along an extra outfit for each child, just in case. You never know when you might have to deal with an unexpected spill or accident. Traveling with kids often leads to one or the other.
8.  Consider planning flights around your child's schedule. Scheduling a flight around naptime can be dicey, but also brilliant. Flying with a baby in particular can be a hit-or-miss experience. You may wish to consider nursing or offering a bottle during takeoff to prevent ear popping. Your tot will likely drift right off to sleep. Even if your older child willingly naps for the majority of the trip, your low stress level will ease you right into vacation. No arguments, no seat kicking, and Mom and Dad can even enjoy a beverage and quiet conversation.
9.  Keep important things accessible. You can pack a mini diaper bag with a few spare diapers, wipes, and changing mat. Make sure sunglasses, suncreen, and other essentials are on hand. You can even pack your beach bag so it's fully ready to grab as you go right from the car to the cabana.
10.  Bring Tums or mints for upset tummies. It also helps to keep a spare plastic bag handy just in case. If your child does get carsick, try these tips from TripSavvy.com to help ease your little one's discomfort.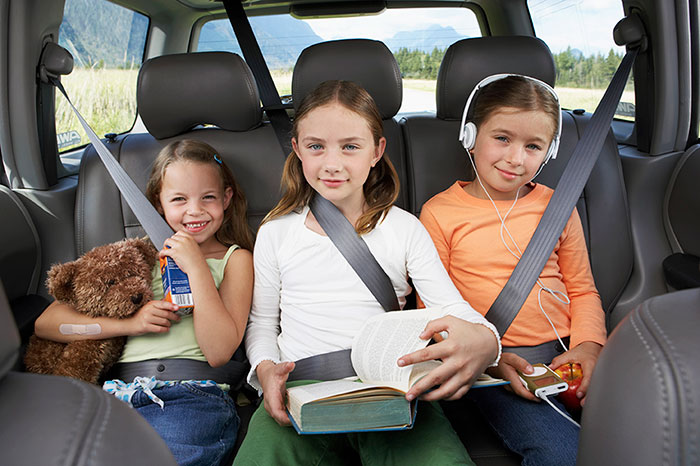 Make It Easier on Yourself
11.  Bring stickers or other rewards for good behavior. Adjust the reward by age as needed. Positive reinforcement can help to keep your trip on track.
12.  Take a few moments to talk about your expectations for the trip. Discuss how long the travel time will be in terms your kids can understand. Then, explain what you expect of your children while you are on vacation. This could include sharing, sitting at the table during meals, no throwing fits, going to bed without a fuss, and so forth. Sometimes a simple, proactive conversation can really set the tone for the whole trip.
13.  Encourage naps. Tired of hearing "Are we there yet"? Ah, the perpetual soundtrack of traveling with children. Remind your kids that the trip will seem a lot shorter if they close their eyes and rest for a little while.
You might be surprised at how much you can enjoy traveling with young kids. When the battles are few and memories pave the miles, you'll look back and smile on the experience time and again. A little planning goes a long way in ensuring a successful trip. Happy travels!