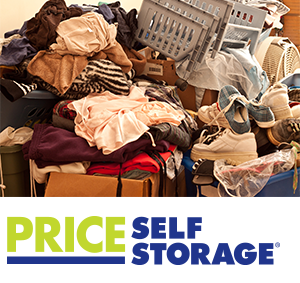 "And that's the only thing I need is *this*. I don't need this or this. Just this ashtray… And this paddle game. The ashtray and the paddle game and that's all I need… And this remote control. The ashtray, the paddle game, and the remote control, and that's all I need… And these matches." –Steve Martin in The Jerk
 It's easy to get hung up on material objects. Every item feels like an investment in something, whether it was a gift or a purchase. Realizing that it is time to let it go can be hard for some. In other cases, you may not even realize that you are holding onto stuff that is taking up valuable space in your home. We've put together our top picks of the items that can afford to go, so that you can clear out the clutter and begin to see more clearly.
DVD Players: It may feel like just last week you were donating all of your old VHS movies, but that is simply not the case. Not only is VHS a thing of the past, but DVD equipment is fazing out, as well. This is great news for your home storage space! Those pesky DVDs take up a lot of room whereas Smart TVs and streaming devices are space efficient and can play almost any movie on the market. If it's too hard to part with your DVD trilogy collections, we suggest at least getting them out of the house. We offer a variety of storage spaces to accommodate your needs.
Alarm Clocks: Do you have an alarm clock in your room? If it's actually used on a daily basis, we're impressed. Keep it around. If not, toss it. The average American no longer relies on an alarm clock, but instead, uses their multi-purpose cell phone to wake them up. 
Home Fitness Equipment: The bulky treadmill that doesn't get used as often as you convinced yourself that it would needs to go. Instead, consider using a free workout app to do light exercises at home.
Paper: This category includes a lot of different items that take up a ton of space. Firstly, let's talk about receipts. While we are turning into a more paperless society, most people are still drowning in paper. Check with your accountant to see how long you need to hold onto certain receipts, and then toss the rest. Next, let's talk about magazines. They're informational and entertaining, but how often do you re-read a magazine? If the answer is never or rarely, then it's time to get rid of them. Our final note on paper concerns books. We love books. They serve a great purpose when in use, but when they sit on the shelf, they take up a ton of space. Our recommendation is to keep the books, but set aside the frequently read for a rainy day and put the rest in storage.
Kitchen Utensils: Again, this is a big category of "stuff." We want you to think about your most used kitchen items: spatulas, pans, plates, silverware, etc. Unless you're serving up full-course dinners for a party of 10 or more on a regular basis, you don't need 5 of everything. For those big occasions, we suggest borrowing extra utensils from a neighbor or friend. Some other items to think about are coffee mugs and plastic containers. There is no need to have 20 or more coffee mugs. Those are great items to donate. As for the plastic containers, if you cannot find the lids for them, then toss them out. 
What other household items are you ready to break up with?